[Shima Onsen] The Stage of Spirited Away!?? Insta-worthy Trip!
Shima Onsen has many photogenic tourist destinations other than hot springs, such as the retro cityscape, the inn that was the setting for that Ghibli movie, and the Cobalt Blue Lake. It is easily accessible from Tokyo and is also popular as a travel destination that you can easily go to. Please use it as a reference for your trip to Shima Onsen.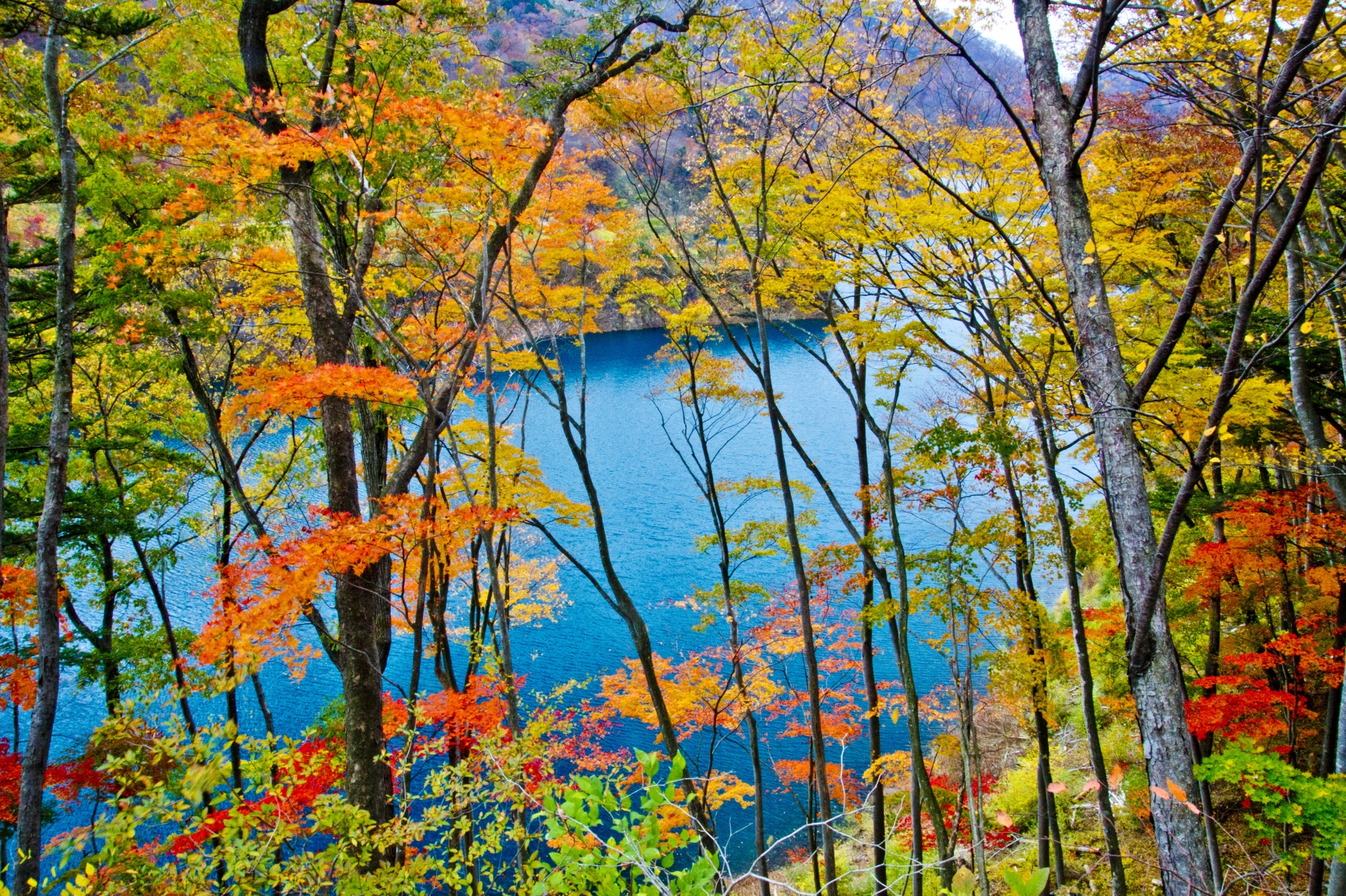 1. What is "Shima Onsen"?
Gunma Prefecture is famous for its many hot springs such as Kusatsu Onsen and Ikaho Onsen! Shima Onsen is one of them, and it is located in Agatsuma-gun, Gunma Prefecture, in the same area as Kusatsu Onsen, and is easily accessible from Tokyo. Access methods from Tokyo include combining trains and buses such as the Shinkansen and trains, and high-speed buses, but I recommend traveling by high-speed bus! As you can see from the figure below, traveling by high-speed bus is the cheapest and easiest because you can travel without changing trains. Also, I've included the price per one way trip for the express bus, but you can save more money if you buy a return trip, so that's another good point!
| | | | |
| --- | --- | --- | --- |
| Transportation | Travel Time | Fare | Feature |
| Bullet train+Train+Bus | 3 hours | 6100 yen | Fast and high |
| Limited Express Train+Bus | 3 hours and 30 minutes | 4950 yen | Regular |
| Train+Bus | 4 hours | 3950 yen | Fast and cheap |
| Express Bus | 3 hours 30 minutes | 3150 yen | Regular and cheap |
The name "Shima" in Shima Onsen is also derived from the fact that the hot spring of Shima is a "sacred spring that heals the sickness of Shima (Yonman)". The Shima Onsen area is not only famous for its hot springs, it is also rich in nature and you can experience the four seasons! We hope to tell you more about the attractions of the Shima Onsen area!
Isn't it just a hot spring?!! Introducing insta-worthy spots around Shima Onsen!
There are many photogenic points around Shima Onsen, such as beautiful buildings, retro streets, and magnificent nature. If you search for #Shima Onsen on Instagram, you will find about 80,000 Instagram-worthy photos. In this article I would like to introduce the instagram spots around Shima Onsen from the three attractions of hot springs, historic buildings, and nature!
First, let's enter Shima
Onsen!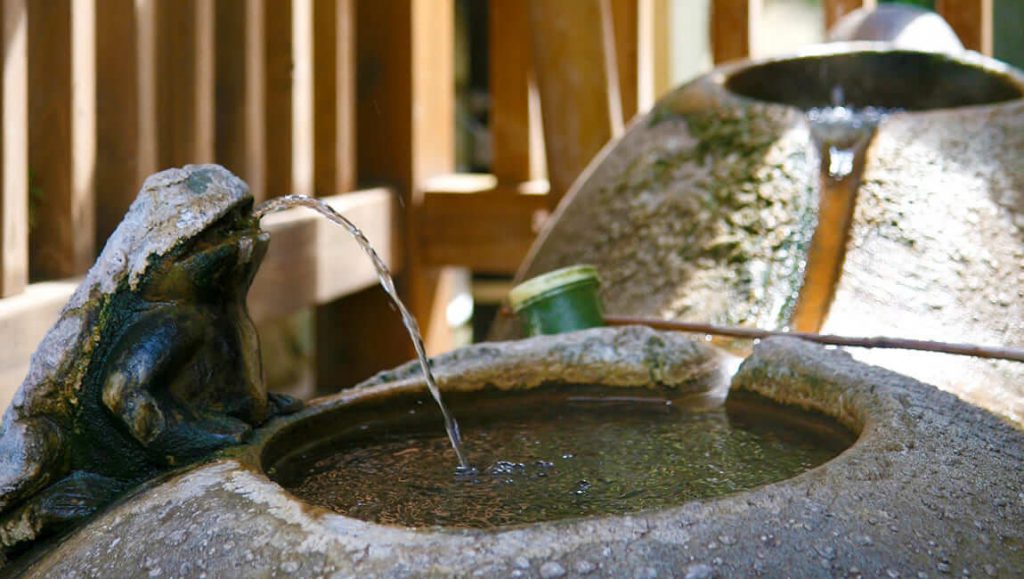 There are three types of hot springs in Shima Onsen: communal baths, footbaths, and drinking springs. The communal bath is a general hot spring, and there are 3 free communal baths in Shima Onsen, so you can take a bath without reservation. There are 3 footbaths, and you can enter freely, so it's perfect for healing your tired body! As the name suggests, drinking hot spring water is expected to have an effect on the gastrointestinal tract. There are two drinking fountains in Shima Onsen, but the hot water of Shionoyu drinking fountain seems to have a slightly salty taste, and locals also use it for cooking! It may be fun to go around and compare them!
Spirited Away stage? Shima Onsen "Sekizenkan"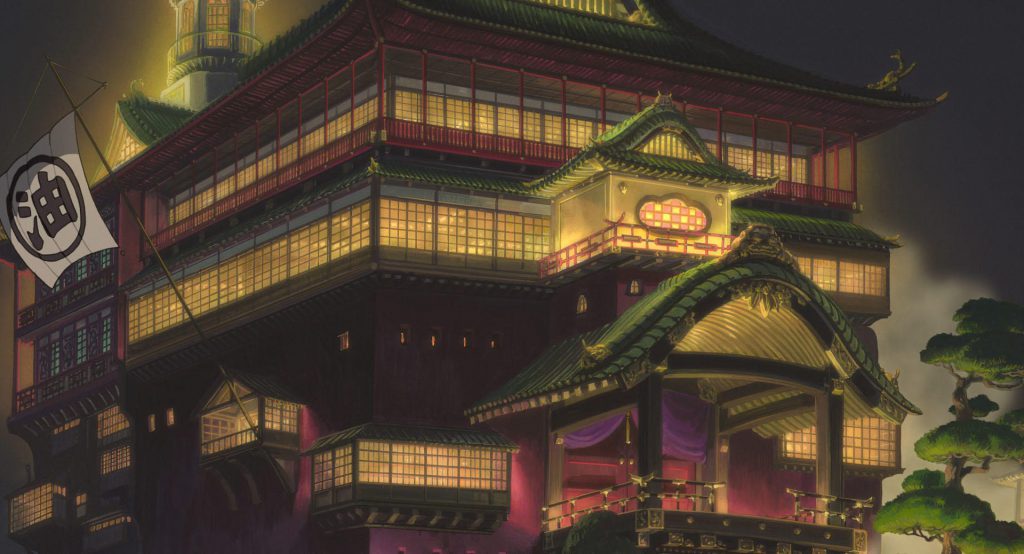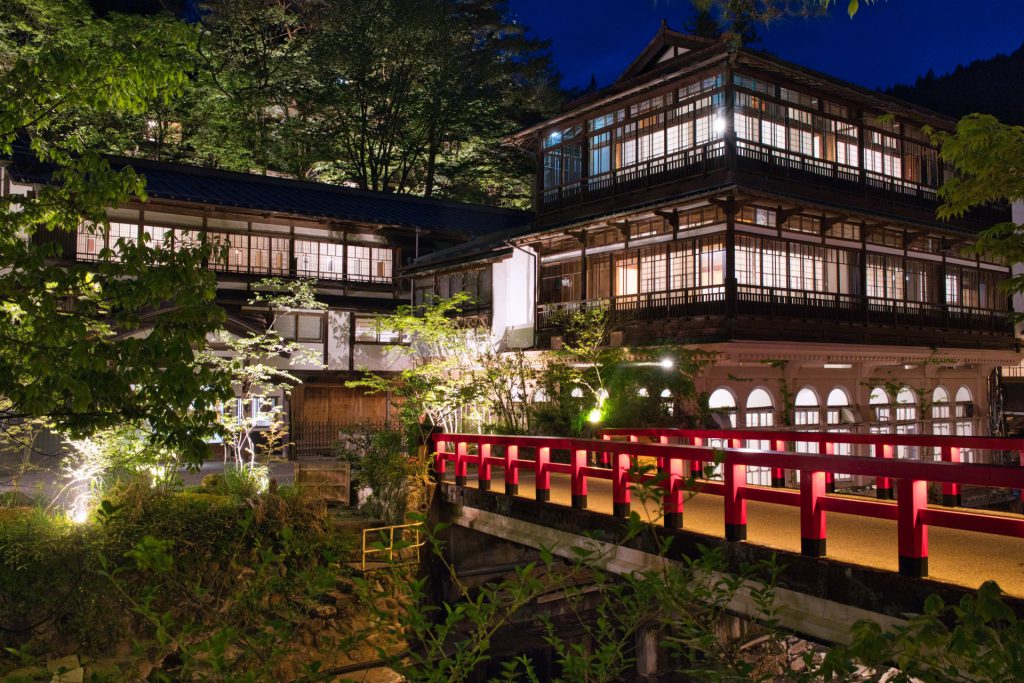 Sekizenkan is a hot spring inn built over 300 years ago, and the main building is said to be the oldest existing wooden hot spring inn in Japan. Furthermore, it is said that this inn was the model for "Spirited Away", and the bright red bridge and the lattice windows of the main building remind us of a scene from the movie! Not only the exterior, but also the rooms and hot springs. Of course you can actually stay at this ryokan or take a day trip to the hot springs! In particular, Genroku-no-Yu in the Sekizenkan is designated as a national registered tangible cultural property, and has a Western-style and modern structure, which is rare in hot springs. Sekizenkan has a one-day bathing plan, so you can enjoy bathing and a break at the restaurant without prior reservation.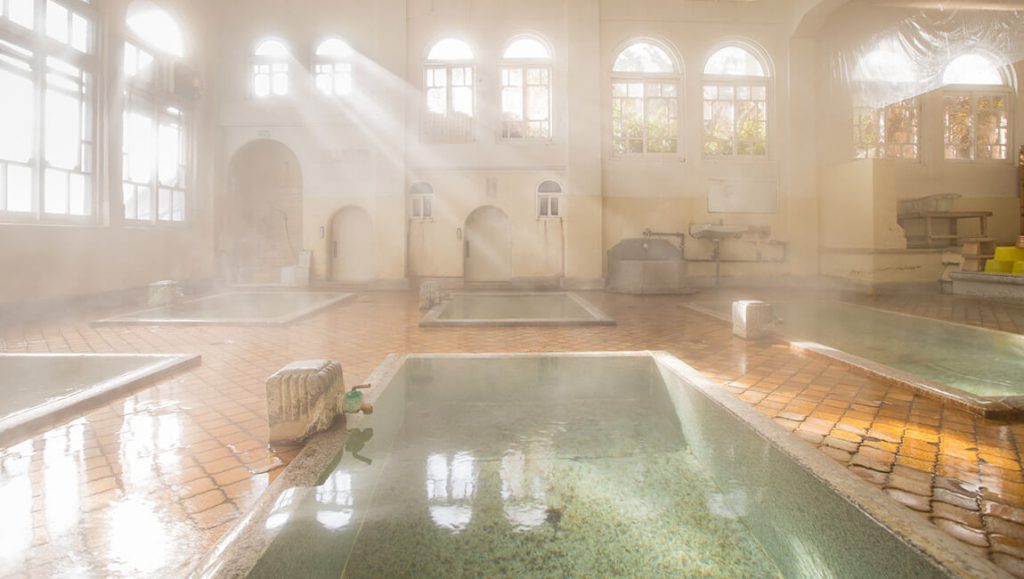 One-day bathing + restaurant "Sekizenkan" rest set plan

Reception Hours

11: 00-16: 00 (You can take a bath until 17:00)

Price

Adult 1200 yen
Children 800 yen * From 3 to 11 years old. Free for children under 2 years old
Bath towel (rental) 500 yen


Face towel (sale) 350 yen

Rest area business hours

11:00-17:00
| | |
| --- | --- |
| | Shima Onsen Sekizenkan |
| Official Site | https://www.sekizenkan.co.jp/ |
| Address | Shima Onsen, Nakanojo Town, Agatsuma District, Gunma Prefecture 377-0601 |
| Contact | 0279-64-2101 (Reception hours 9:00-19:00) |
To Showa Retro Hot Spring Town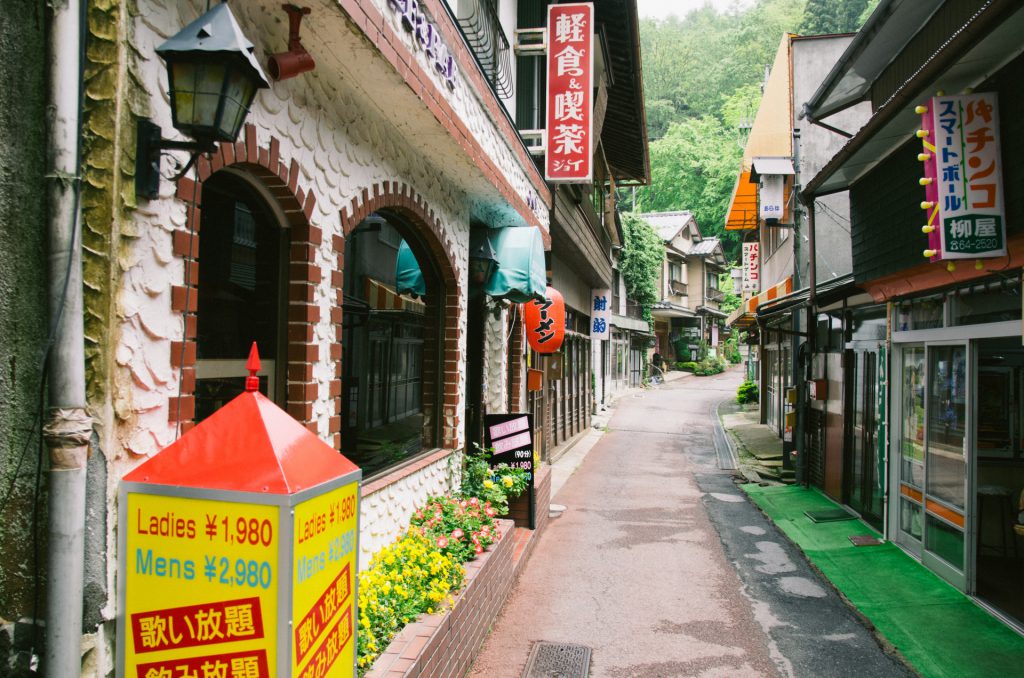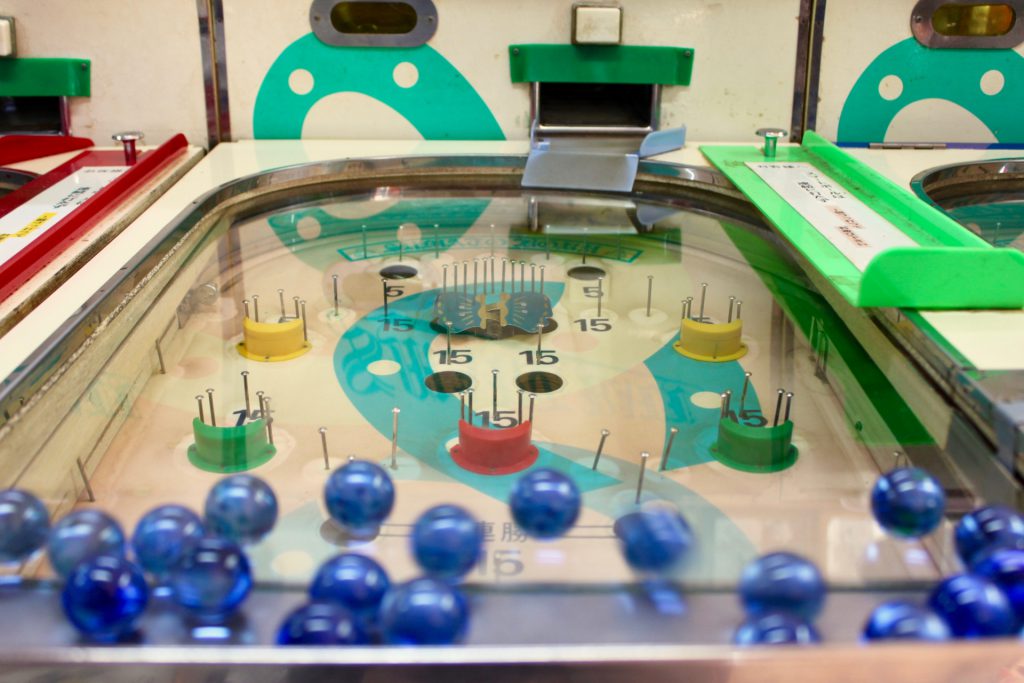 At Shima Onsen, there is a hot spring town that retains the remnants of the Showa era, where you can eat, walk, and go sightseeing. Especially recommended is "Ochiai Street" near Sekizenkan, where the retro cityscape remains strong and you can take pictures that look like you have traveled back in time to the Showa era! The pachinko and smart ball signs shown in the photo above are at Yanagiya Amusement Park, the only playground in Shima Onsen, where you can play the nostalgic smartballs. You can easily play with 50 yen coins for 500 yen each time, and even if you are inexperienced, you can enjoy it, so please go there!
With an open-air bath! Glamping Stay!
Have you gone to the trendy glamping these days? Glamping is a coined word that combines glamorous, which means attractive in English, and camping, which means camping. Unlike conventional camping, facilities and meals are prepared, and it is attracting attention as a new outdoor that can be enjoyed easily. .. Many young people love it because it's easy to use and you can enjoy the extravagant extraordinary life in a fashionable and photogenic glamping facility! In fact, there is a fashionable glamping facility called "Onsen Glamping Shima Blue" around Shima Onsen. As the name suggests, it is not just a glamping, but Japan's first glamping with a hot spring, which has its own open-air bath and you can enjoy the hot springs of Shima Onsen. All the guest rooms have a nice interior and exterior, and you can feel the nature on the terrace or in the open-air bath, so you can enjoy a luxury different from that of a hotel stay!
ONSEN GLAMPING SHIMA BLUE

Official Site

https://shimablue.jp/

Address

44,355-9 Nakanojo-cho, Agatsuma-gun, Gunma 377-0601




10 minutes walk from the last bus stop of Shima Onsen (free transfer available)

Contact

00279-64-2155 ※Reservation is a must
Feel the nature of Shima!
There is a lot of nature around Shima Onsen, and you can enjoy nature no matter what season you go. This time, I will introduce Lake Shima, Shima potholes, and the Momotaro Waterfall in order with photos.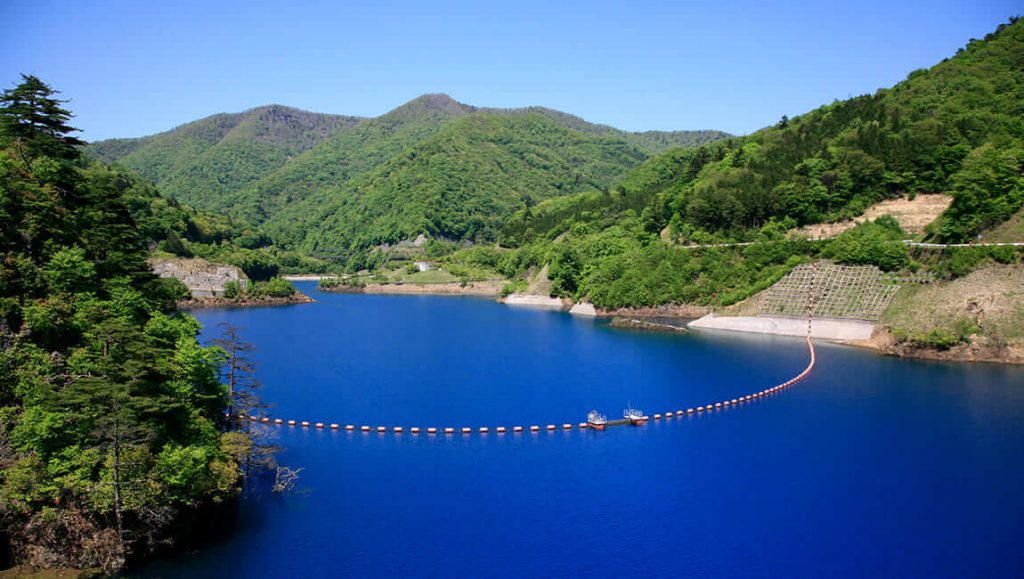 First is Lake Okushima! The color of this lake, also known as Shima blue, is characterized by a very mysterious blue color. There are various theories about the cause of this color, but it seems that the color looks like this as a result of the components of the hot spring flowing into the lake and the light being reflected. Oku-Shimako is a dam lake created by the Shimagawa Dam, and the Oku-Shimako seen from the observatory of the dam looks like this! Coupled with the trees and sky in the background, you can take beautiful pictures like works of art, so we recommend a visit there.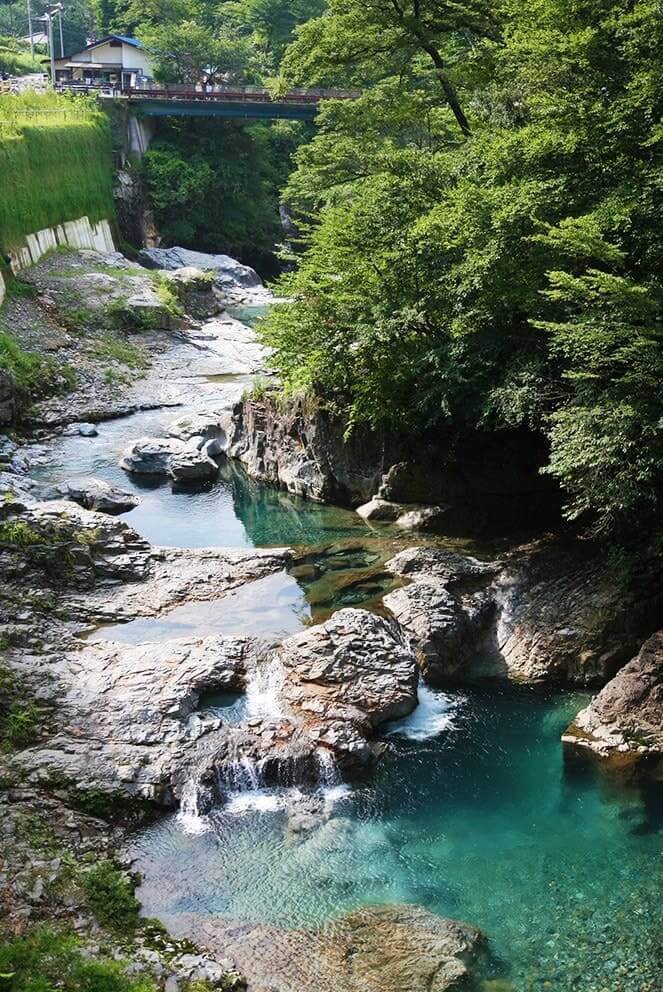 Next is the group of Shima pits that are often seen in the Shima River. Potholes are holes in the bedrock at the bottom of a river, and in the case of the Shima potholes they look like crystal clear blue ponds. It is designated as a natural monument by Gunma Prefecture and you can see eight potholes of various sizes. Some of the potholes are more than three metres deep, so please be careful when you go near them.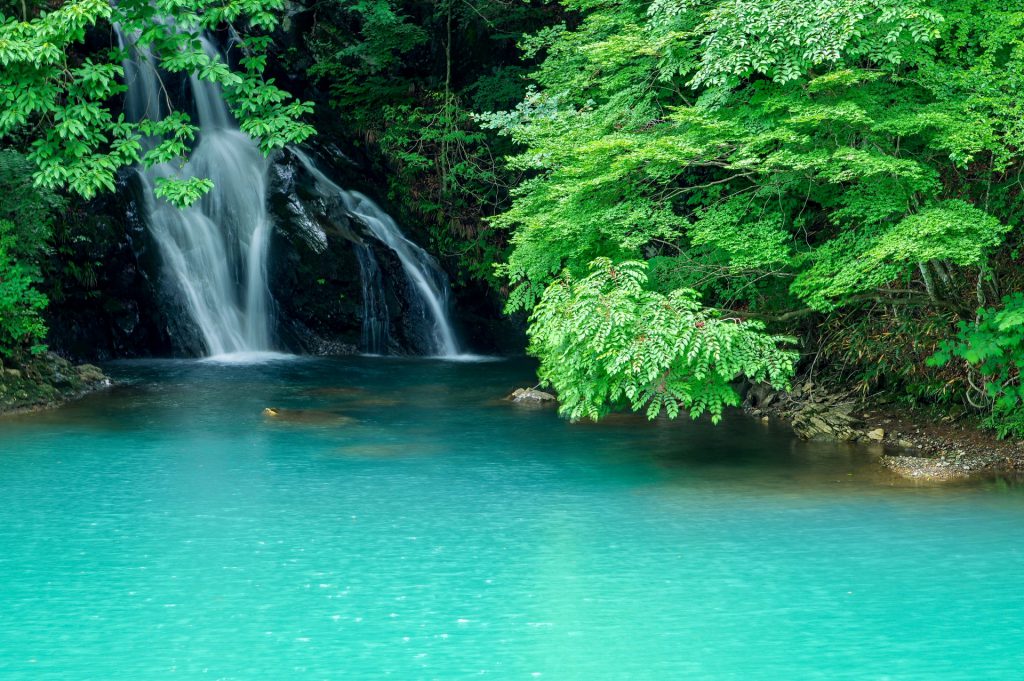 The last is Momotaro Waterfall. The water is flowing into the Shima blue Shima River, which is very beautiful. If you take a picture from the vicinity of the Shima Onsen information signboard, you can take a picture of the trees reflected in this way, especially during the autumn leaves season, you can take even more colorful pictures. There are many beautiful waterfalls such as Ogura Waterfall, Shakunage Waterfall, Koizumi Waterfall, and Oizumi Waterfall around Shima Onsen, and the waterfall tour is also famous. It's a long walk, so I think it's fun to rent a bicycle at the Shima Onsen Association!
One of the most transparent lakes in Japan! Shima blue water sports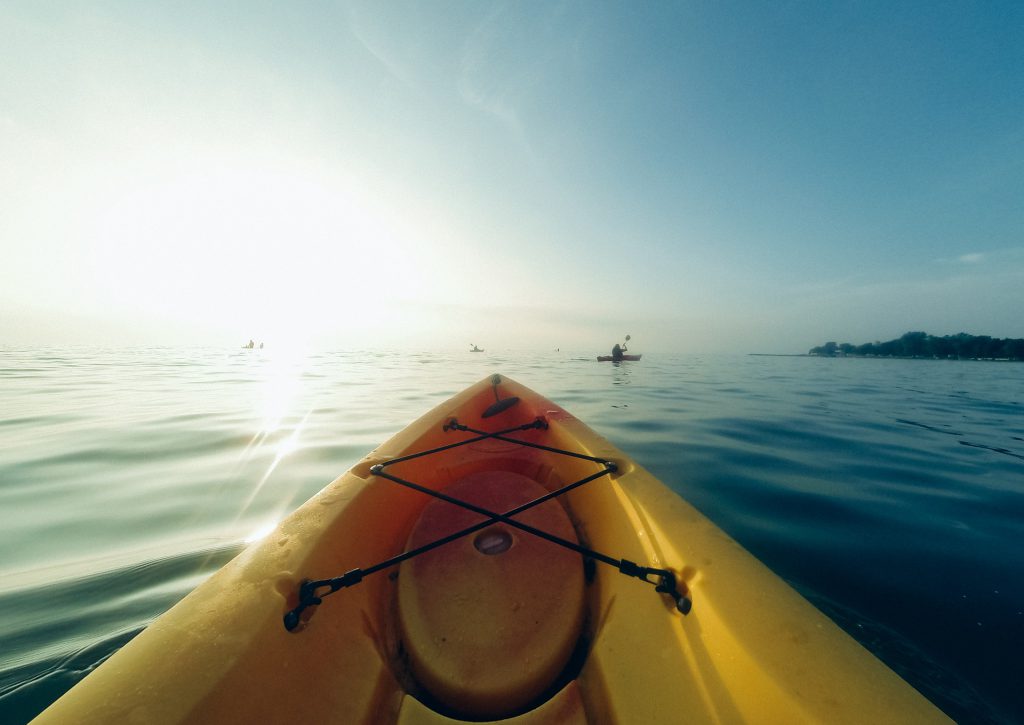 There are many water sports activity tours at Lake Shima and Lake Okushima, which are among the most transparent in Japan. At Lake Shima we offer stand up paddle, canoeing and canyoning tours, and at Lake Okushimako you can canoe, canyon or bring your own kayak. As these are tours, you can enjoy them under the guidance of professionals and also have the option of having your tour photos taken. We're sure you'll get some great pictures of you enjoying the beautiful nature, so come and join us!
3. Conclusion
In this article, I introduced Instagrammable around Shima Onsen. How was it? The area around Shima Onsen is an area with a long history, and at the same time, you can enjoy the latest trends. And since there is a lot of nature, I would like to recommend it especially to those who want to get away from the hustle and bustle of the city! There is no doubt that you will be able to take photogenic photos no matter what season you go, so be sure to check it out for Instagram!