A day trip to Kinosaki Onsen by bus from Osaka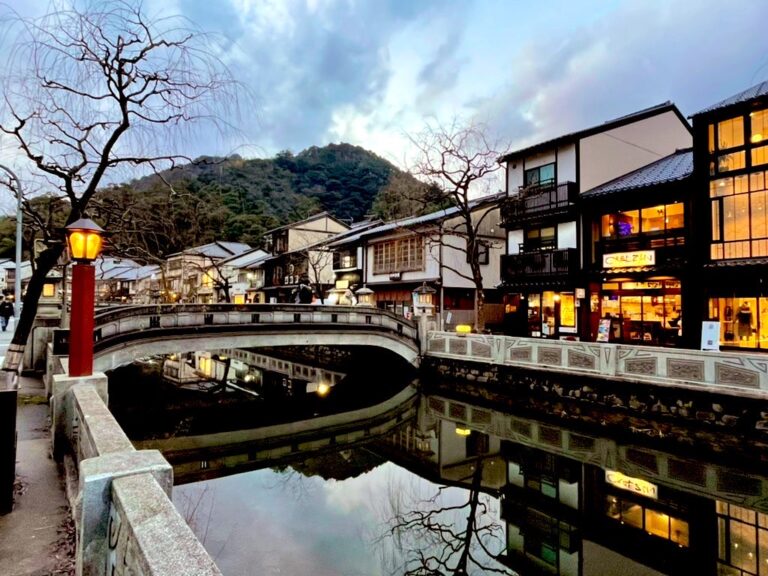 Have you ever heard of Kinosaki Onsen? It is one of the leading onsen towns in Kansai renowned for its numerous natural hot springs staggered in a cozy atmosphere, each unique and equally charming. Just a 3.5 hours ride from Osaka by bus, Kinosaki Onsen is deal for spending a day out. Not long ago, I took a day trip from Osaka to Kinosaki Onsen by bus. Let me share with you the spots I stopped by and bus information in this article. I hope you will find it useful.
What is Kinosaki Onsen?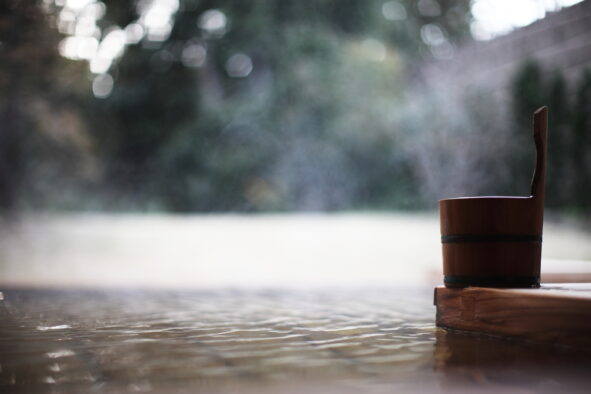 Kinosaki is one of the popular onsen towns in Kansai located in northern Hyogo Prefecture on the coast of the Sea of Japan. In 717A.D., a Buddhist monk Dochi Shonin received a vision in Kinosaki, which told him to pray for the health of local people for 1000 days. After he did so, the sacred hot springs arose from the ground in 720 creating Kinosaki Onsen. With a history of more than 1300 years, Kinosaki has been loved by local novelists including Naoya Shiga, who wrote the book "At Kinosaki".
As Kinosaki is relatively close to Osaka, it can be enjoyed as both day-trips and overnight stays. No matter how, bath hopping among the 7 public hot springs seems to be a norm for everyone.
A day trip to Kinosaki Onsen by bus!
It took about 3.5hours to go from Osaka to Kinosaki Onsen by bus. Going early in the morning leaving you abundant time to fully enjoy the little spa town in a day trip. In this article, I am sharing with you how my day in Kinosaki was spent in sequence as well as the bus experience.
7:20 am Departed from Osaka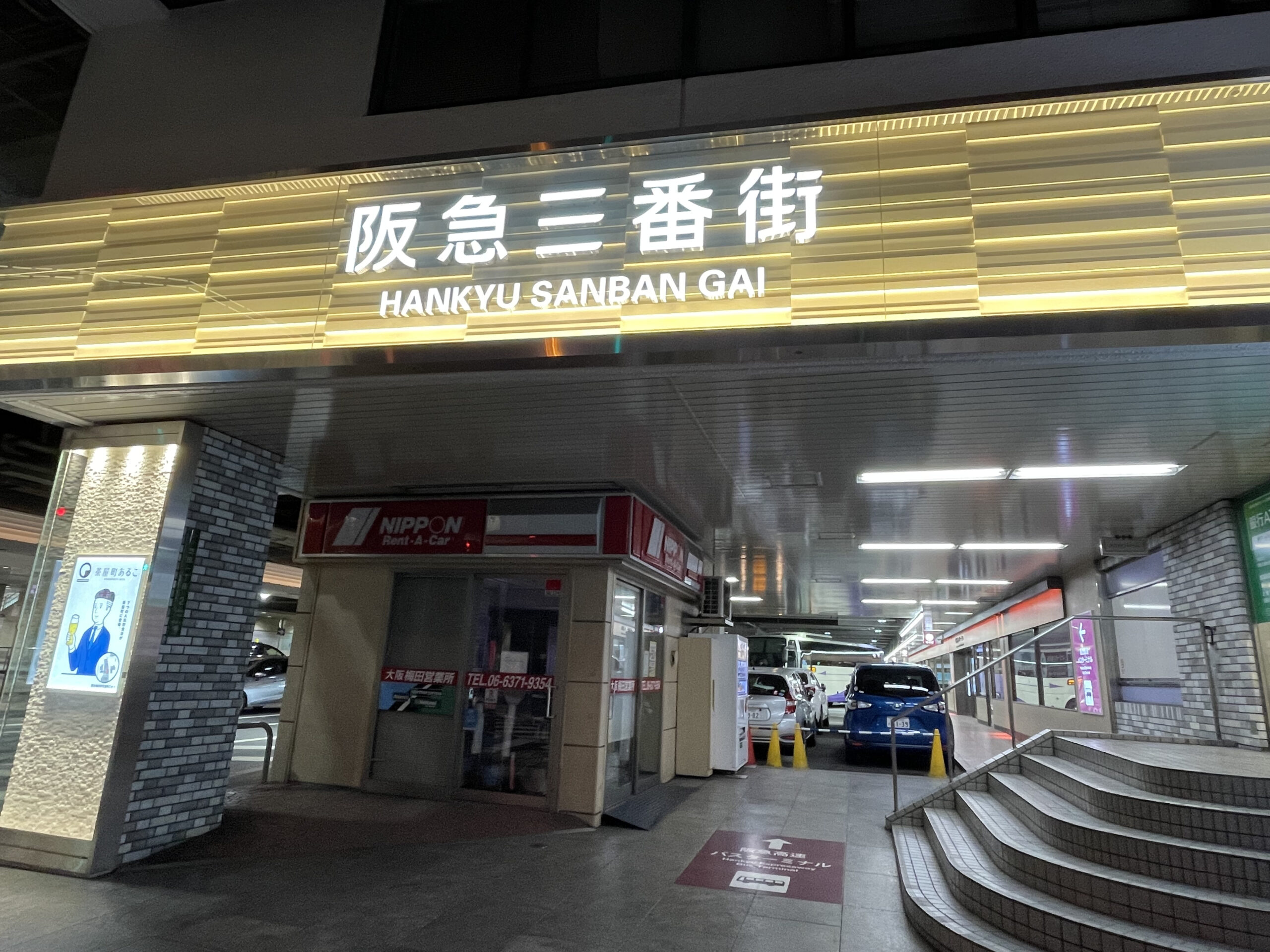 The bus stop was a 3-min walk from Osaka Station, located at Hankyu Expressway Bus Terminal at Hankyu Sanbangai building.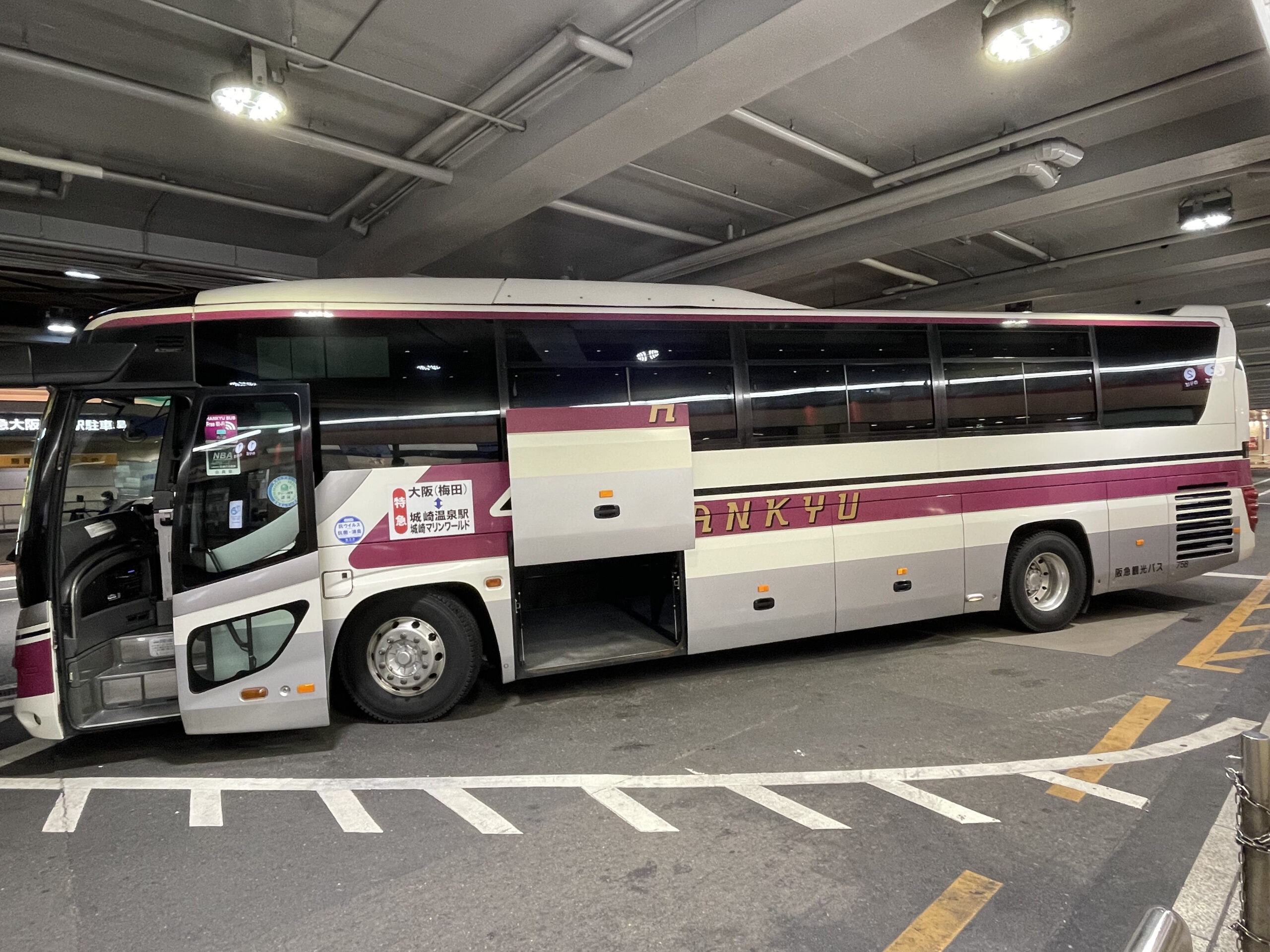 This time I took the Kinosaki Onsen – Osaka bus line operated by the Hankyu Kanko Bus. The bus departed sharply at 07:20, so I recommended arriving the bus stop earlier to wait for the bus.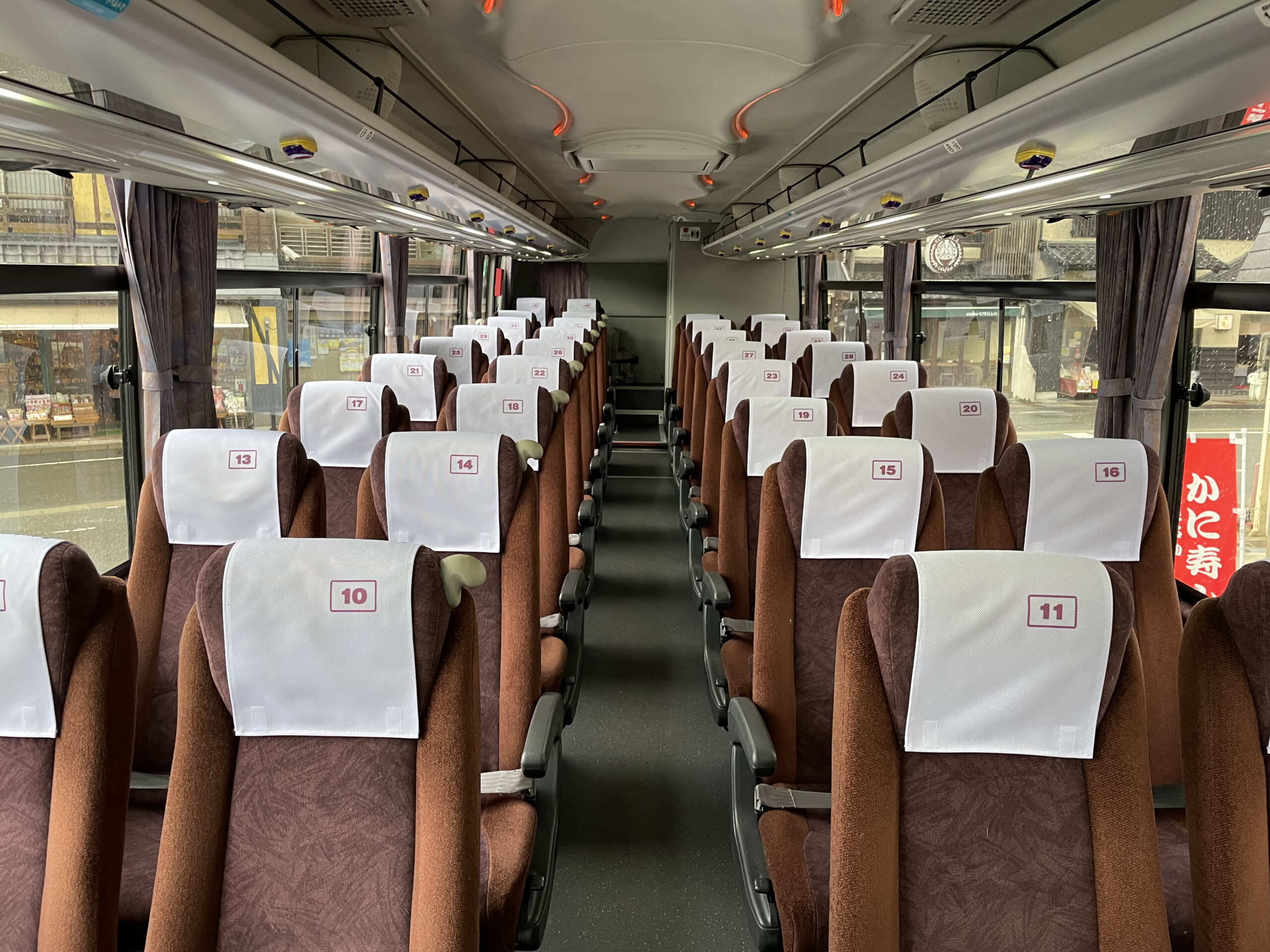 This shows the inside of the bus. WIFI can be used on the bus so you can kill time without getting bored. The bus is user-friendly to users of baby-strollers or wheelchairs.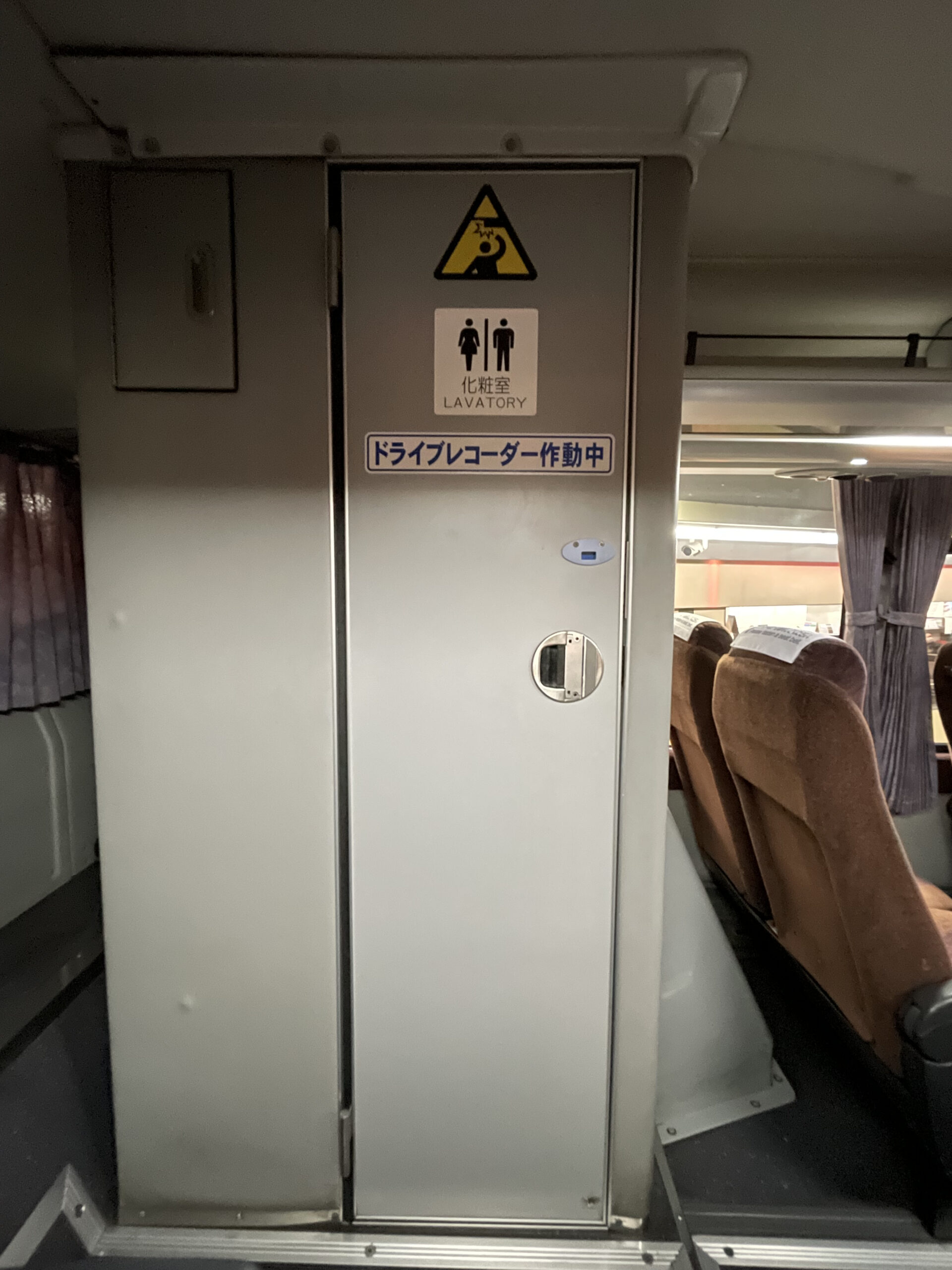 Far end of the bus is equipped with an on board toilet which can be used anytime.
10:47 am Arrived at Kinosaki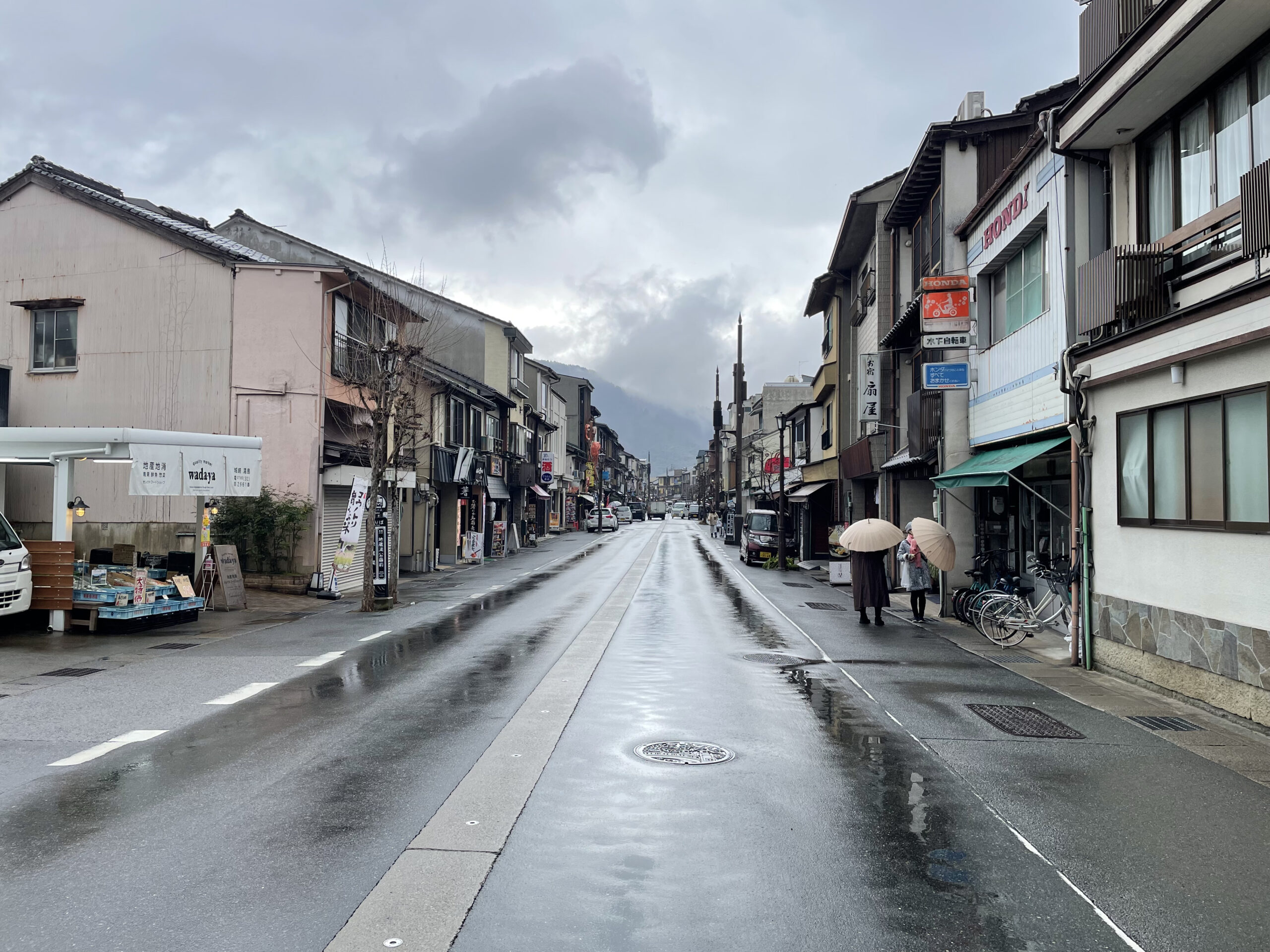 I arrived at Kinosaki Onsen after 3.5 hours. Unfortunately the weather was flickering with light rain, but I started to stroll around.
Speaking of Kinosaki, it always comes up with hot spring. I took a look at the onsen map and was wondering which bath to go.
11:20 am Started off by visiting "Ichino-yu"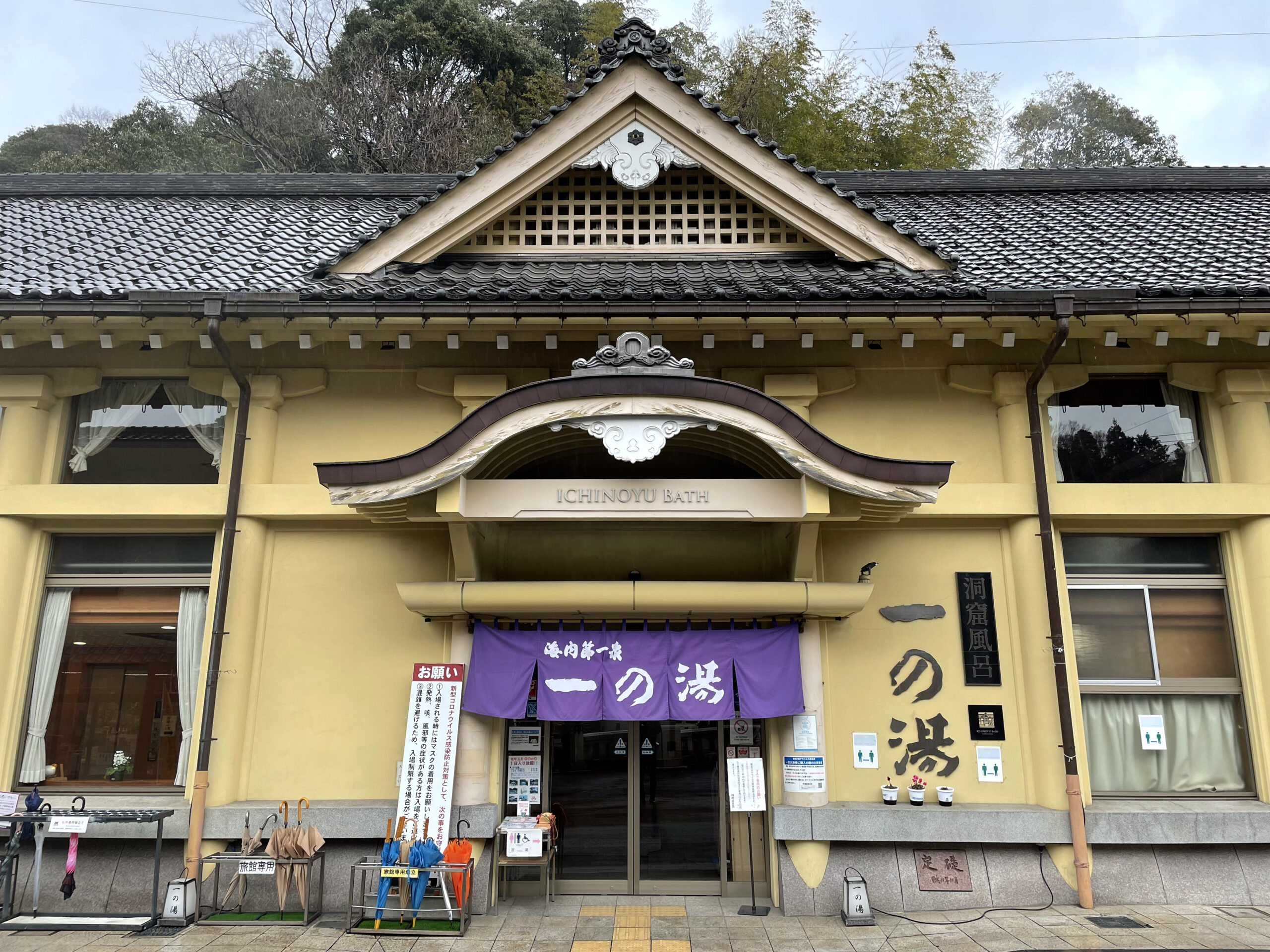 There are 7 public onsen bathhouses at Kinosaki which a day tripper can enjoy. The splendid exterior of the Ichino-yu appealed me and I looked forward to the soak. Let's start off by getting a bath here.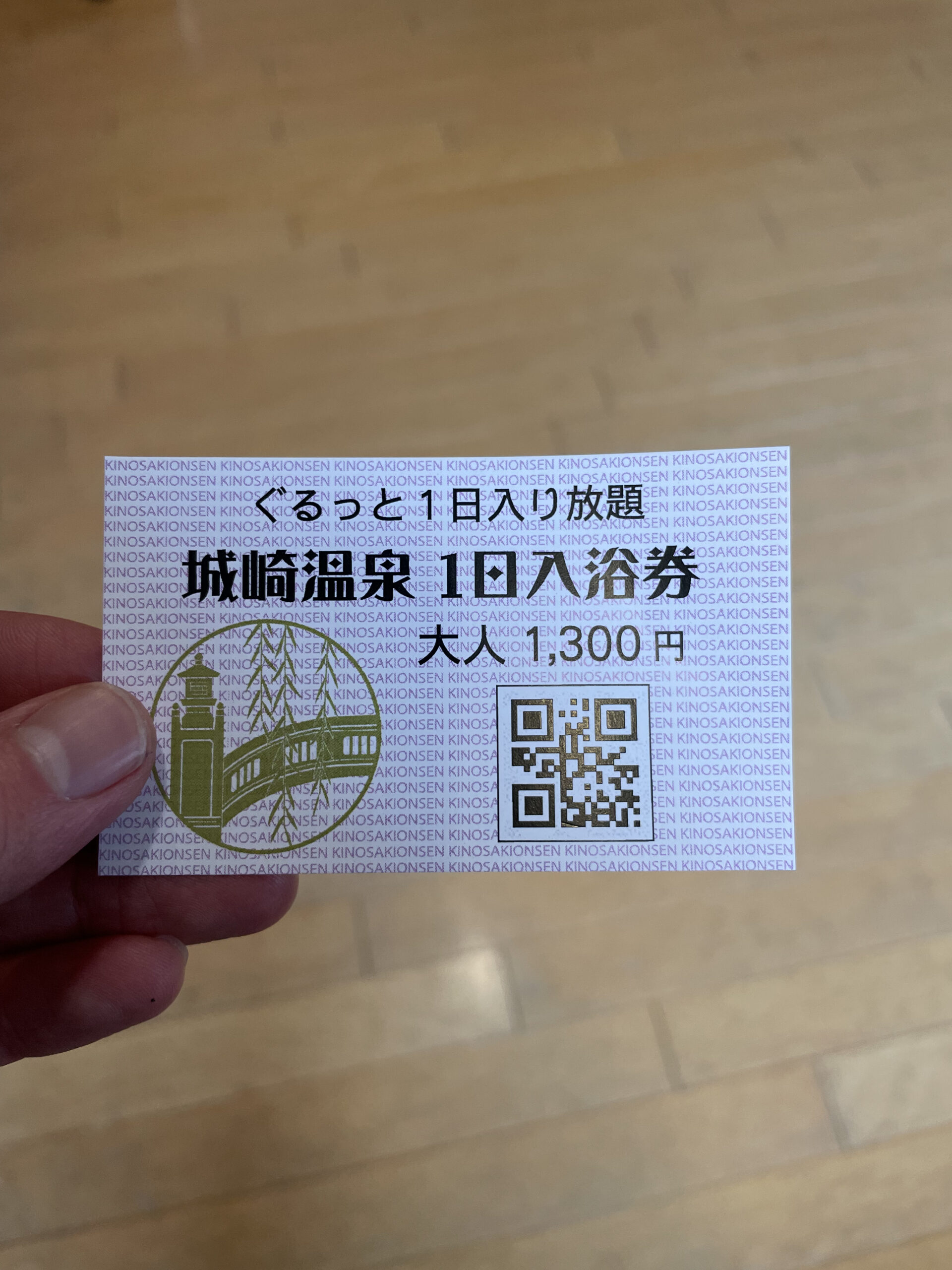 I bought a day pass at the ticket office. The day pass allows free admission to all 7 public bathhouses in a day. With an admission fee of around 700-800 yen in each bathhouse, getting a day pass saves your money if you go for 2 or more baths in a day.
It was believed that a soak at Ichino-yu will bring you success, road safety and good fortune. The most famous bath at Ichino-yu is its half open-air cave bath where limited sunlight penetrates into the cave creating a mysterious atmosphere. It was a wonderful beginning of my trip as I was able to warm my body while listening to the pleasant sound of flowing water.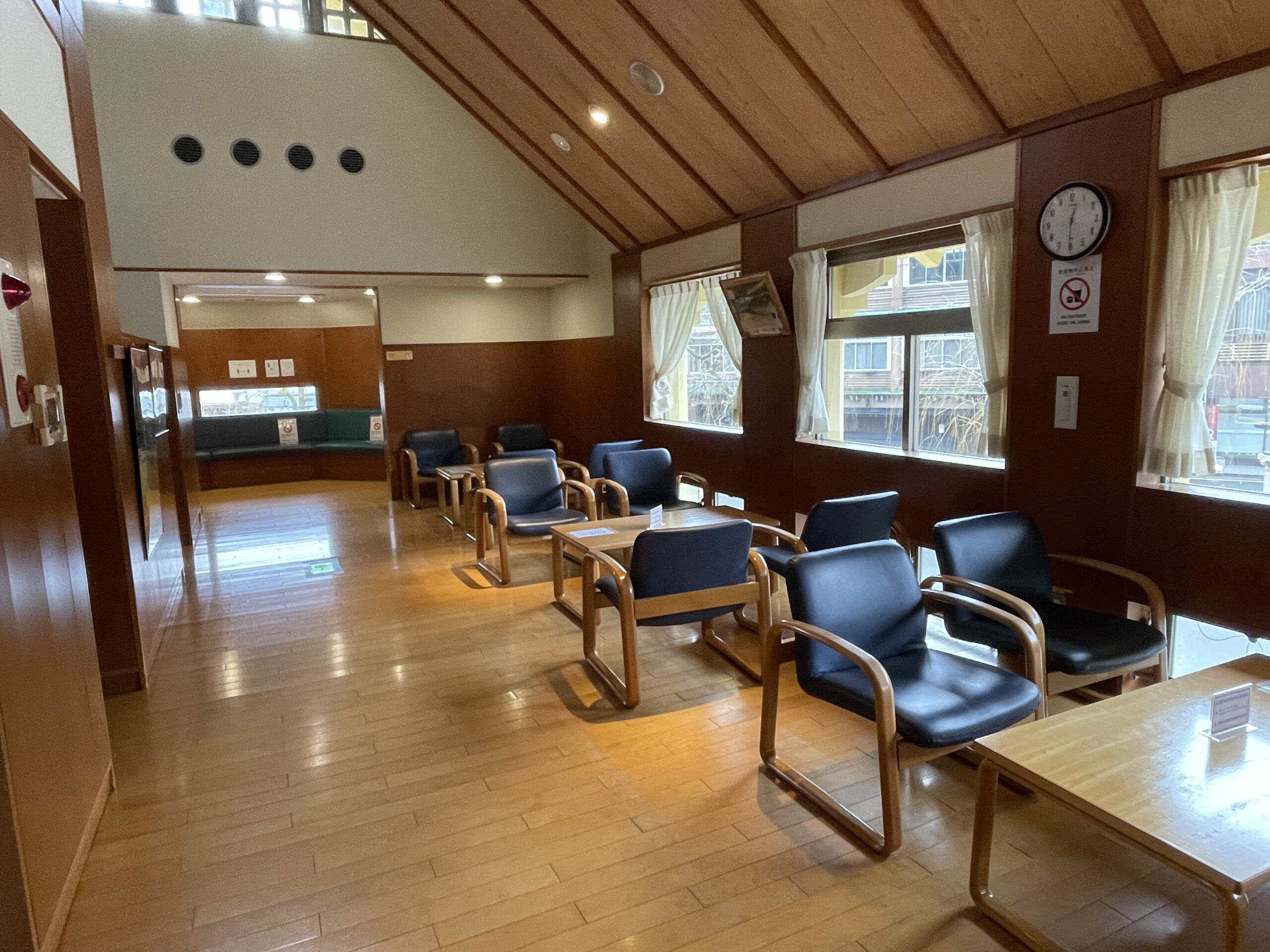 On the 2/F, there is a spacious relaxation area where you can unwind after a bath.
◎ Basic information of Ichino-yu
| | |
| --- | --- |
| Operating hour | 7:00 am~11:00 pm (※Closed on every Wed) |
| Address | 415-1 Yushima , Kinosaki-cho , Toyooka-city , Hyogo |
| Tel | 0796-32-2229 |
| HP | Click here |
12:30 pm "Fresh Juice & Smoothie" soothed my dry throat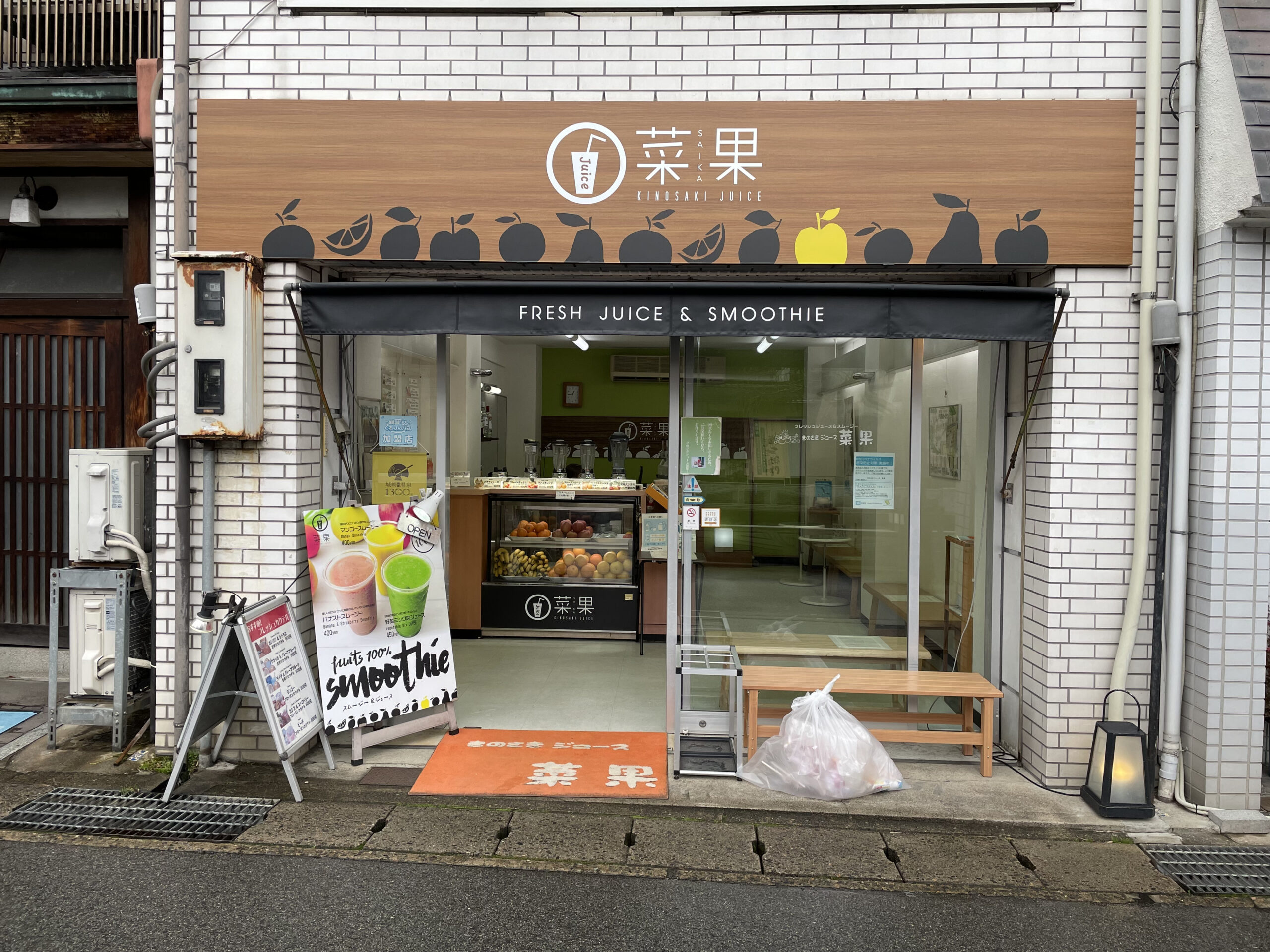 I got a dry throat after soaking in the hot bath. I accidentally found a fresh juice shop just a few walks from Ichino-yu. Let's go inside and get something to moisturize my throat.
I struggled for almost 10 minutes on choosing among banana juice, fruit-mixed juice or peach smoothie. Finally I ordered a mango smoothie with mango and yogurt.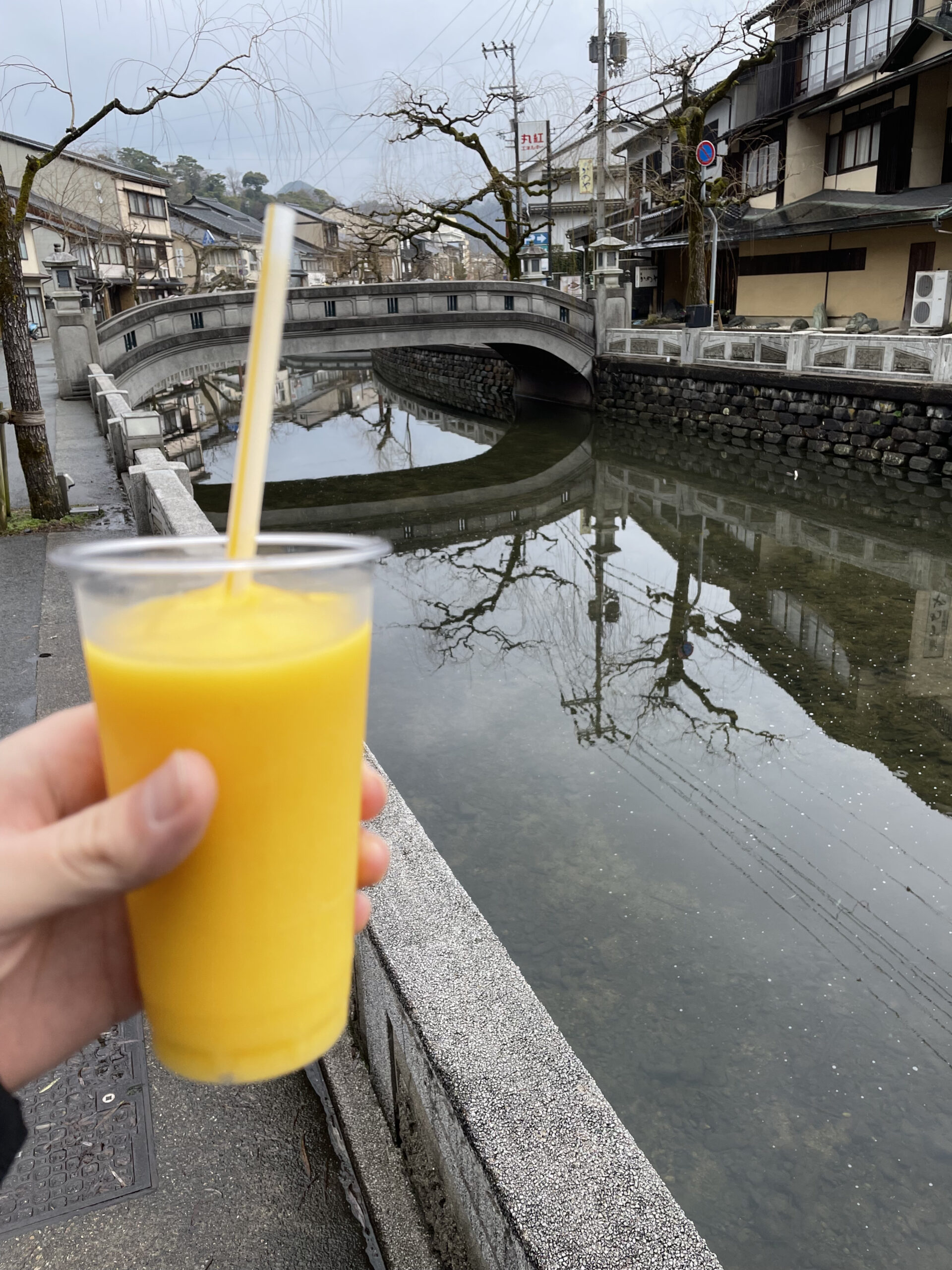 I enjoyed and strolled through this old town while having my drinks.
◎ Basic information of "Fresh juice & Smoothie Kinosaki Saika"
| | |
| --- | --- |
| Operating hour | 10:00 am~9:00 pm (※Closed on every Wed.) |
| Address | 644 Yushima , Kinosaki-cho , Toyooka-city , Hyogo |
| Tel | 0796-32-0101 |
| HP | Click here |
12:50 pm Enjoyed a Japanese-style lunch at "Restaurant Yamayoshi"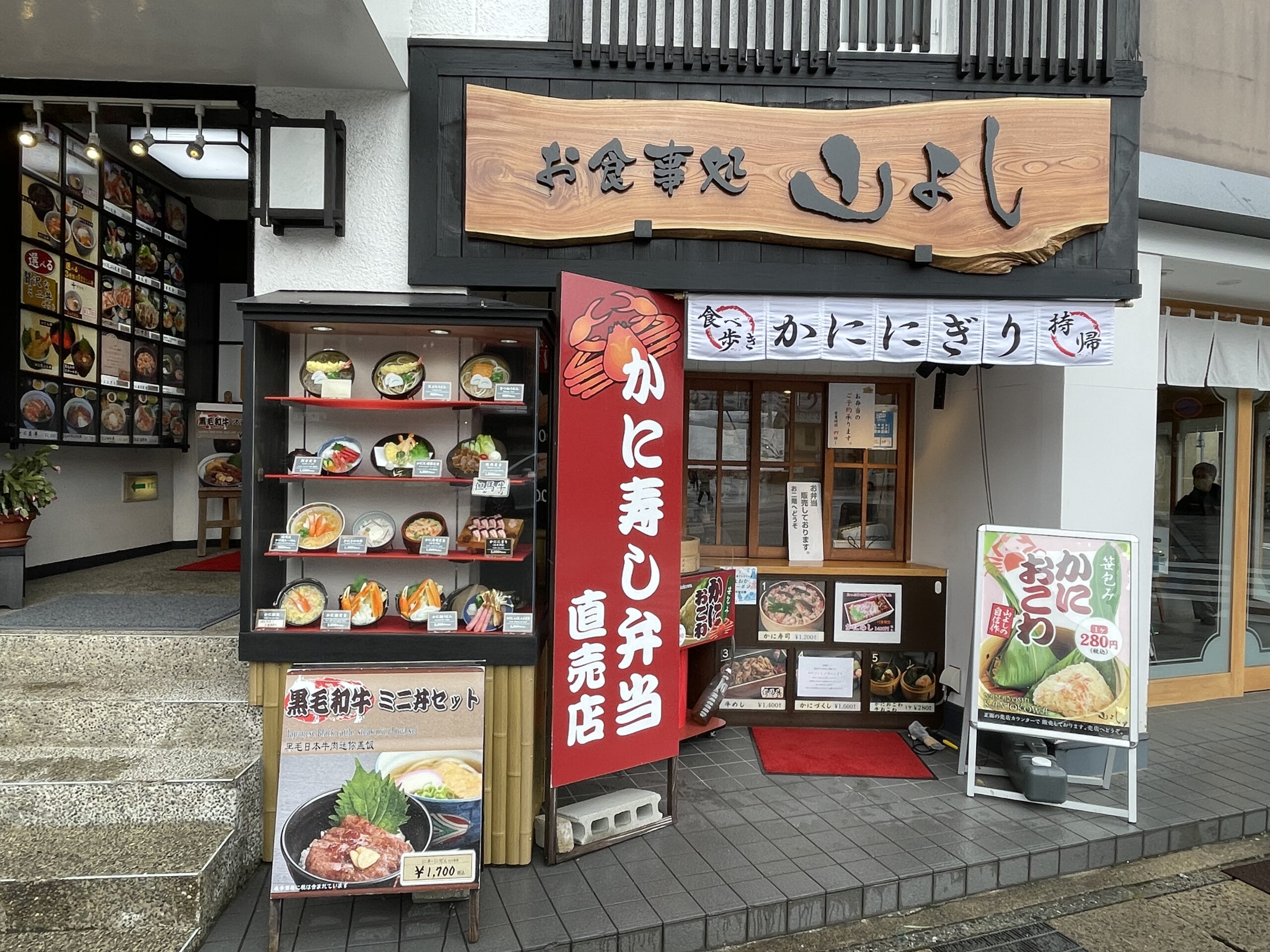 I started feeling hungry. There was a Japanese restaurant next to the tourist information center when the bus arrived. Let's go for lunch.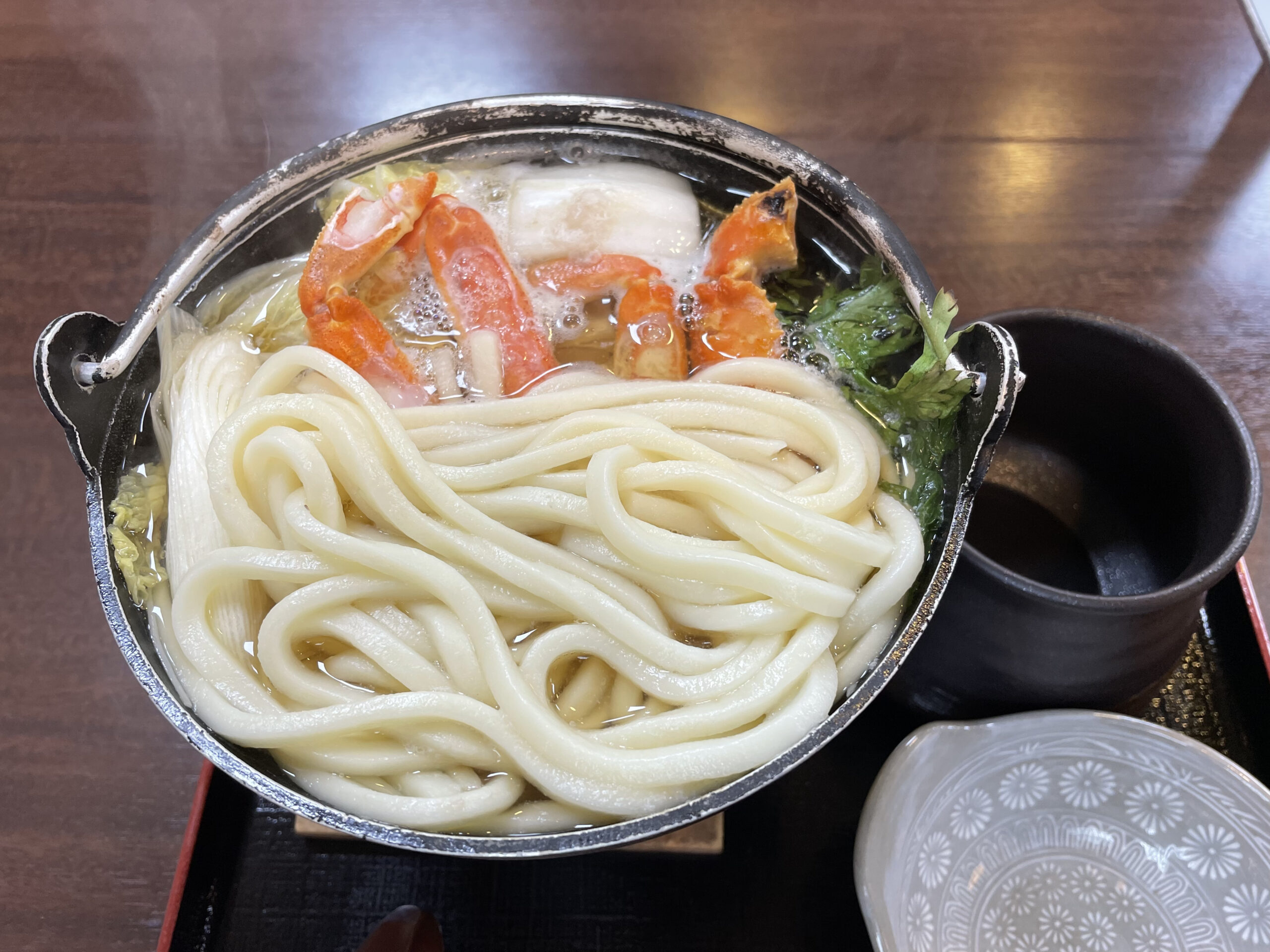 Kinosaki is well known for crab, so I ordered a crab udon pot. There was a lot of crab meat inside so it was filling. The restaurant also offers other delicacies like sashimi set meal, crab shabushabu set meal, crab hotpot, deep fried crab set meal. All of them look awesome too.
◎ Basic information of "Restaurant Yamayoshi"
| | |
| --- | --- |
| Operating hour | 8:00 am~11:00pm(LO.10:00 pm) |
| Address | 96 Yushima, Kinosaki-cho , Toyooka-city , Hyogo |
| Tel | 0796-32-3841 |
| HP | – |
2:00 pm Revitalized by having a sauna bath at "Satono-yu"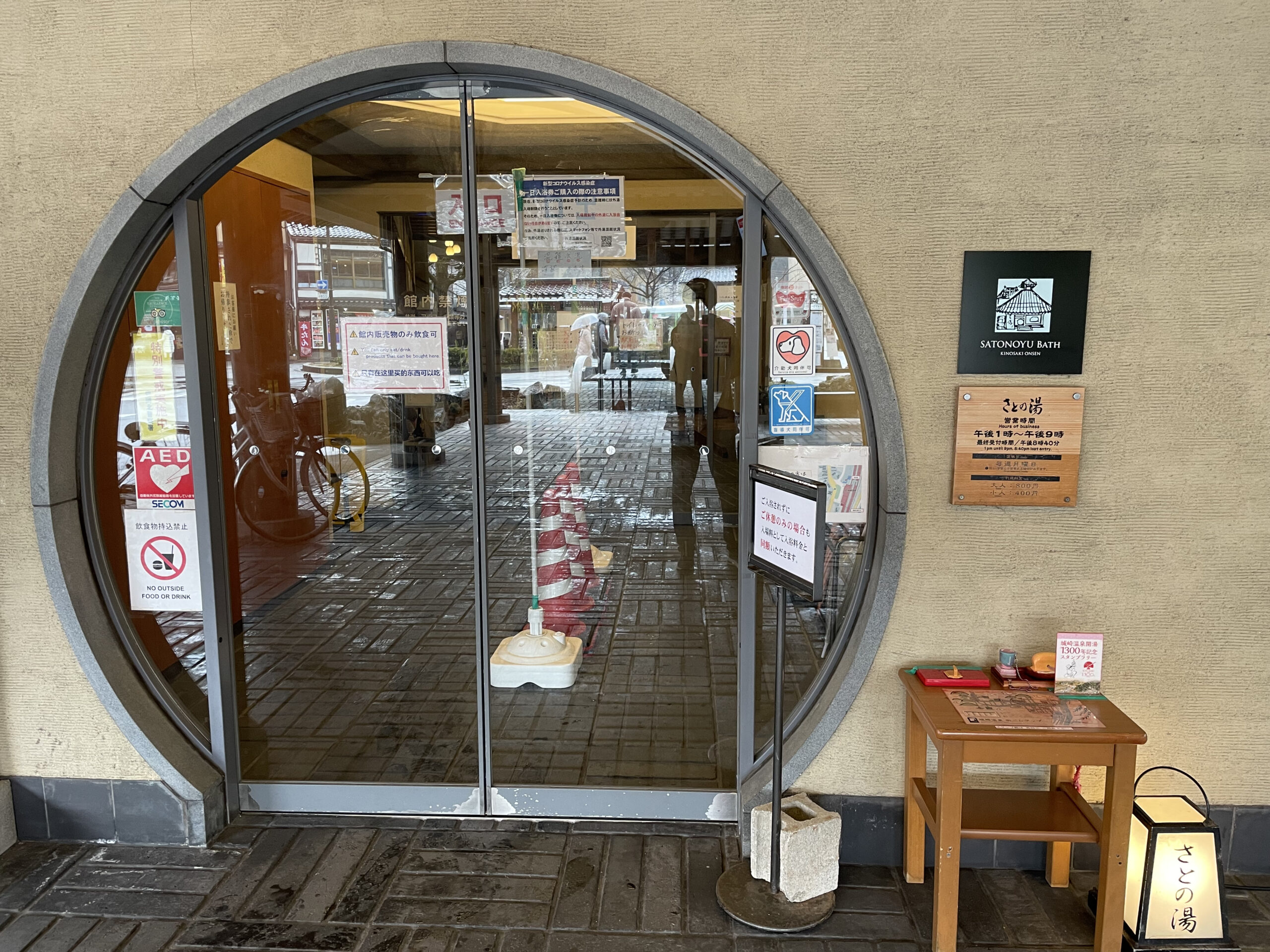 The second public bathhouse I stopped by is "Satono-yu", which is just opposite to Restaurant Yamayoshi, the place where I had lunch. There are various types of spa at Satono-yu and their bath area is spacious.
The outdoor bath featuring a beautiful scenery, the mist sauna (at a temperature of 43℃) and the dry sauna (at a temperature as high as 90℃) at its 3/F are popular ones.
After taking a sauna, cool down your body with a cold shower and sit on a bench with a view of gorgeous mountains to enjoy a breath of fresh air and complete relaxation.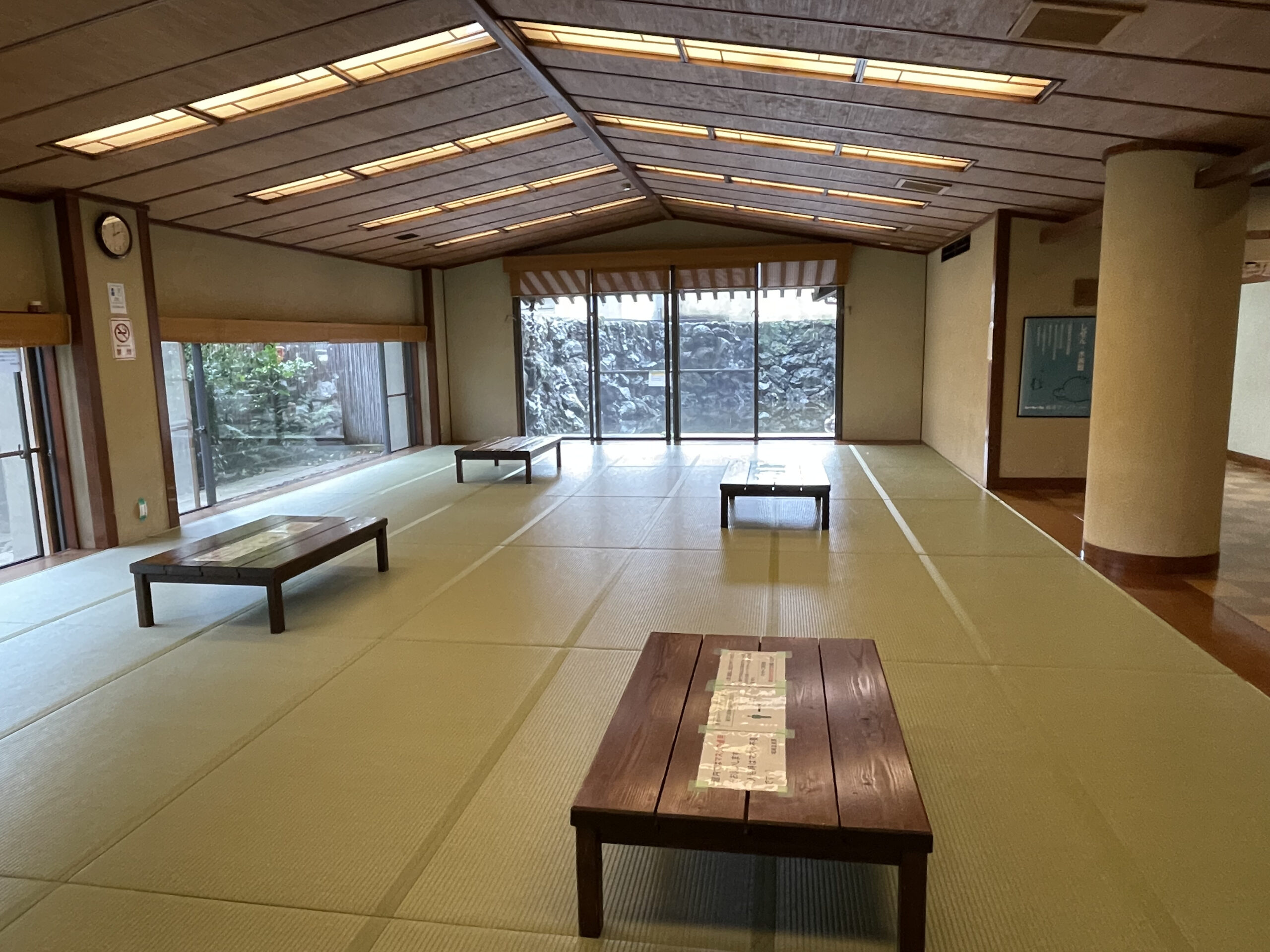 Tatami mats are used in the rest area and they look so comfortable to take a nap there after getting a hot soak. It was such a wonderful experience that I'd love to come again.
◎ Basic information of Satono-yu
| | |
| --- | --- |
| Operating hour | 1:00 pm~9:00 pm (※Closed on every Mon) |
| Address | 290-36 Imazu, Kinosaki-cho , Toyooka-city , Hyogo |
| Tel | 0796-32-0111 |
| HP | Click here |
3:15 pm Cooled down and took a rest at "Tokiwa Garden"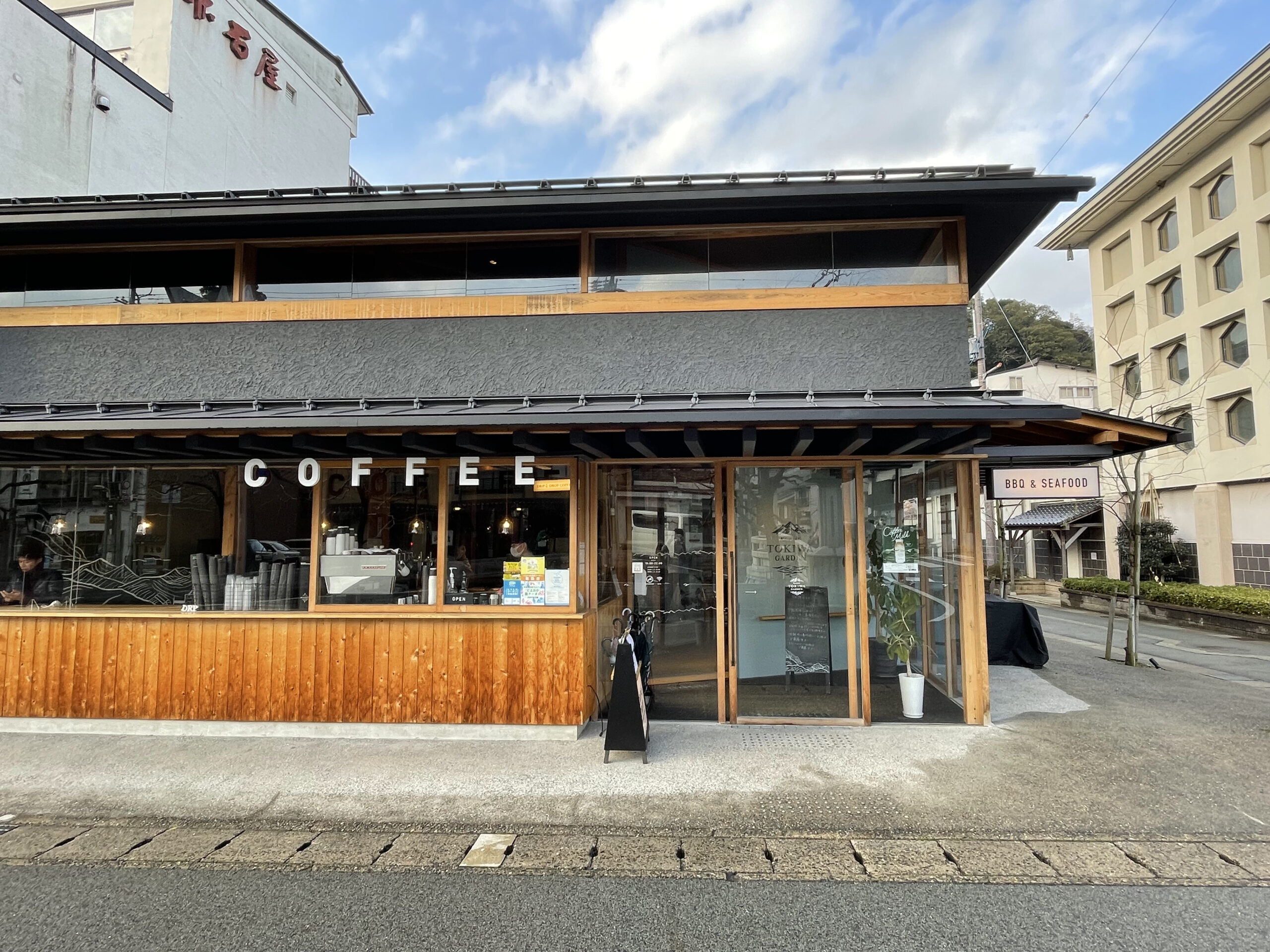 While I was looking for a place to get a short break, I found a cozy café "Tokiwa Garden".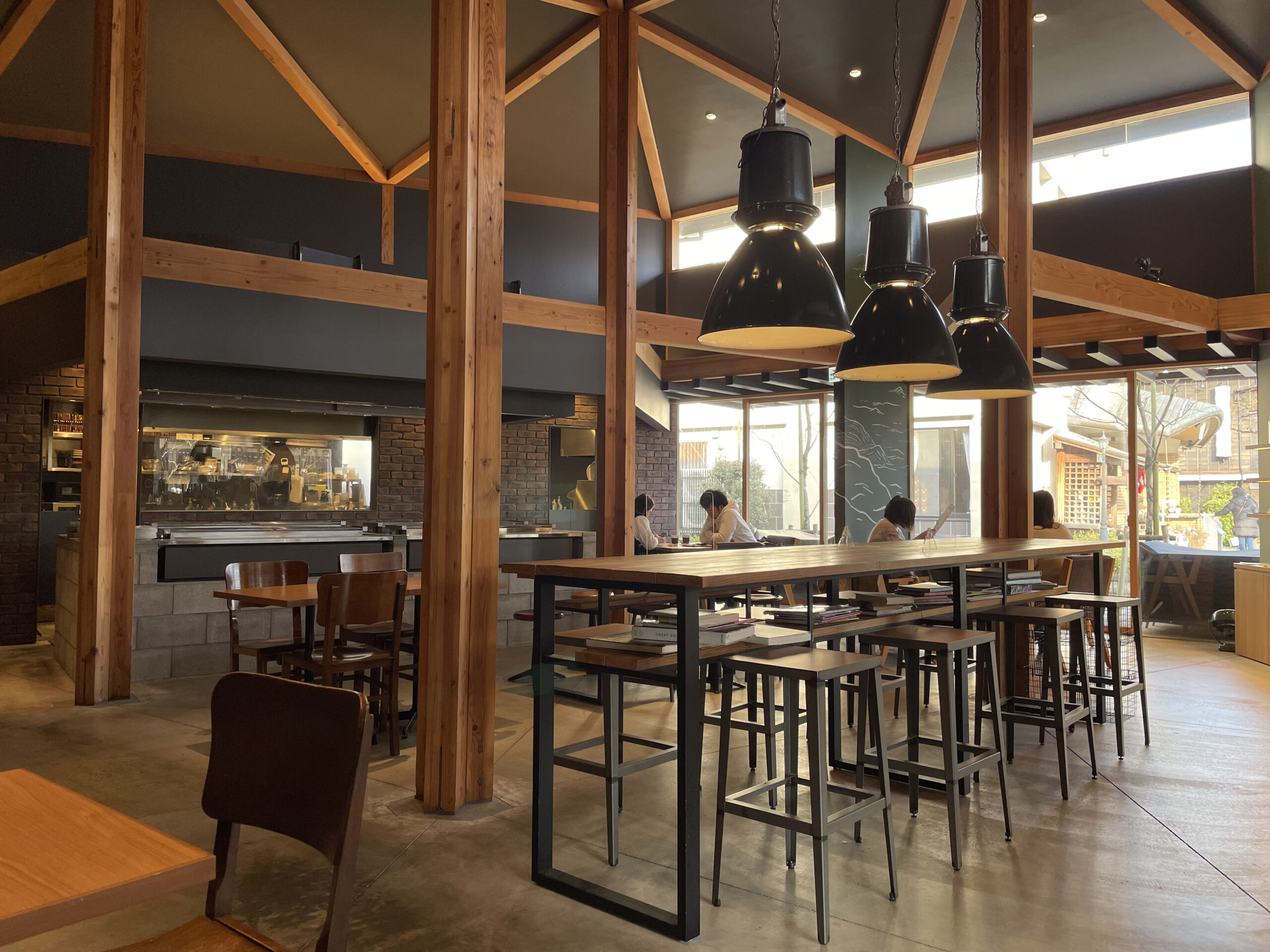 It was stylishly-decorated with ample seating.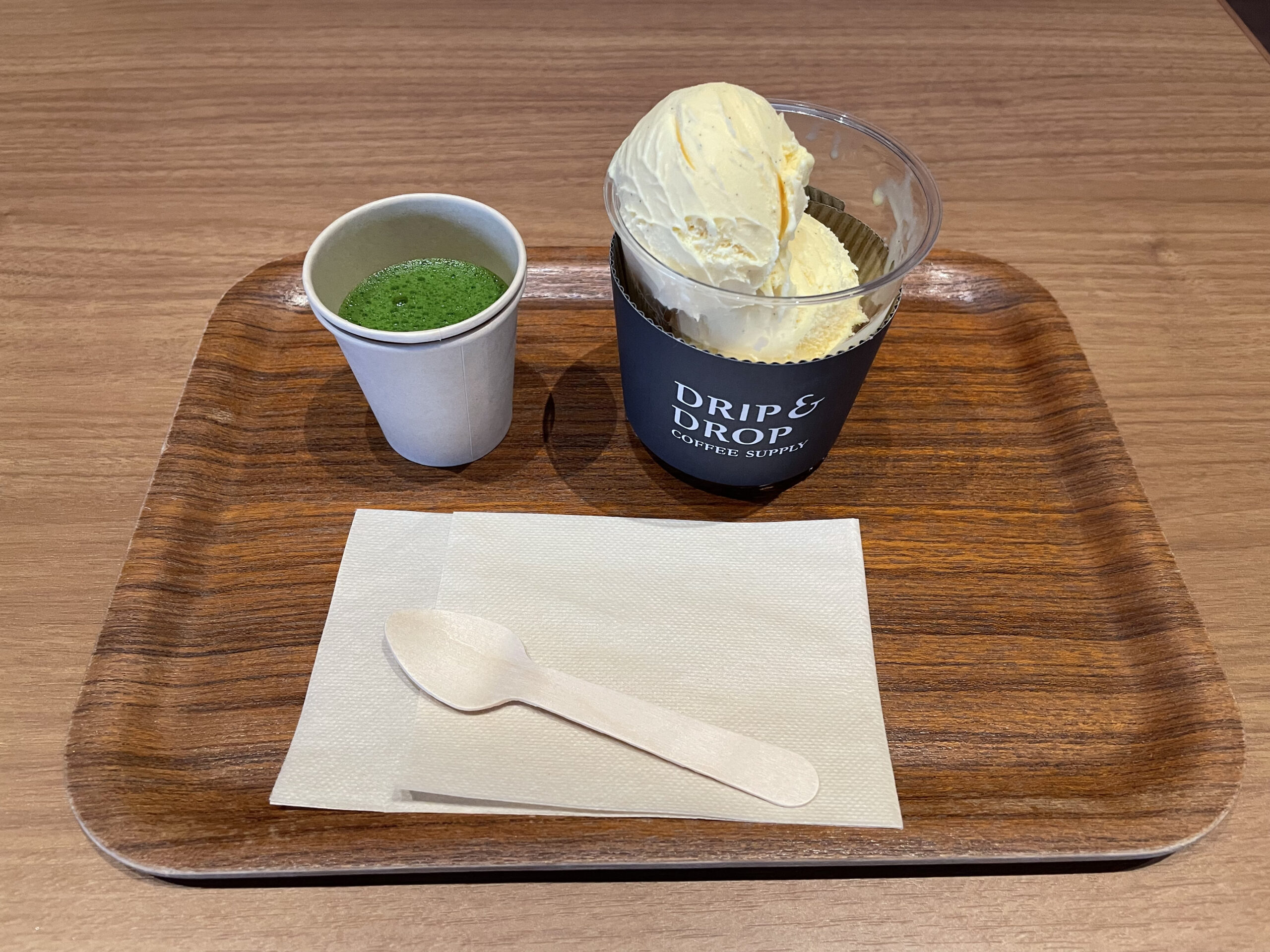 I ordered a matcha affogato. Hot matcha and vanilla ice cream topping combined in perfect harmony.
◎ Basic information of "Tokiwa Garden"
| | |
| --- | --- |
| Operating hour | 9:00 am~5:00 pm(LO.4:30 pm)(※ Closed on every Tue) |
| Address | 788 Yushima, Kinosaki-cho , Toyooka-city , Hyogo |
| Tel | 0796-21-9126 |
| HP | Click here |
4:20 pm Surrounded by nature and tranquility at "Kono-yu"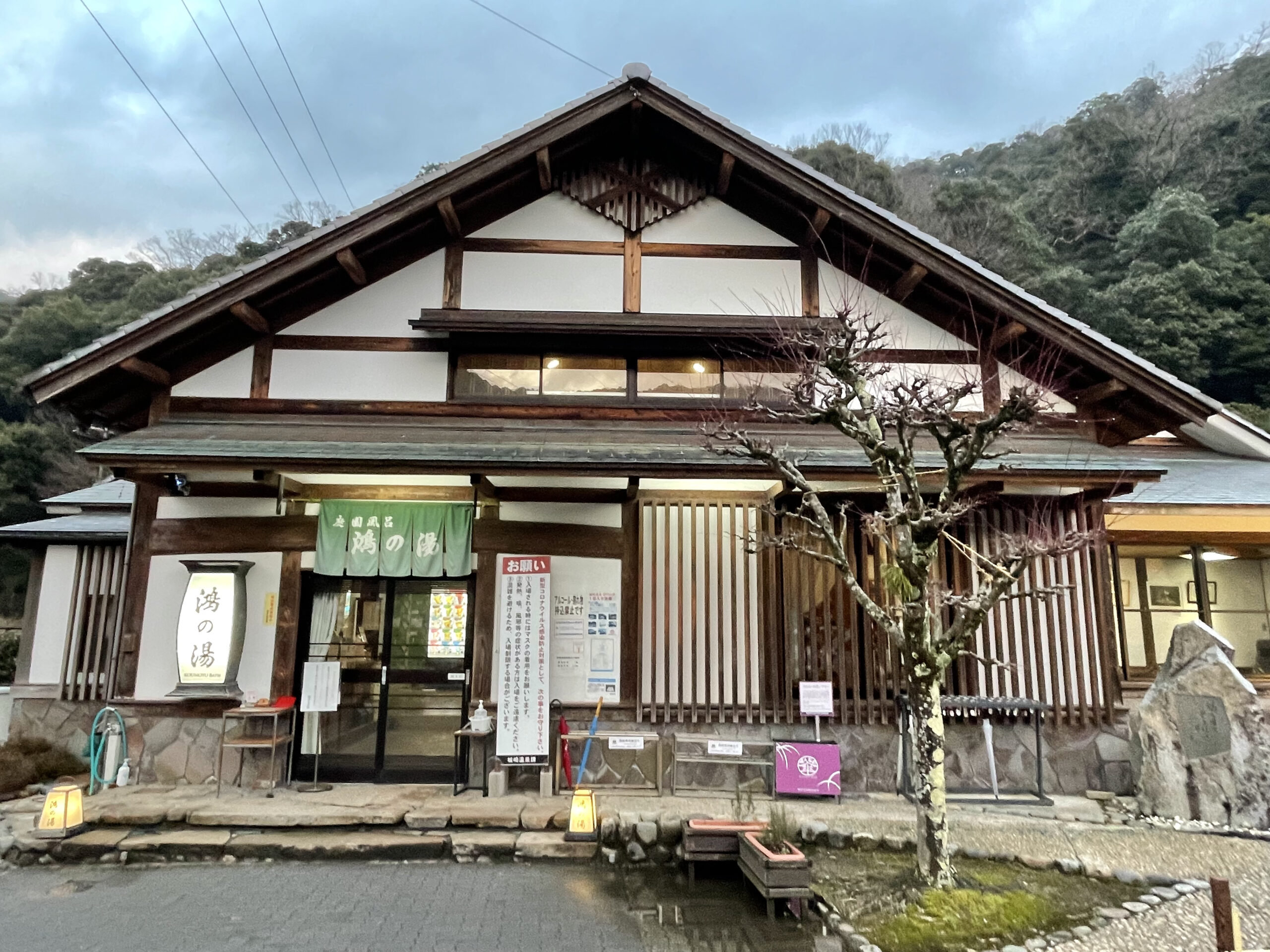 The last bathhouse I visited is the Kono-yu. It was believed that the water at Kono-yu will bring you with a harmonious marriage, longevity and happiness. Since I am not yet married, I was hoping that the bath could bless me longer life span.
What is the best in this bathhouse is its outdoor bath surrounded by lush natural surroundings. It was so peaceful that I could hardly hear any sound while I was taking the bath. Perhaps it offers the most relaxing ambience among the three baths I visited this time.
◎ Basic information of Kono-yu
| | |
| --- | --- |
| Operating hour | 7:00 am~11:00 pm (※Closed on every Tue) |
| Address | 610 Yushima, Kinosaki-cho , Toyooka-city , Hyogo |
| Tel | 0796-32-2195 |
| HP | Click here |
5:40 pm Left Kinosaki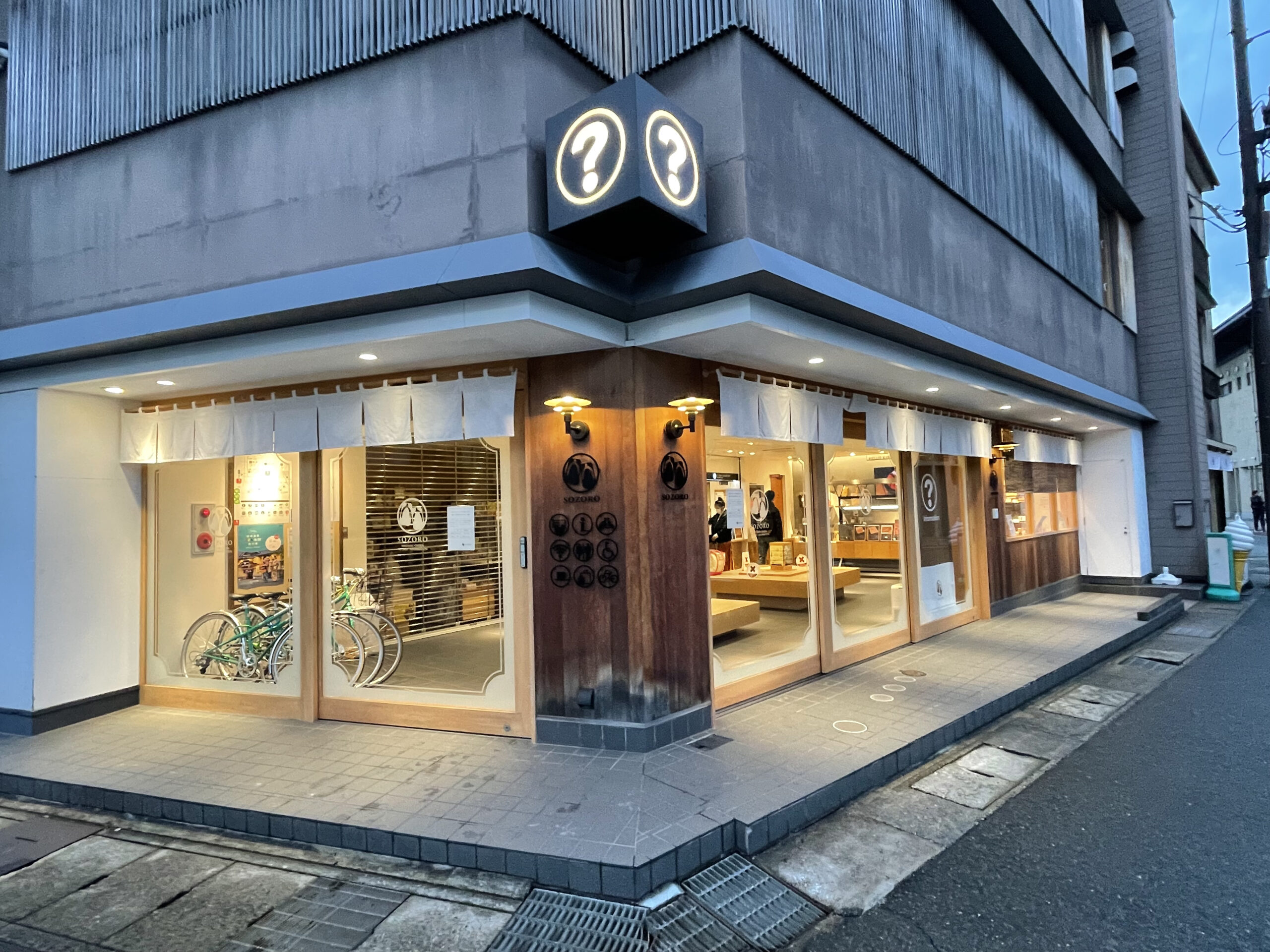 The trip was incredible, however, it was about time to go home. I waited for the bus in front of tourist information center, the same place where I arrived.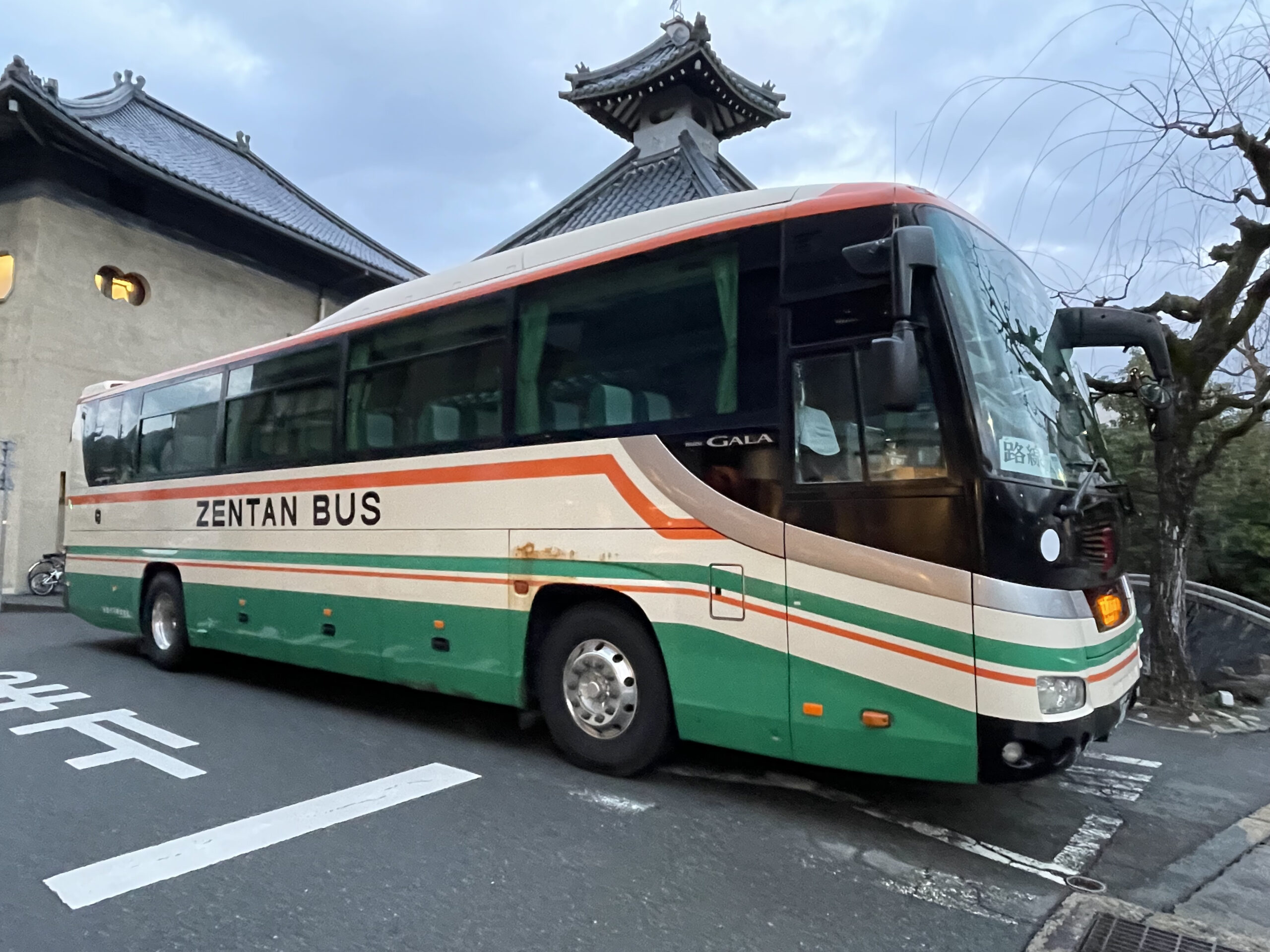 The bus to Osaka is operated by Zentan Bus Company. There is a trunk room where snow boards, bikes or large-sized luggage can be stored.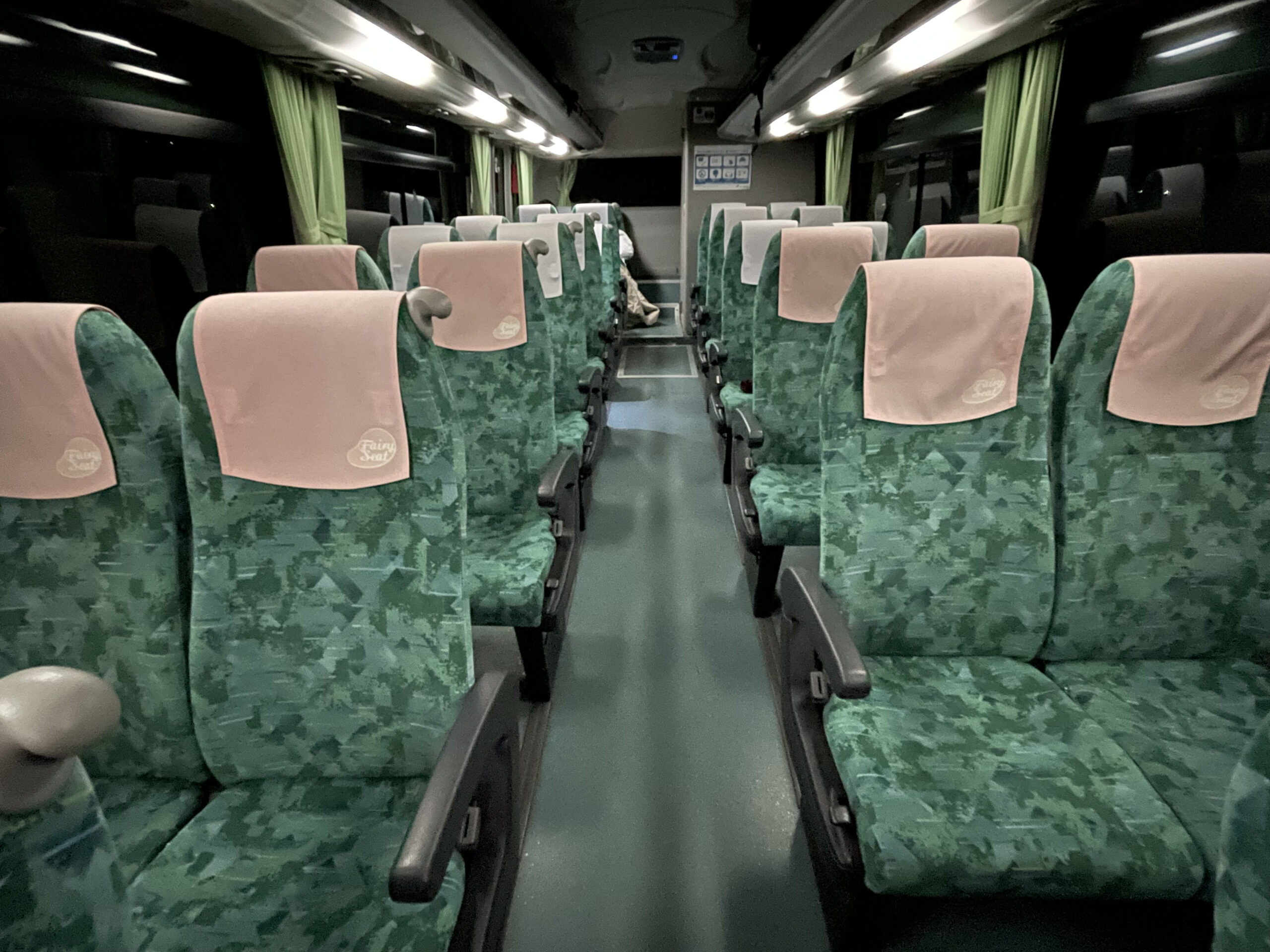 It was 4 seats in a row and an on-board toilet is in the back. WIFI is also provided, you can kill your time by taking a rest or playing with your smart phone, in whatever way you like.
8:58 pm Arrived at Osaka
I arrived Osaka safely. It was a great day.
The best bus trip ever!
In this article, I have shared to you my bus journey to Kinosaki Onsen. The 3 onsen bathhouses I visited are unique and each of them has its own charms which I enjoyed hopping into them. If you take the highway bus, you can sleep on board or spend the time in your own way. Kinosaki Onsen is a place for solo travellers, couples and friends. Why not consider Kinosaki Onsen as your next getaway?
Make a bus reservation here
The bus "Kinosaki Onsen-Osaka" line can be reserved via Japan Bus Online.
⇒Please click here for details.
If you want to make a reservation for an expressway bus,
Please go to "Japan Bus Online".
The information in this article is current at the time of writing.
It may differ from the latest information.