From Hiroshima City to Shimanami! One-day sightseeing model course
This is a must-see for those who want to visit the Shimanami Sea Route, which is easily accessible from Hiroshima.
We'll show you how to get there by highway bus in a one-day sightseeing plan.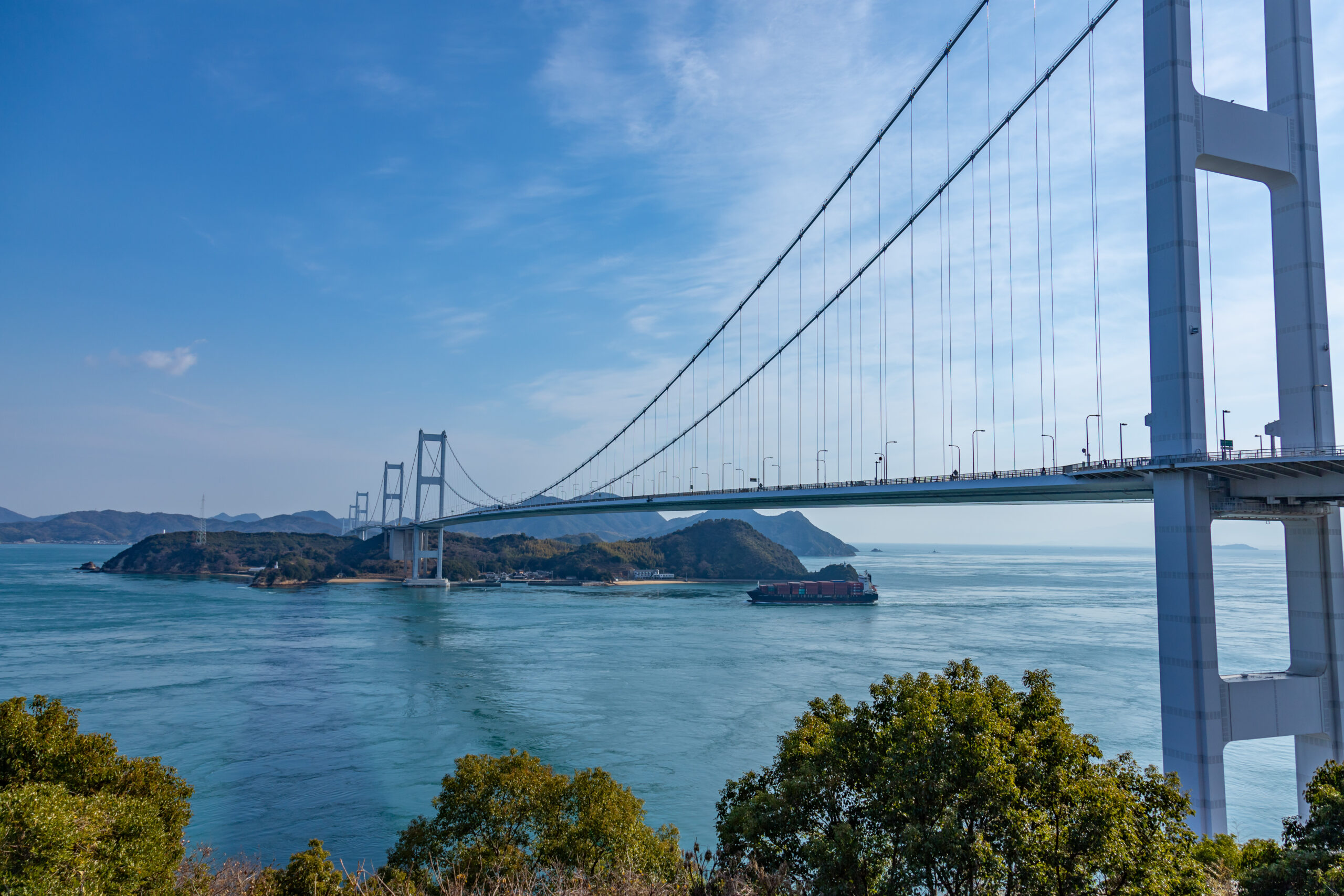 Shimanami Kaido Sightseeing Day Trip
Introducing a convenient access method for day trips to the Shimanami Kaido.
Rent a bike and enjoy the beautiful contrast of both sea and mountain!
What is the Shimanami Kaido?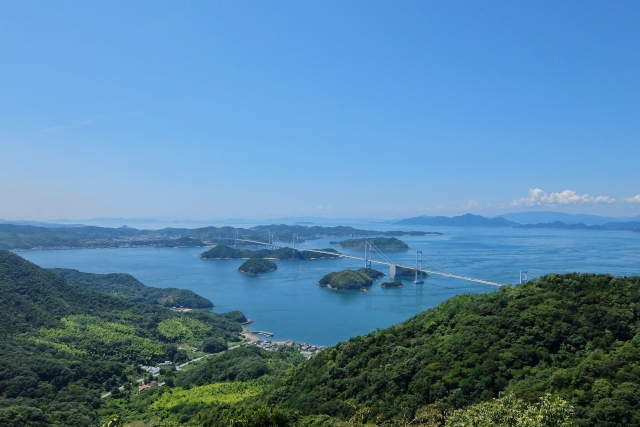 The Shimanami Kaido is the area where a collection of 10 bridges connect the Prefectures of Shikoku and Hiroshima.
There are six islands, Mukaijima, Innoshima, Ikuchijima, Omishima, Hakatajima, and Oshima. The Nishi-Seto Expressway runs from Onomichi City, Hiroshima Prefecture to Imabari City, Ehime Prefecture.
The total length of the bridge is about 59.4km, and you can enjoy the beautiful view of the sea and mountains.
Let's use the Shimanami Liner direct from Hiroshima!
The Shimanami Liner is convenient if you want to travel the Shimanami Kaido from Hiroshima city.
If you go with a friend, you can use a 4-ticket voucher for ¥3,300 for a one-way trip.
You can get off on the way and take a 10-minute break in the service area, so you can enjoy a comfortable bus trip.
Transportation

Station

Time required

Price

Wi-Fi・Battery
Charger

Schedule

Reservation site
Hiroshima Bus Center
→ Imabari Pier

About
2 hours
and
55 minutes
One way
¥ 270- ¥ 3,800

round trip
Adults: ¥ 6,800


Children: ¥ 3,400

4 -ticket voucher
¥ 13,200
〇


(Wi-Fi)

time table
Bicycles and rental cars are the best way to see the sights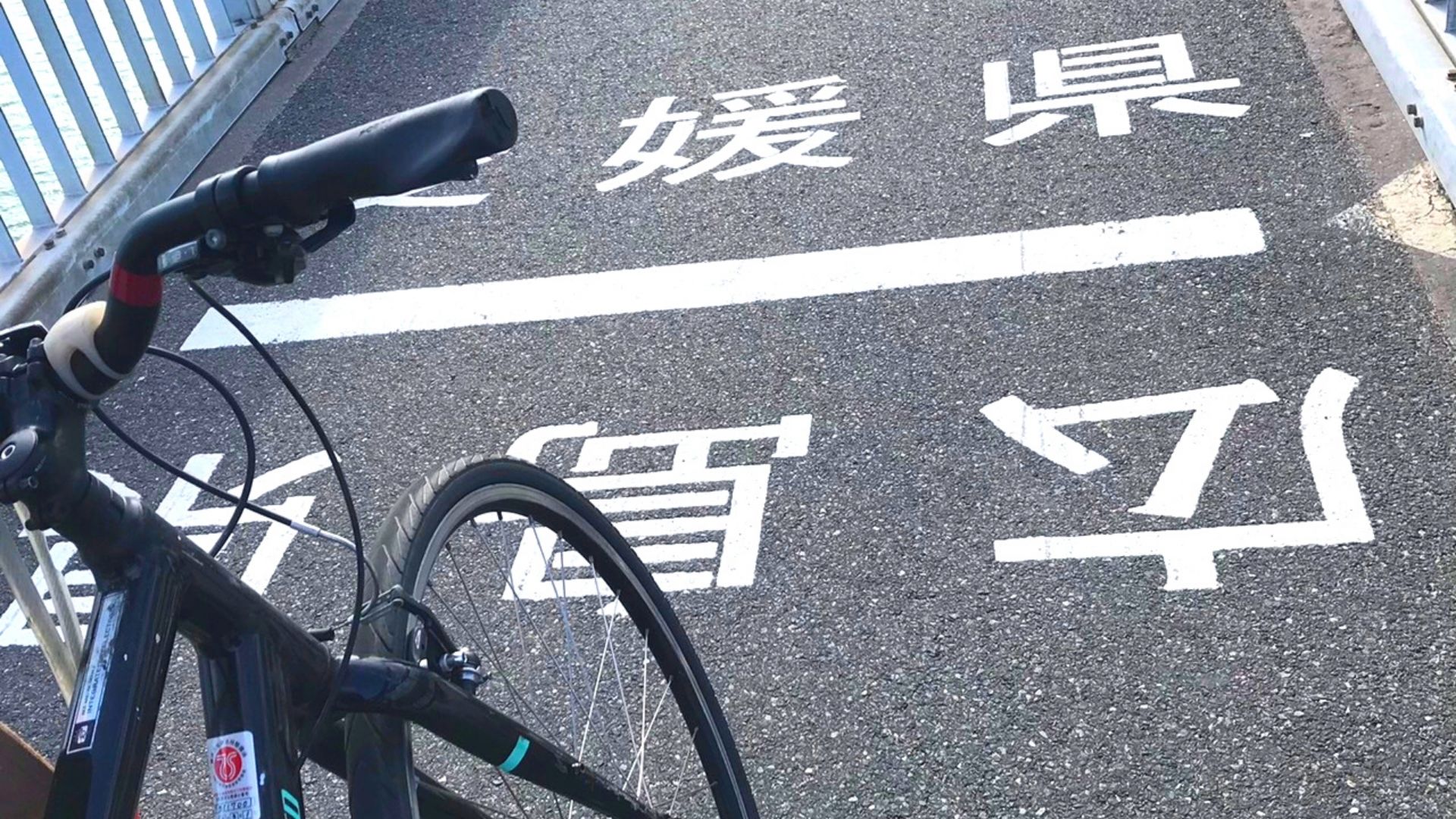 The Shimanami Kaido is known as the "holy land of cycling", so why not rent a bike and enjoy the breeze and beautiful scenery?
There are 13 places to rent and return bicycles, and if you have a bicycle issue, the staff will come to your aid immediately, so even beginners can ride with peace of mind.
If you don't like bicycles, we recommend renting a car, as some of the hills are quite steep.
[Rent-a-bicycle official website]
https://shimanami-cycle.or.jp/go-shimanami/
Enjoy the Shimanami Sea Route! One Day Trip Model Course
If you want to explore the wide area of Shimanami in one day, we recommend this model course.
We hope you will find it useful.
Easy by bus from Hiroshima to Omishima
If you take the bus from Hiroshima City to Omishima, arriving at 10:06am, you can enjoy the Shimanami Kaido all day long.
The journey takes about two hours, and there's no transport changes, making it stress-free trip.
Omishima is a sacred island, also known as "God's Island".
Each of the other islands seen during the trip also has different scenery and characteristics.
Visit at Oyamazumi Shrine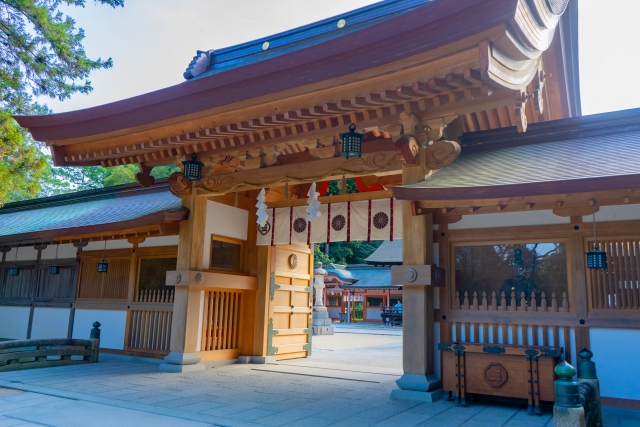 When you arrive at the Omishima bus terminal, pay your respects at the Oyama Yoshigi Shrine, a shrine famous for the God of Mountains, the God of the Ocean and the God of Travel.
You can see very valuable exhibits, with 80% of the armory preserved as national treasures and important cultural properties.
There's also a 2,600 year old sacred tree, so you will definitely enjoy the natural atmosphere of the shrine.
Name

Oyamazumi Shrine

Address

3327 Miyaura, Omishima-cho, Imabari-shi, Ehime 794-1393

Contact Number

0897-82-0032

Parking Lot

Yes • 13units

Access

Car: 7 km from Nishi Seto Expressway (Shimanami Kaido) [Omishima IC]

Nearest stations: JR Imabari Station, JR Fukuyama Station, JR Onomichi Station

HP

https://oomishimagu.jp/
"Shio Ramen" for lunch
Enjoy Shio Ramen for lunch at Hakata Island.
The ramen is made from 17 different ingredients such as pork, chicken bones and kelp. Salt from Hakata brings out more of the flavor of the broth.
Ramen sets that you can make at home and original salt sauce are also available, so it's a good idea to buy some as souvenirs.
| | |
| --- | --- |
| Store Name | Hakata's Shio Ramen |
| Regular Holiday | Sunday |
| Address | 1650-1 Kiura Ko, Hakata-cho, Imabari City, Ehime Prefecture 794-2305 |
| Contact Number | 0897-72-1211 |
| Business Hour | 11:00~19:00 (Until 17:00 on Wednesday) |
| Access | Get off at Hakatajima Interchange and turn left 6km |
| HP | https://sanwa.ocnk.net/ |
A tour of the famous Hakata Salt Factory
Hakata-no-salt, a speciality of Hakata Island, is produced without using any chemicals, only from natural sources.
At the Omishima Factory, you can learn how it is made and experience the salt-making process.
At the entrance of the factory, there is a chime that plays the familiar melody of Hakata no Shio.
Name

Hakata no Shio Omishima Factory

Address

32 Omishimachodai, Imabari City, Ehime Prefecture 794-1305

Contact Number

0897-82-0660

Time

9:00~16:00

Regular Holiday

Year-end and New Year holidays (12 / 28-1 / 7), Obon (8 / 13-8 / 17), local festivals (late September-early October

Parking Lot

Available / 34 ordinary cars, 7 medium / large cars

Access

Car: Get off at Omishima IC on Shimanami Kaido and about 1.5km from Oyamazumi Shrine

Bus: Regular bus from Hiroshima (Fukuyama) and Ehime (Matsuyama)

HP

https://www.hakatanoshio.co.jp/en/
Superb view from Kirosan Observatory Park
Why don't you finish your trip at "Kirosan Observatory" where you can see the islands of the Seto Inland Sea and the Kurushima Kaikyo Bridge.
Located on Oshima in Imabari City, Ehime Prefecture, this observatory is also famous for being designed by architect Kengo Kuma.
It has been selected as one of the 88 scenic spots in Shikoku and is a must-visit when visiting the Shimanami Kaido.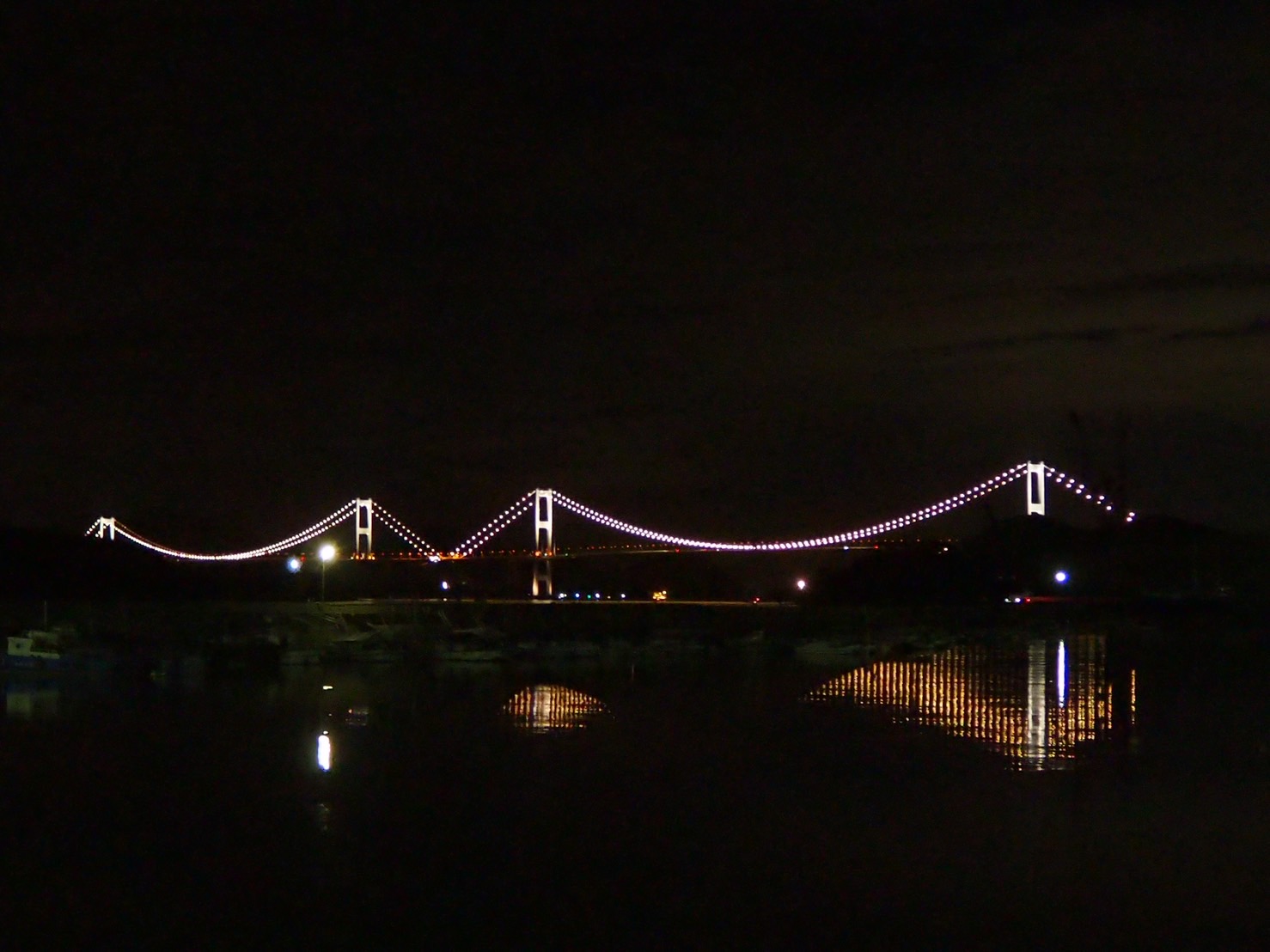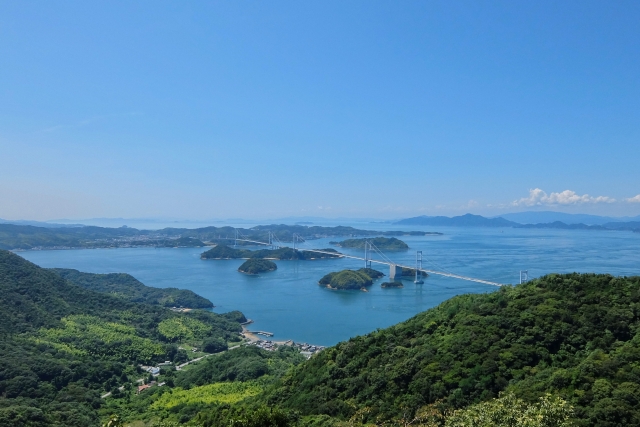 Name

Kirosan Observatory Park

Address

487-4 Minamiura, Yoshiumi-cho, Imabari-shi 794-2115

Contact Number

0897-84-2111

Parking Lot

Available, 24 ordinary cars

Access

Car: About 15 minutes from Oshima Kita IC, about 10 minutes from Oshima Minami IC

* There are steep slopes, so we recommend using a car.

HP

https://www.city.imabari.ehime.jp/kanko/spot/?a=182
[Bonus Info] For tea lovers, "patisserie T's Cafe Tamaya"
There are some stylish cafes by the sea on Hakata Island that you can use for lunch or a break.
We offer cakes and coffee, as well as pizza, curry and croque-monsieur at lunchtime.
Why not take a break and relax in front of the sea?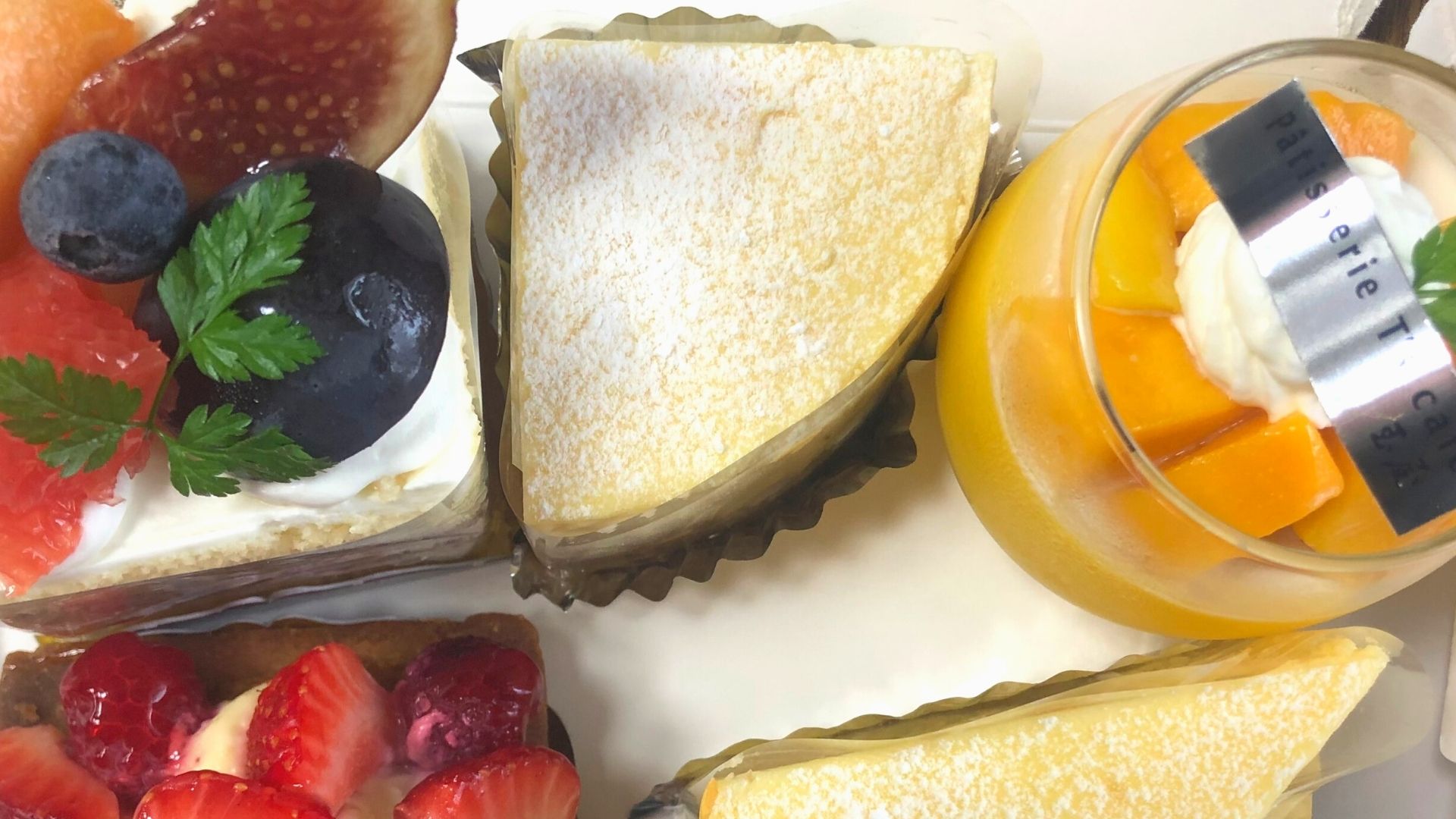 Store Name

patisserie T's Cafe

Regular Holiday

Sunday

Address

〒794-2301

2328 Arouzuko, Hakata-cho, Imabari-shi, Ehime

Contact Number

0897-72-0343

Business Number

10: 00-17: 00

[Cafe] 10: 00 ~ 17: 00 (Last order 16:30)

[Lunch] 11: 00 ~ 14: 00

HP

https://www.instagram.com/tamaya_official/
Using the Shimanami Liner for a Sightseeing Day Trip
The Shimanami Kaido, which looks like a large area, can actually be enjoyed as a day trip from Hiroshima.
The highway bus "Shimanami Liner" allows you to get off at any point along the way, making it ideal for touring the area.
Take a look at the model course and make the most of your trip to Shimanami!