One-day trip to Tochigi: Report on a Solo Female Trip to Nikko and Kinugawa Onsen Area
The Nikko and Kinugawa areas can be reached on a day trip from Tokyo, where magnificent nature and historical sites coexist. It's a great place to get away from Tokyo and refresh yourself on your days off! Also, since it's a tourist area, it's relatively safe, and there are plenty of shrines, hot springs, and other spots that can be enjoyed alone, making it perfect for solo travelers! This time, under the theme of "feeling the seasons and history," a university student actually went to the Nikko and Kinugawa areas on a one-day trip! In this article, we'll be reporting on the Nikko and Kinugawa areas as we took our leisurely tour, along with travel information!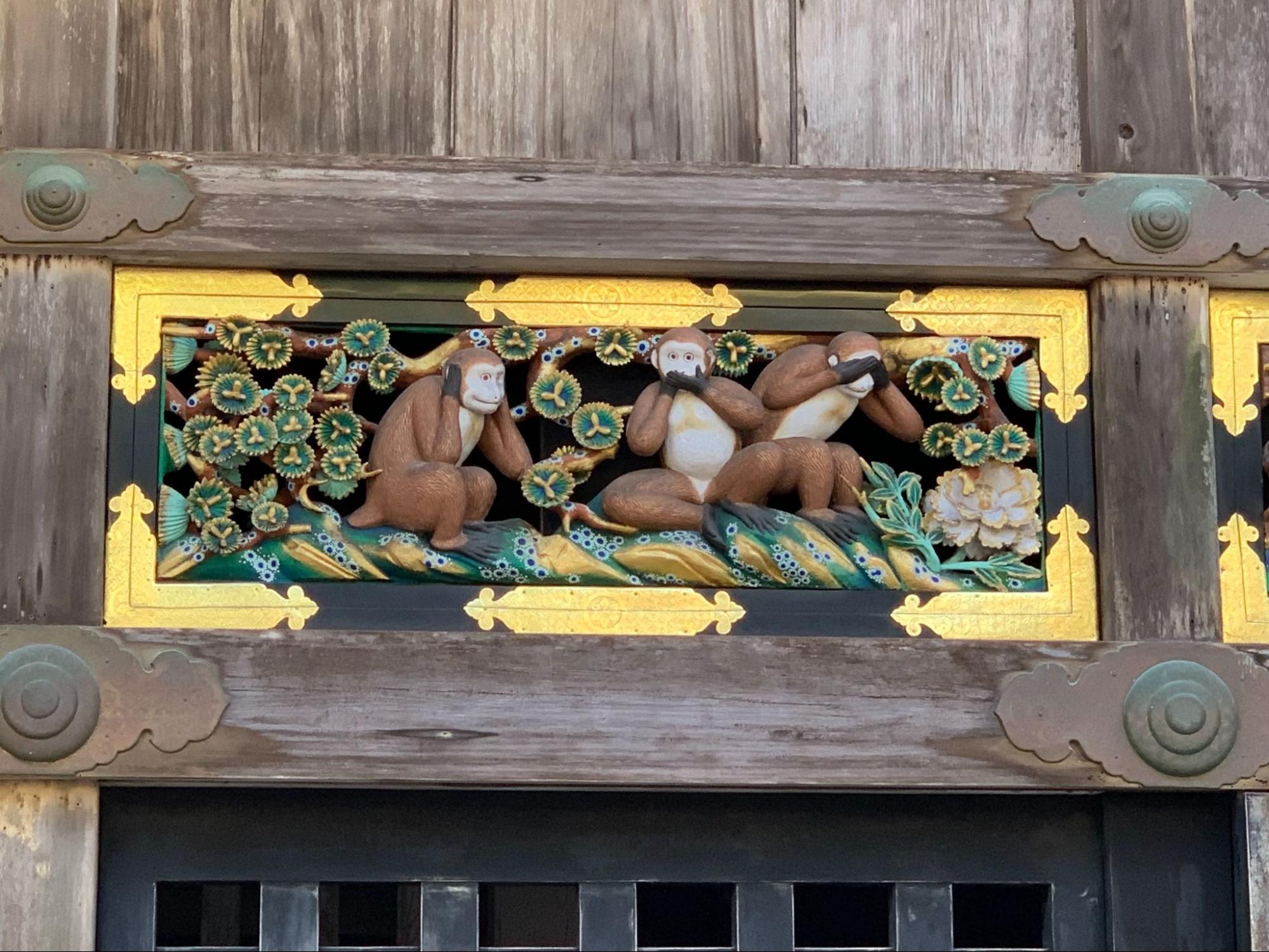 This is a report on Nikko and Kinugawa Onsen! I'm bringing you the real thing, the day trip I actually took~!
7:30 Arrival at Tokyo Station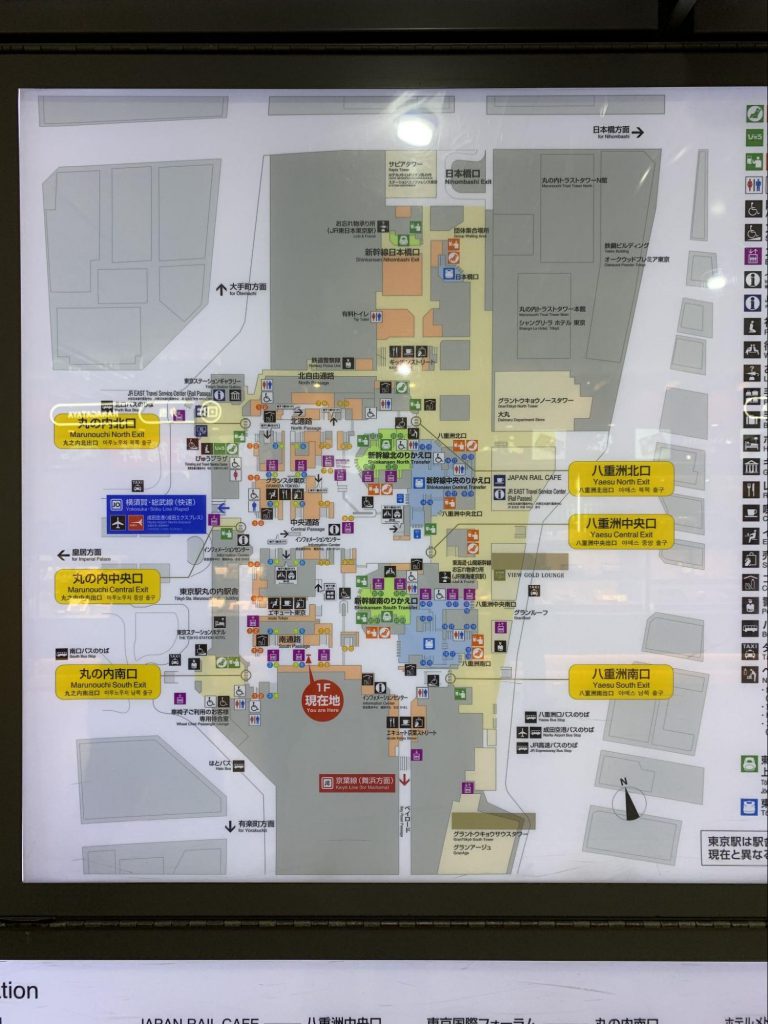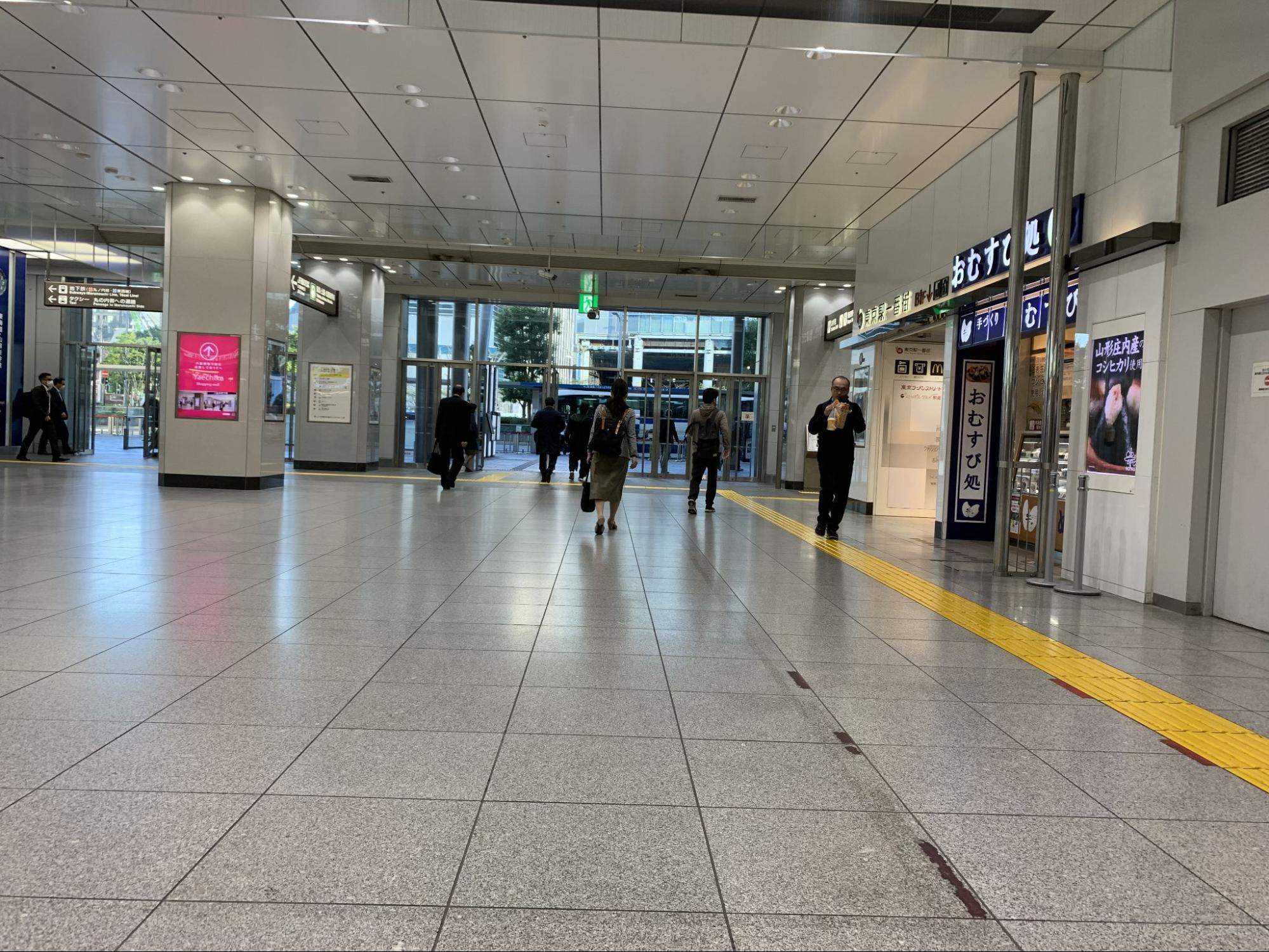 Today, I'm going to take the Nikko-Kinugawa Onsen-go (Nikko-Kinugawa Onsen-go), which connects Tokyo Station to Nikko and Kinugawa Onsen. The bus stop is at Yaesu South Exit, so exit the Yaesu South Gate of the JR line. After exiting the ticket gate, you will come to the street shown in the second image, go straight ahead and go outside. Tokyo Station has a complicated structure, so it's a good idea to arrive 15 minutes early so you don't get lost and panic! I arrived at the bus stop 20 minutes before the bus departure, and the bus arrived 10 minutes before the departure, so I decided to wait inside the bus until the departure. It's a long trip, so I suggest you use the restroom (there's one on board) and have a light meal before you board!
7:50 Departure from Yaesu South Exit of Tokyo Station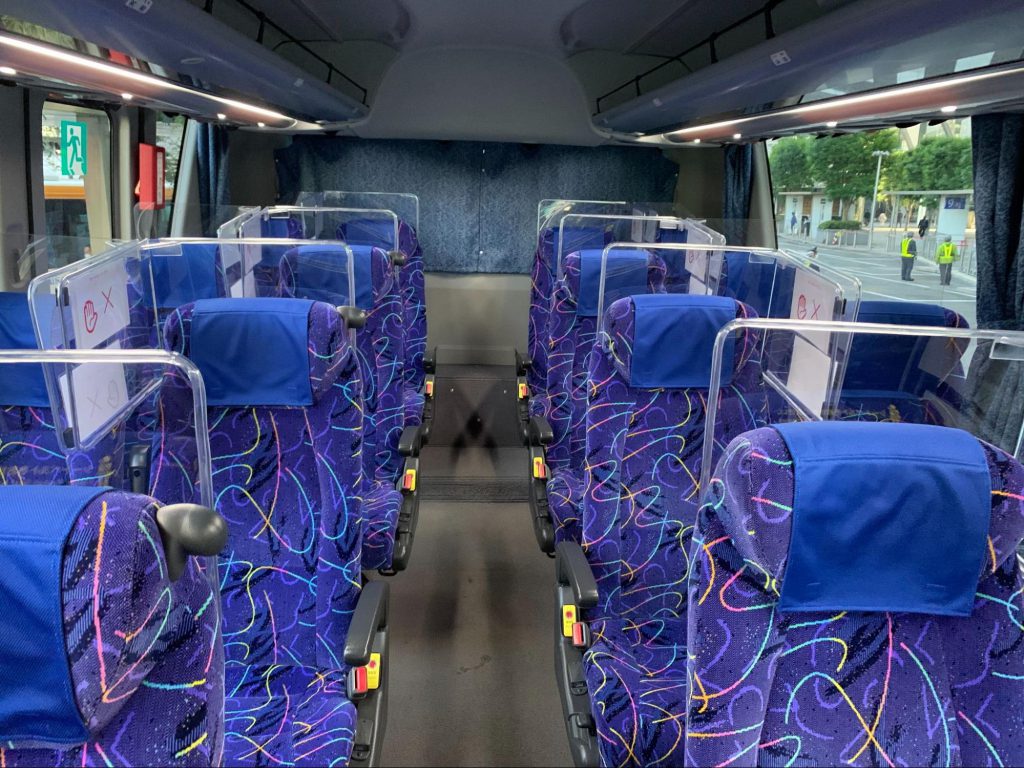 This is what it looked like when we entered the bus. There were four seats per row, with acrylic panels on the front, back, left and right seats, to protect against infection!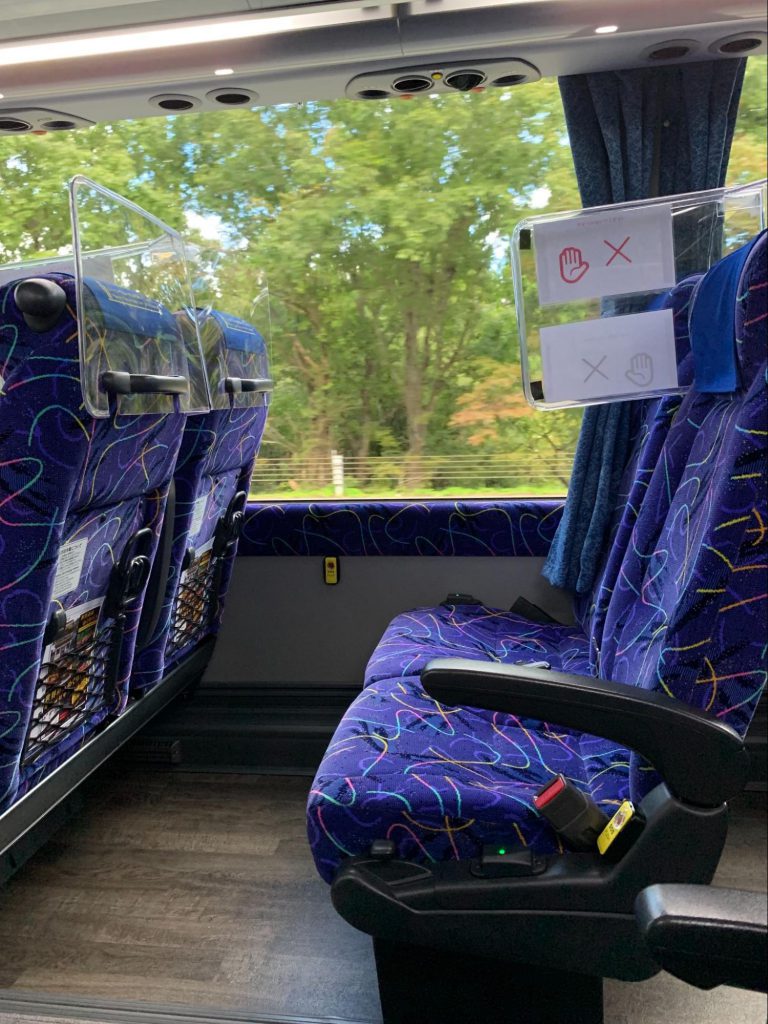 This is what it looks like when you sit down, and there's a lot of space between you and the seat in front of you so you can stretch your legs! In addition to the thick, soft seats, each seat is equipped with a drink holder and the seats can be folded down, so I could relax and be comfortable. Also, there are USB outlets in each seat and free Wi-Fi in the cabin, so you can make the most of your travel time by working on your computer or watching movies on your device!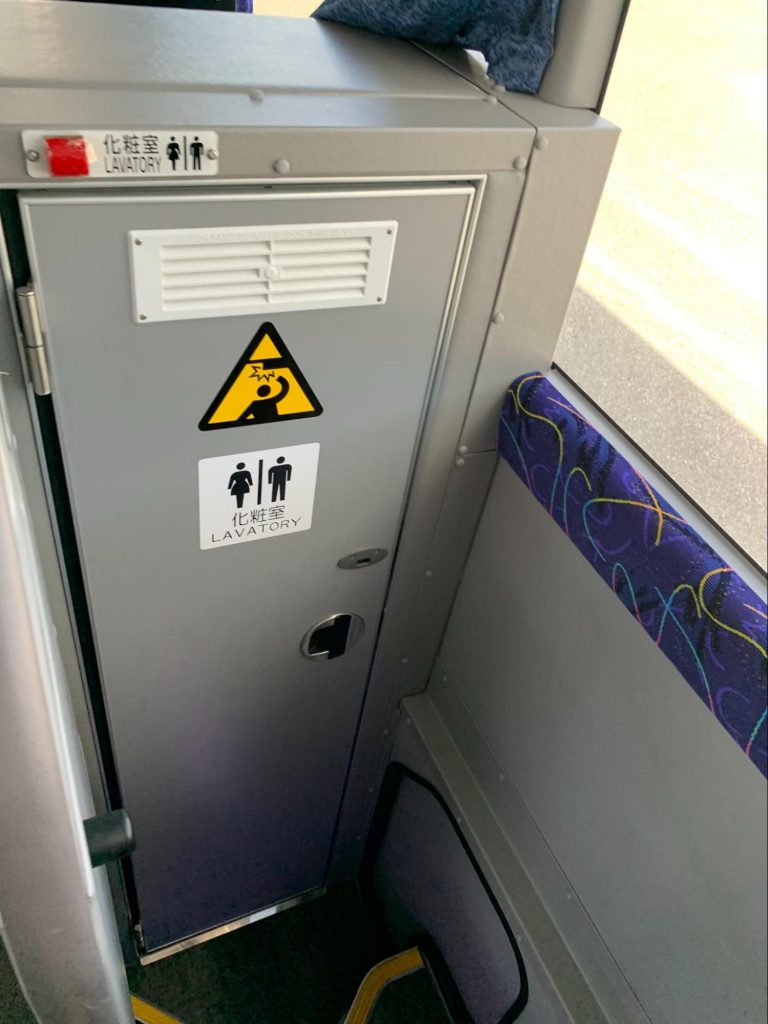 Other than that, there's a restroom right in the car, so if you're not resting at the service area, you can still go while we're on the road, no worries! Be sure to take your valuables with you!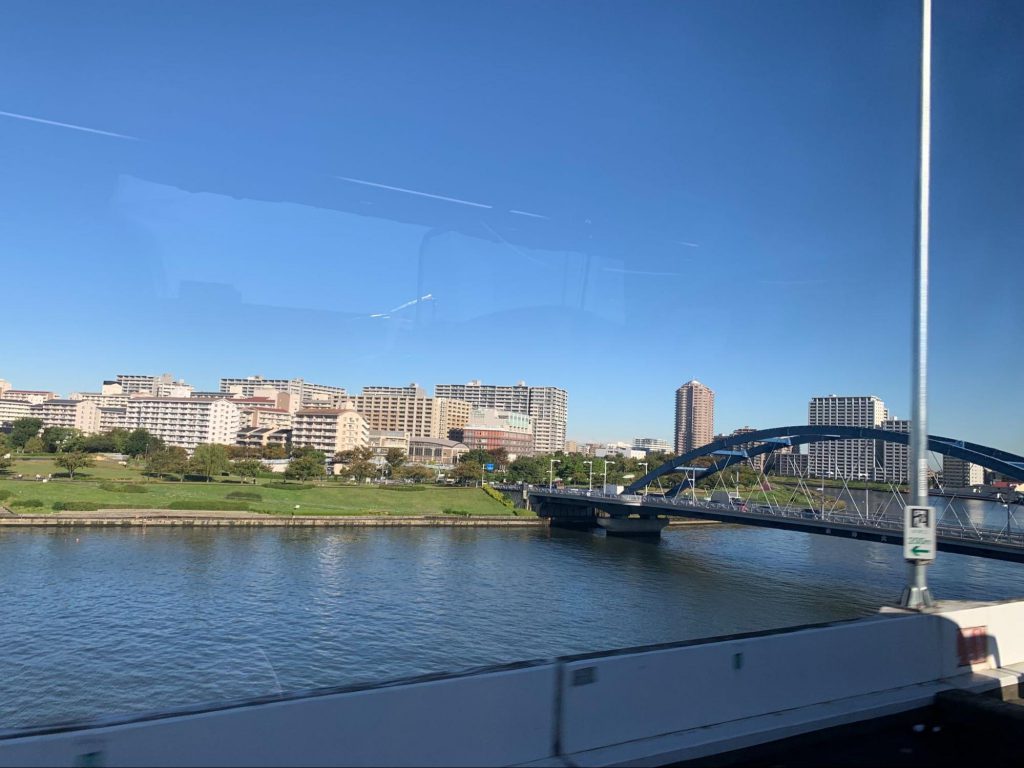 This is an image taken from the bus.
We could have a break at a service area around 10:30am so we could freshen up!
11:20 Arrival at Tobu Nikko Station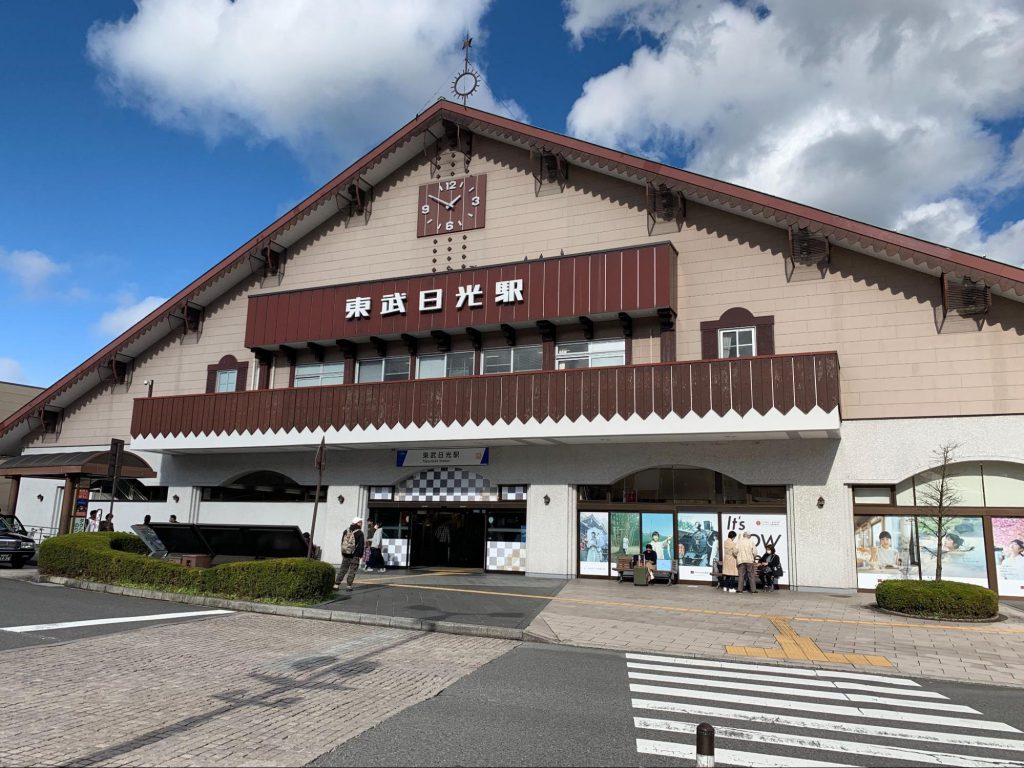 After about three hours, we arrived at Tobu Nikko Station. First, we decided to go to the classic Nikko Toshogu Shrine! The bus seemed to be the best way to get there, so we headed to the bus stop.
※Due to the accidental traffic jam, the bus arrived about 30 minutes later than the scheduled time!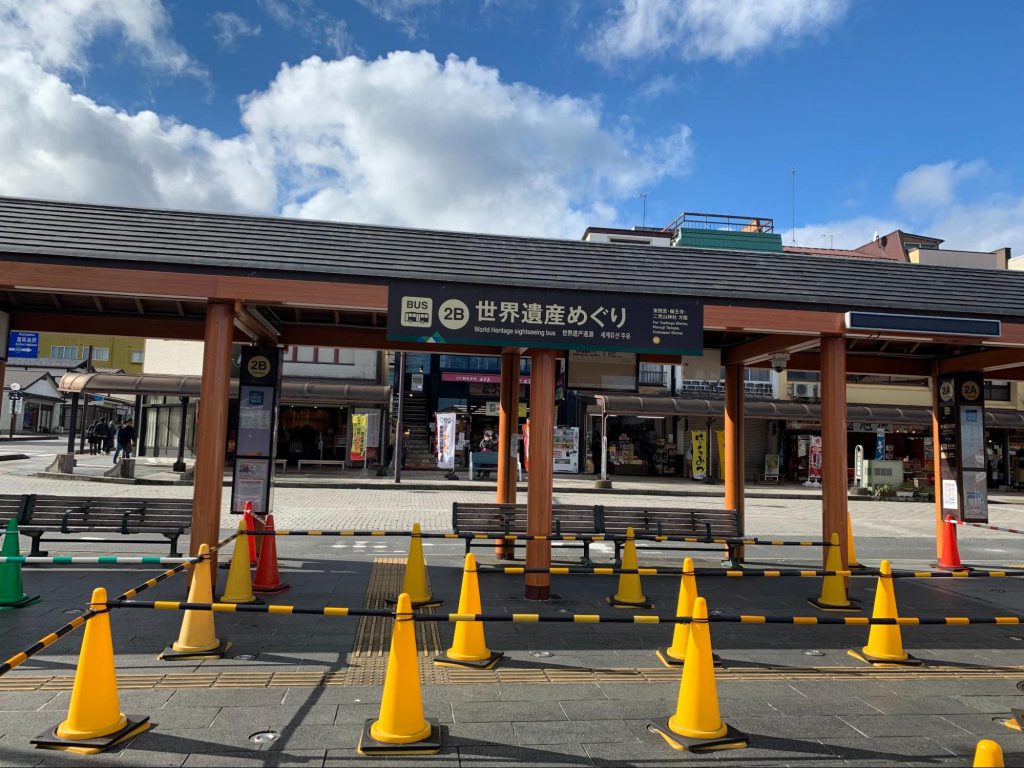 We were dropped off right near the Tobu Nikko station, so we could see the bus stop right after getting off. We decided to take the World Heritage Tour bus.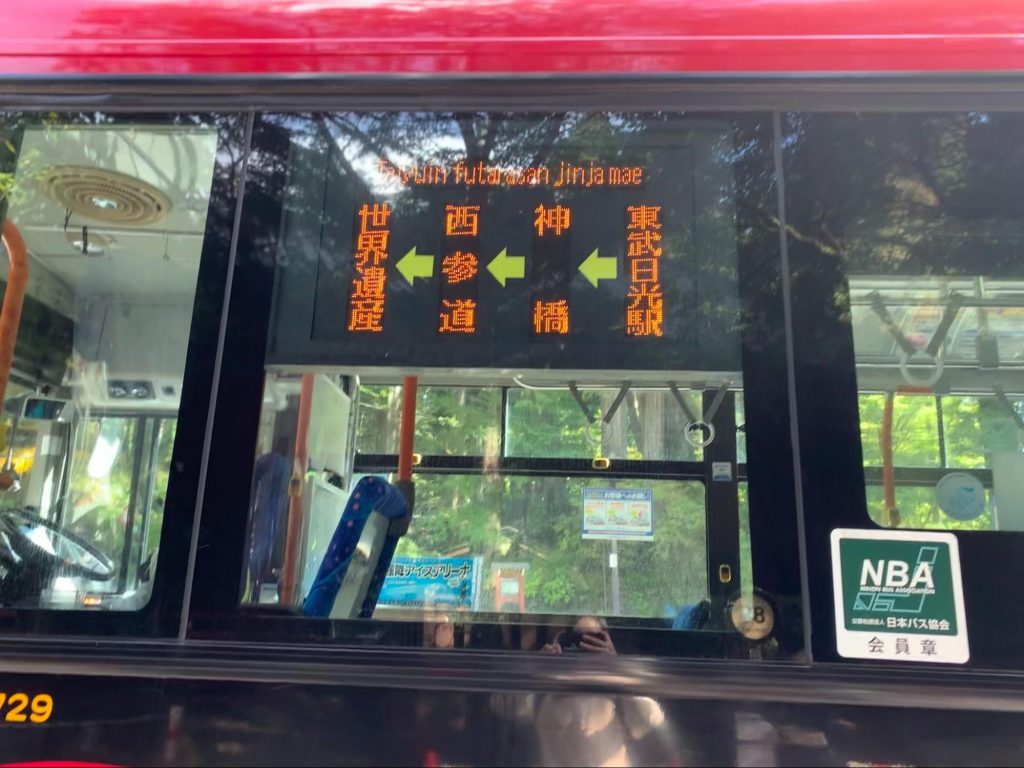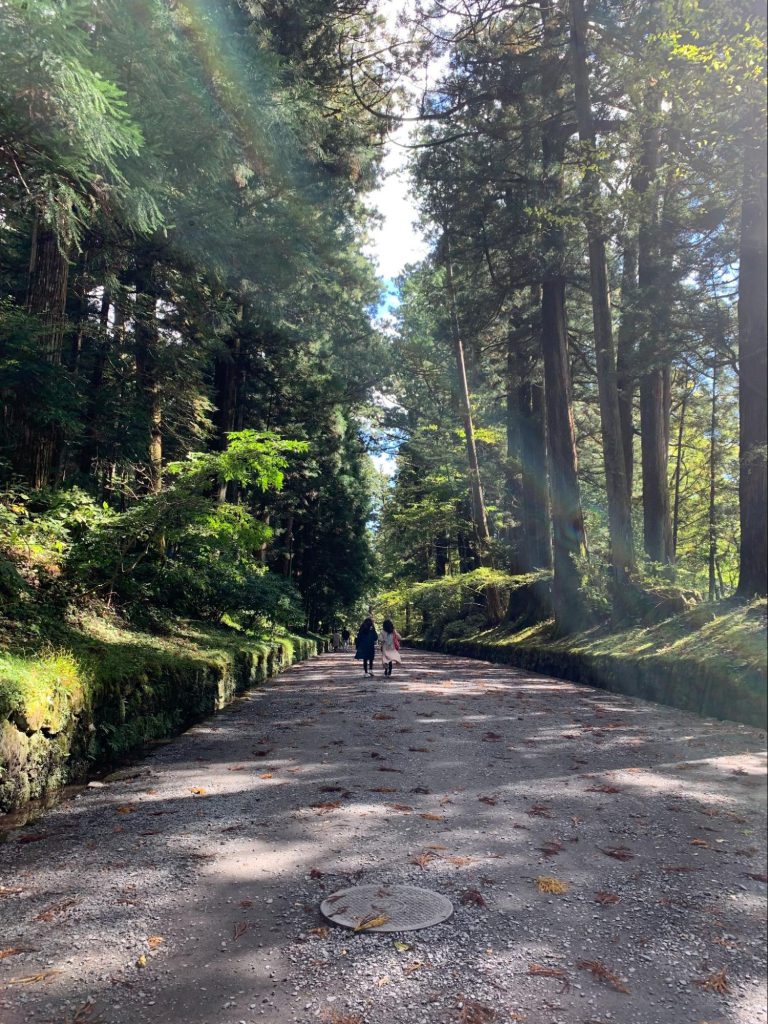 Buses leave quite frequently, but I heard that you can take any bus in the direction of Kamihashi. You can get off at either Omotesando or Taiyuin/Niarasan Shrine. The fare is about 260 yen. It's a five-minute walk from the bus stop to the shrine, but I recommend it because you can walk while enjoying nature!
11:45 Nikko Toshogu Shrine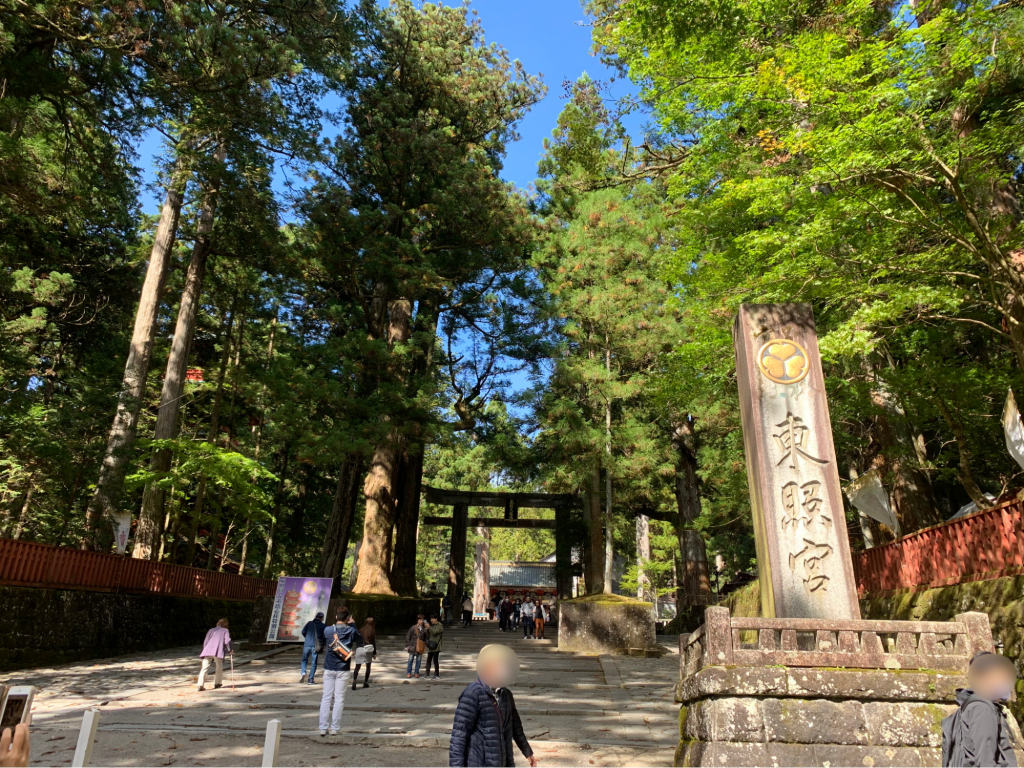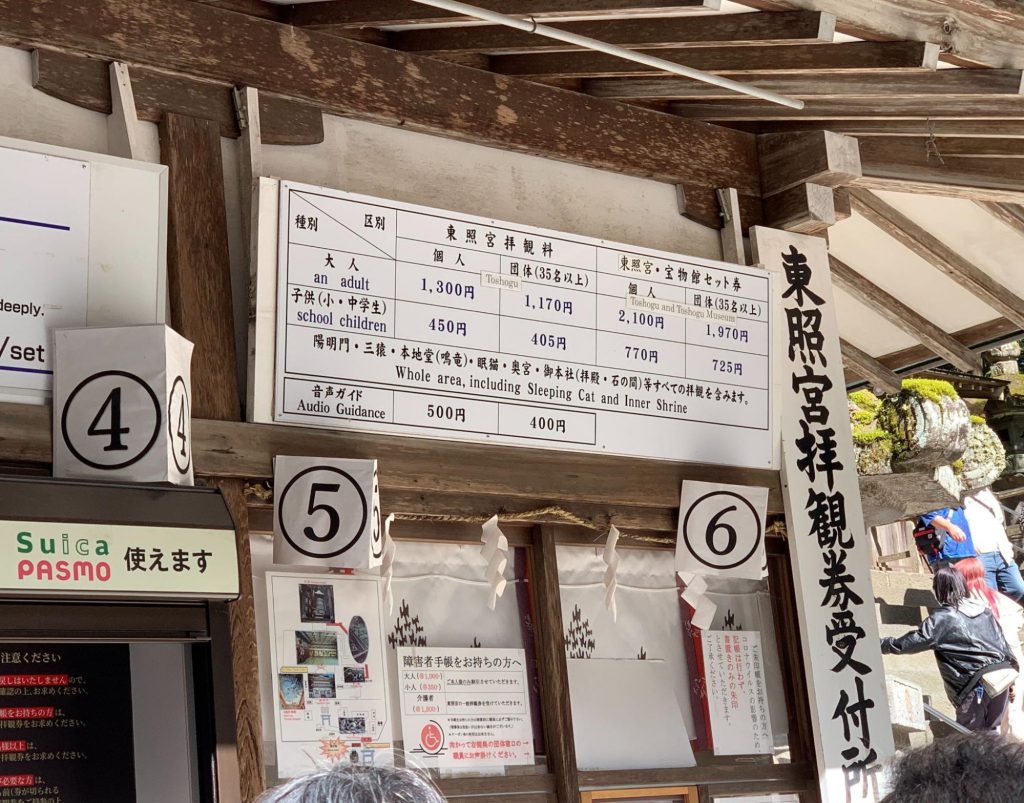 And just like that, we arrived at Nikko Toshogu Shrine! If you go straight further from here, you will see the reception desk on your left, where you can issue tickets for admission.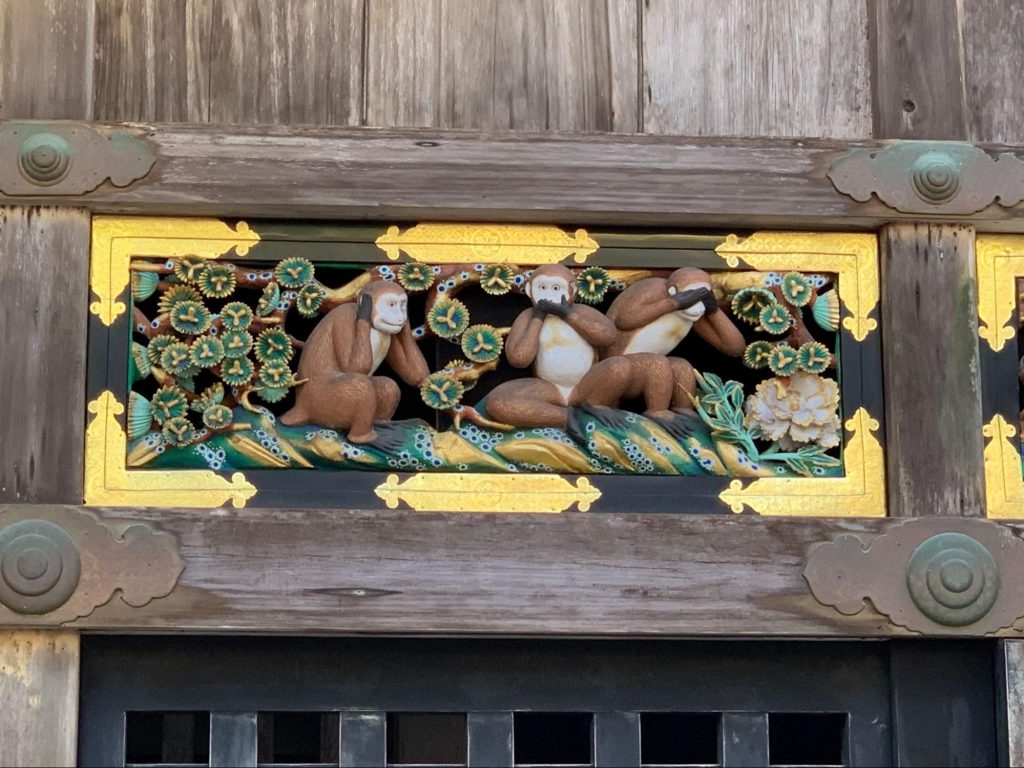 Here's a look at the inside of Toshogu Shrine! First of all, as soon as you enter the front gate, you'll be greeted by the famous three monkeys! They are so adorable that it's hard to believe they are sculptures…!
I followed the path and passed through the torii gate to see the Yomeimon Gate! The contrast of white and gold was elegant and gave it an overwhelming presence. There were a lot of elementary school students on a school trip that day, and their eyes were shining with excitement at the golden gate, which made me smile. When I came to Toshogu on a school trip, it was before the renovation and not as golden as this, so I felt the passage of time!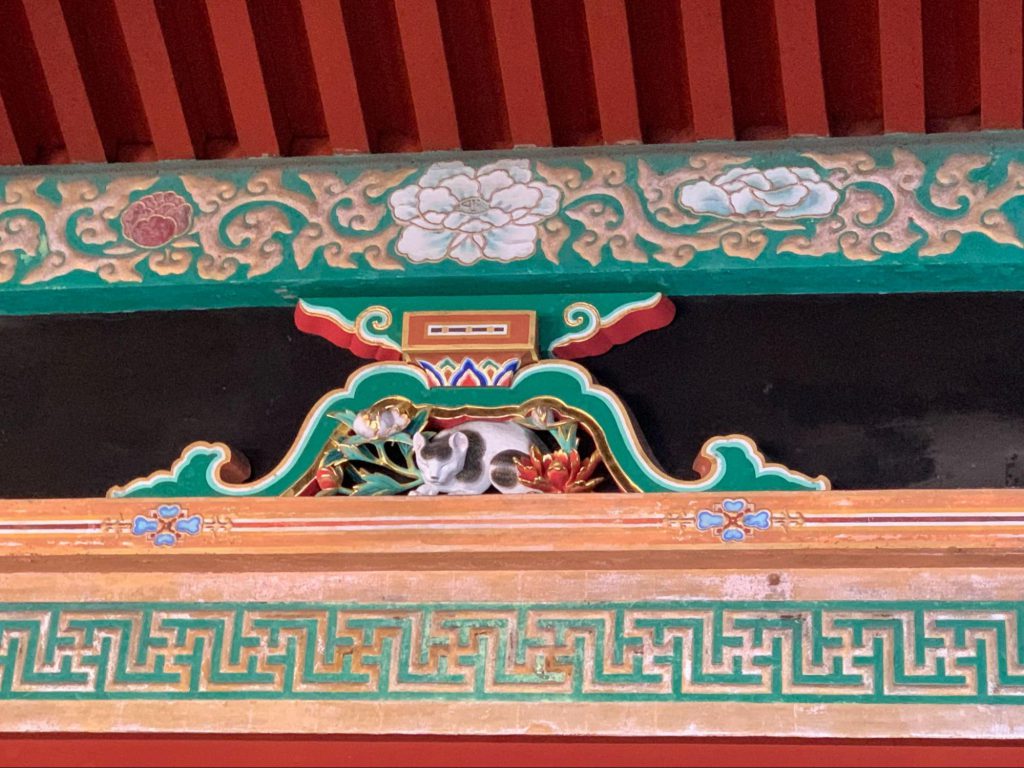 Past the Yomeimon Gate, go to the far right and you will see the sleeping cat! This was also more colorful overall than before the renovation, and the peonies in particular were very beautiful.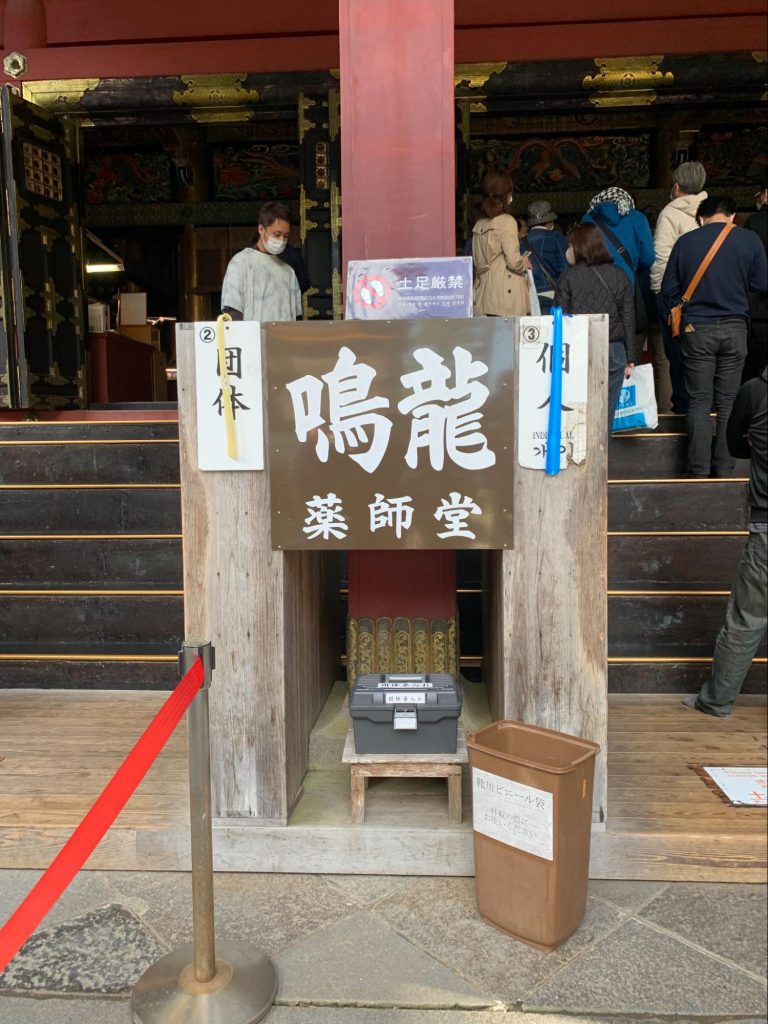 Returning to the path we came from, there is a Yakushido with a singing dragon on the immediate right. When I came here as an elementary school student, I didn't know which one was the singing dragon, but when I heard it this time, I was impressed to hear it clearly. I'm very curious to know how it works! Unfortunately, you can't take pictures or record inside, but I love the fact that it's so fleeting, it only happens once!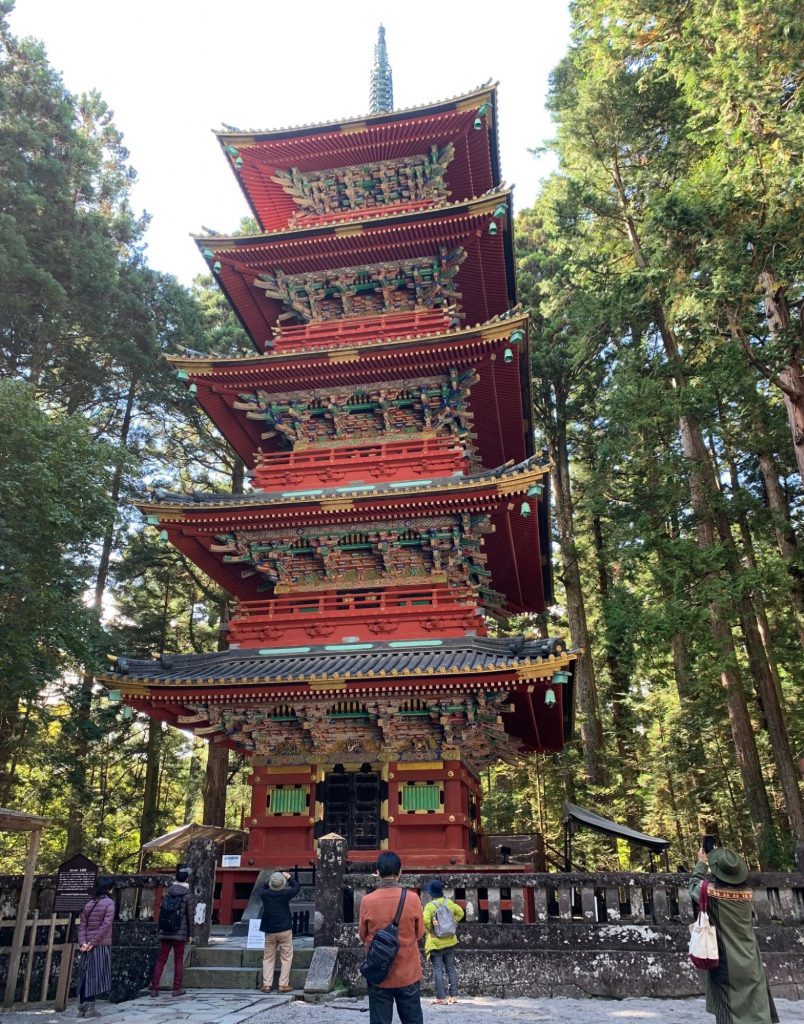 Just when I thought I'd seen it all and was ready to leave Toshogu, there was a five-story pagoda!
That was it for Nikko Toshogu!
Nikko Toshogu Shrine

Official Website

http://www.toshogu.jp
Address


2301 Yamanouchi, Nikko-shi, Tochigi

Access

5 minutes by bus from Tobu Nikko Station. 7 minutes walk from the bus stop.

Contact Number

0288-54-0560

Opening Hours

04/01~10/31 9:00-17:00
11/01~03/319:00-16:00
※Reception closes 30 minutes before the gate closes.

Rates

Adults(High School and Older)1,300 Yen
Elementary / Middle School Students     450 Yen

12:40 Lunch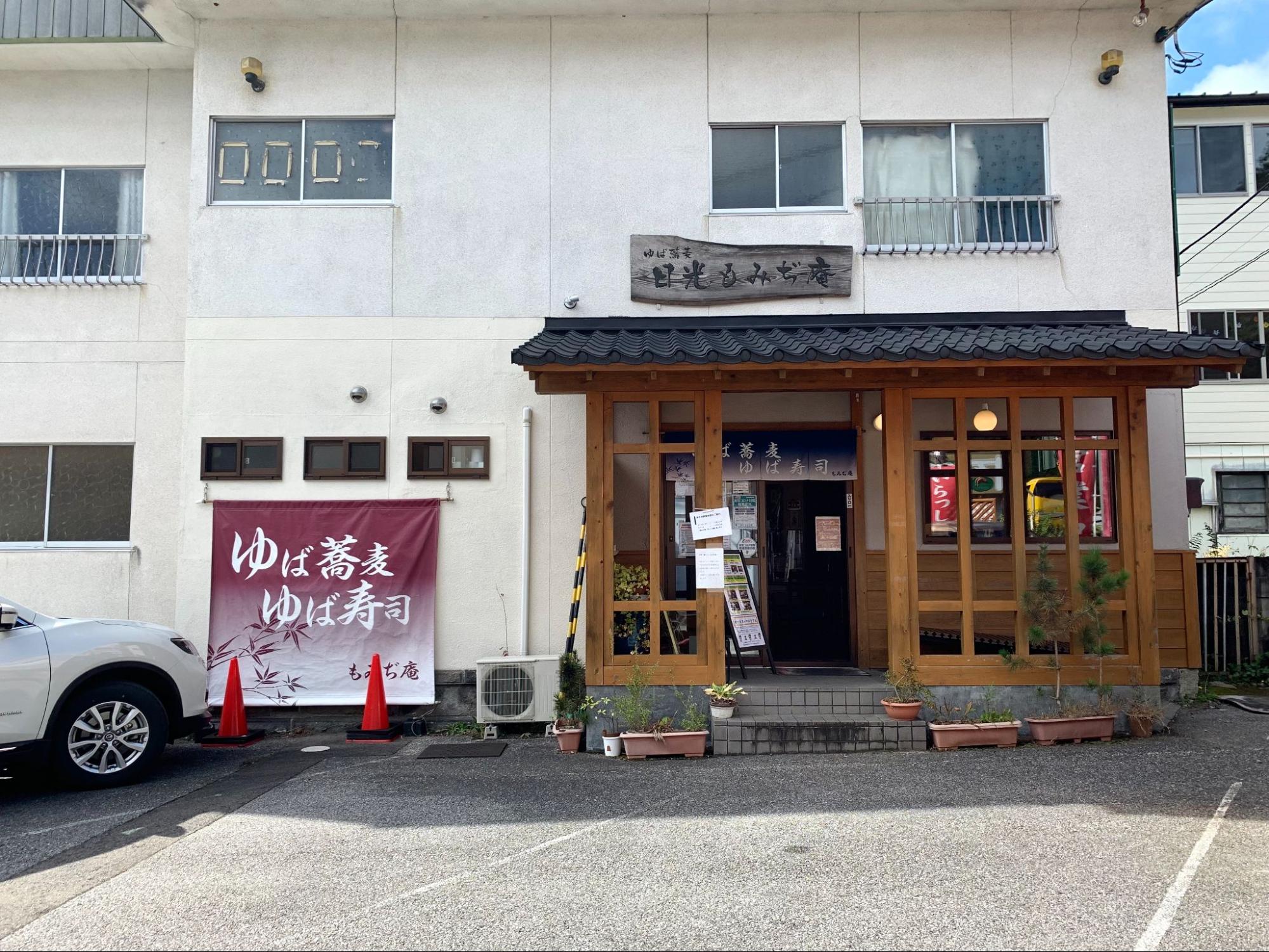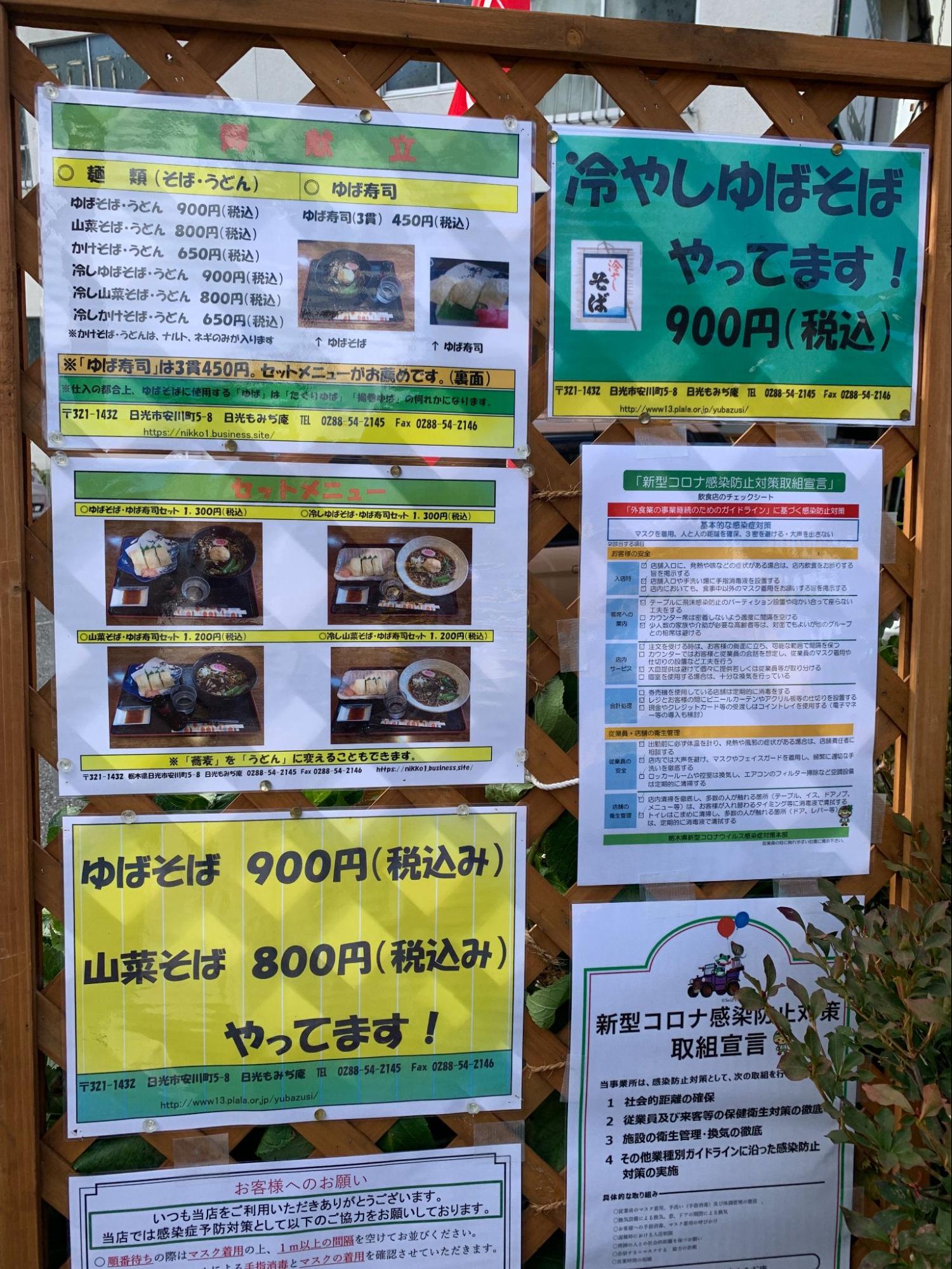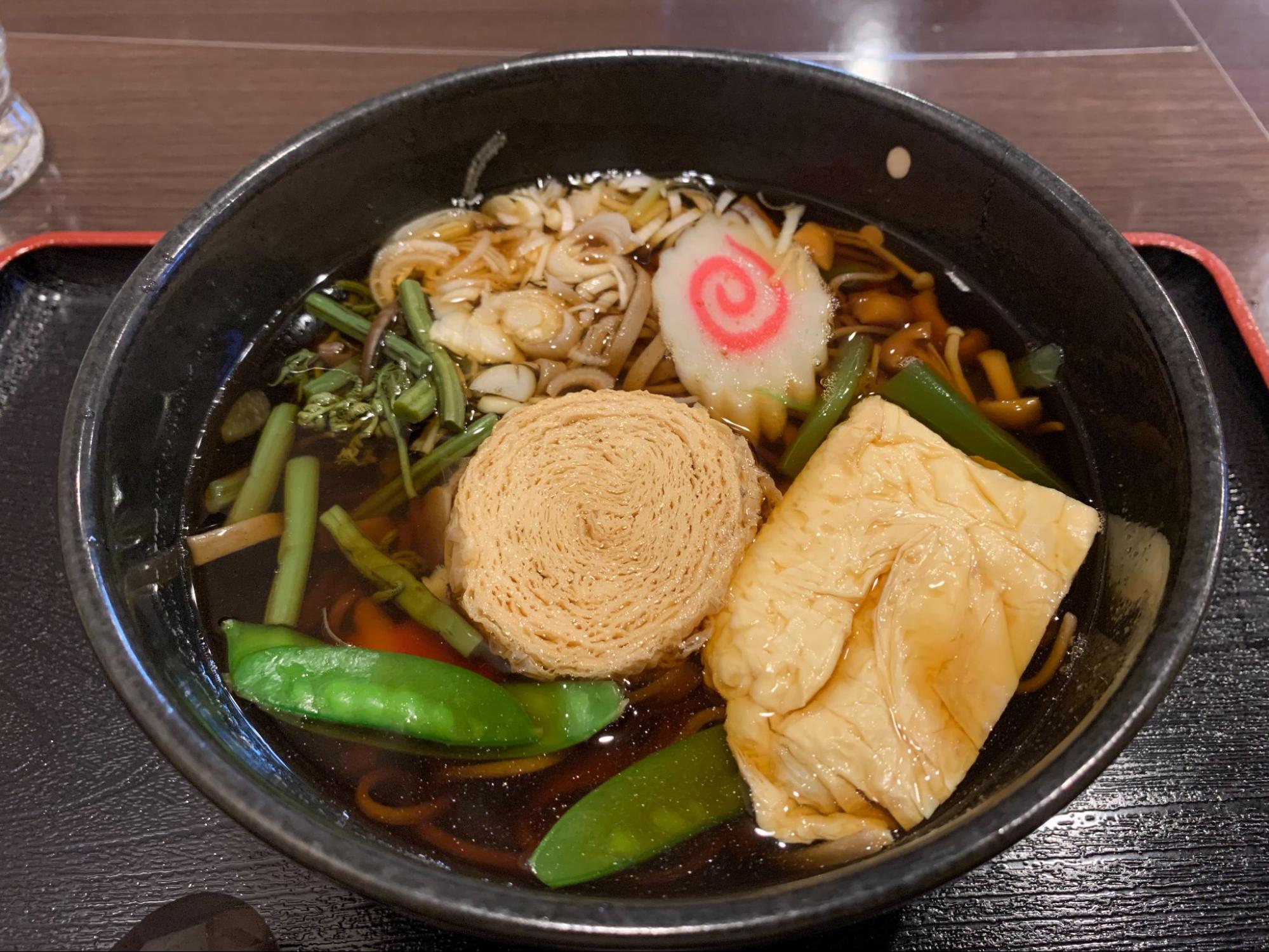 Once you leave Toshogu Shrine and head out onto the main street, you'll find lots of restaurants! I found a banner that said "Yuba Soba" and was curious about the combination of yuba and soba, so I visited Yuba Soba Nikko Momijian. The price was reasonable at 900 Yen and the service was very fast! The soup stock was sweet and the noodles were thick, so I was able to enjoy the so-called "country soba". There were two pieces of yuba in the soup, which were fluffy and had the unique texture of yuba. In addition to the yuba, there was also nameko mushrooms and yamakurage, which I never got tired of eating. Also, the waitress was energetic and friendly, making it easy for me to enter the restaurant by myself, and I enjoyed it!
| | |
| --- | --- |
| | Yubasoba Nikko Momijian |
| Official Website | https://nikko1.business.site/ |
| Address | 5-8 Yasukawa-cho, Nikko-shi, Tochigi |
| Access | 7 minutes walk from Nikko Toshogu Shrine |
| Contact Number | 0288-54-2145 |
| Business Hours | 11:30-14:00(Closed on Monday, Thursday and Friday) |
13:10 Stroll to Tobu Nikko Station
I was planning to take a bus to Tobu-Nikko station, but the bus was late and I decided I could walk the 2.5km, so I did. This is one of the nice things about traveling alone, you can change your plans at will! It was a sunny day and a good day for a walk, so it felt good to walk! It took about 30 minutes, but I recommend it if you have enough time and want to relax and enjoy Nikko! Here's a look at our walk!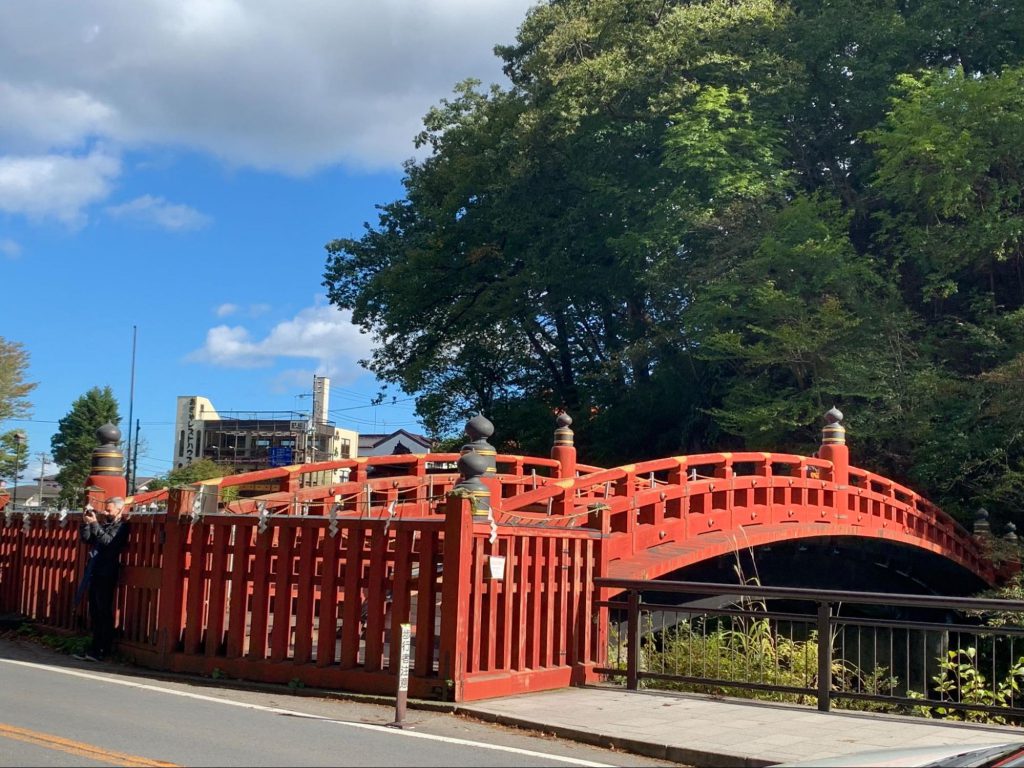 This vermilion bridge just outside of Toshogu Shrine is called Jinbashi, and is said to symbolize the entrance to Nikko's shrines and temples.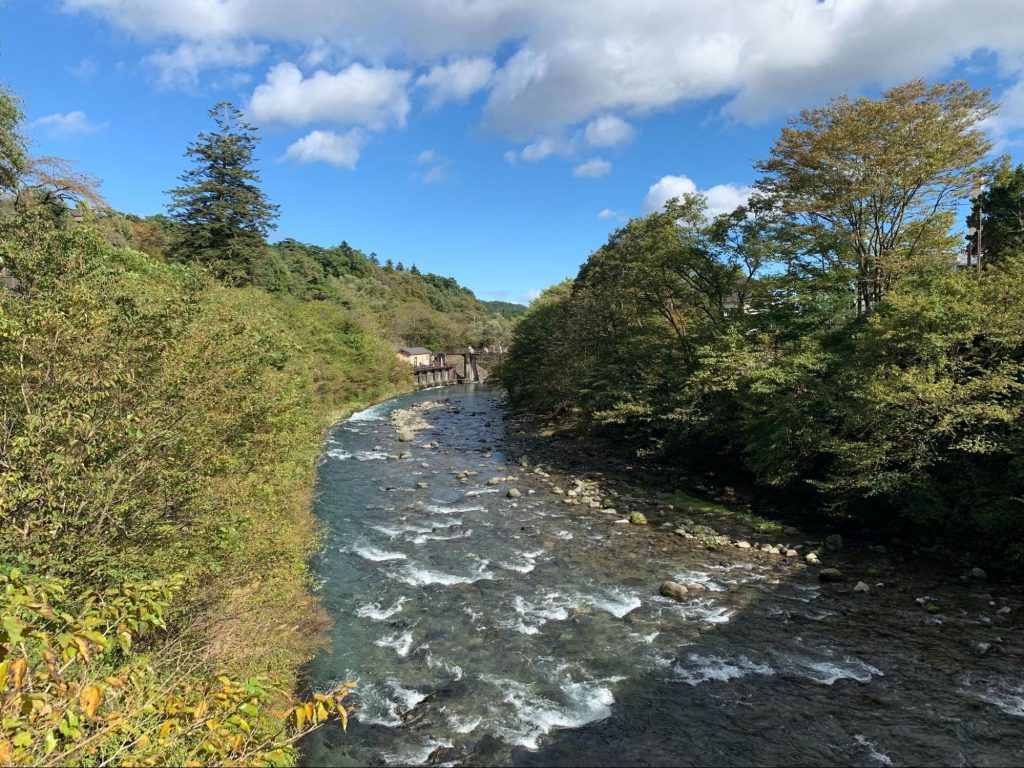 The Shinbashi bridge spans the Oya River, and this is a view of the Oya River. I think it's even more beautiful in the season of autumn leaves!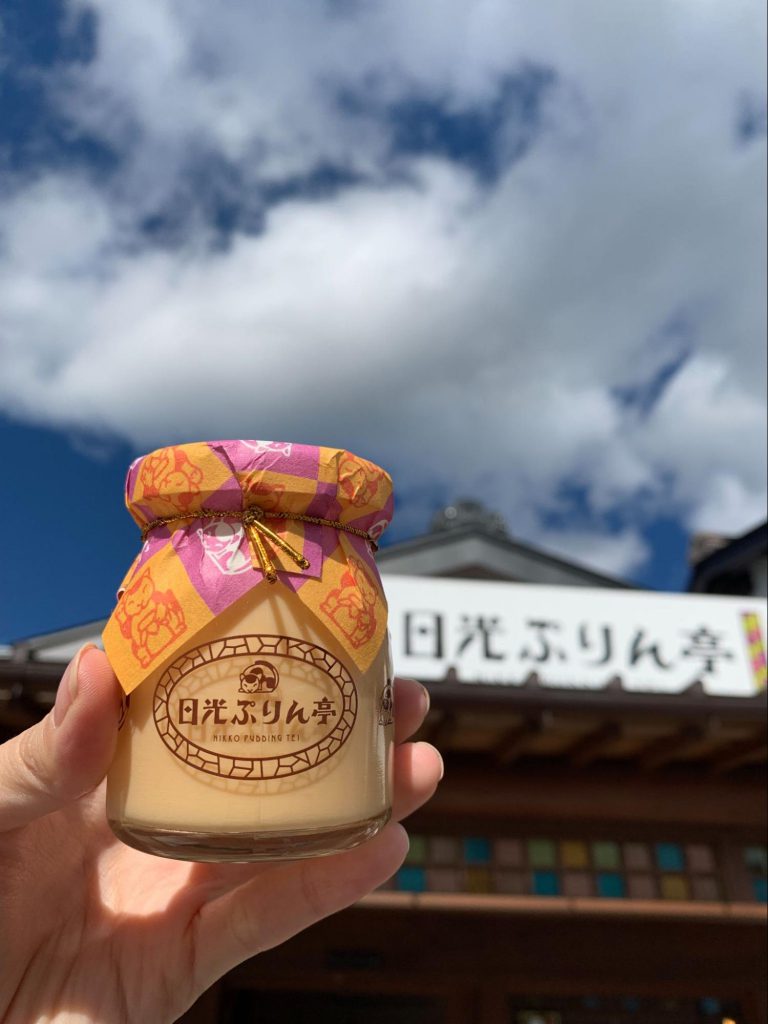 When I was hungry after walking, I reached Nikko Pudding Tei, a pudding specialty store, so I paid them a visit. It's very popular as one of Nikko's souvenirs because of its adorable appearance and its taste! As I walked in, I saw all sorts of puddings lined up in the showcase, and as a pudding lover, I couldn't resist! I had a hard time deciding, but I went for the Nikko Classical Pudding (380 Yen). The soft pudding and the special bittersweet sauce were a perfect match! There is an eat-in area inside and outside the store, so you can eat on the spot in addition to taking home a souvenir!
| | |
| --- | --- |
| | Nikko Pudding Tei Main Store |
| Official Website | http://nikko-pudding.jp |
| Address | 410-7 Ishiyacho, Nikko-shi, Tochigi-ken |
| Access | 5 minutes walk from Tobu Nikko Station |
| Contact Number | 0288-25-6186 |
| Business Hours | 10:00-17:00 (Extended hours depending on the season, open irregularly) |
14:10 Departure from Tobu Nikko Station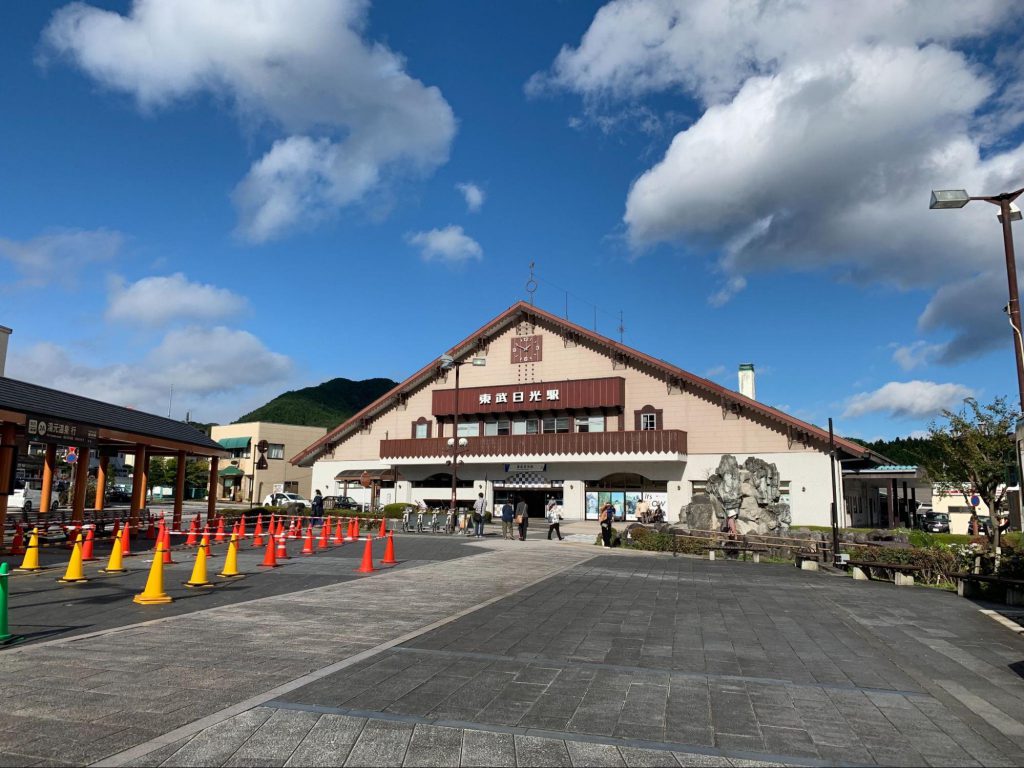 We came back to Tobu Nikko station again! A little later than planned, but from here we took the conventional train to Kinugawa Onsen! The ticket gate of Tobu-Nikko station is just inside the building in the photo.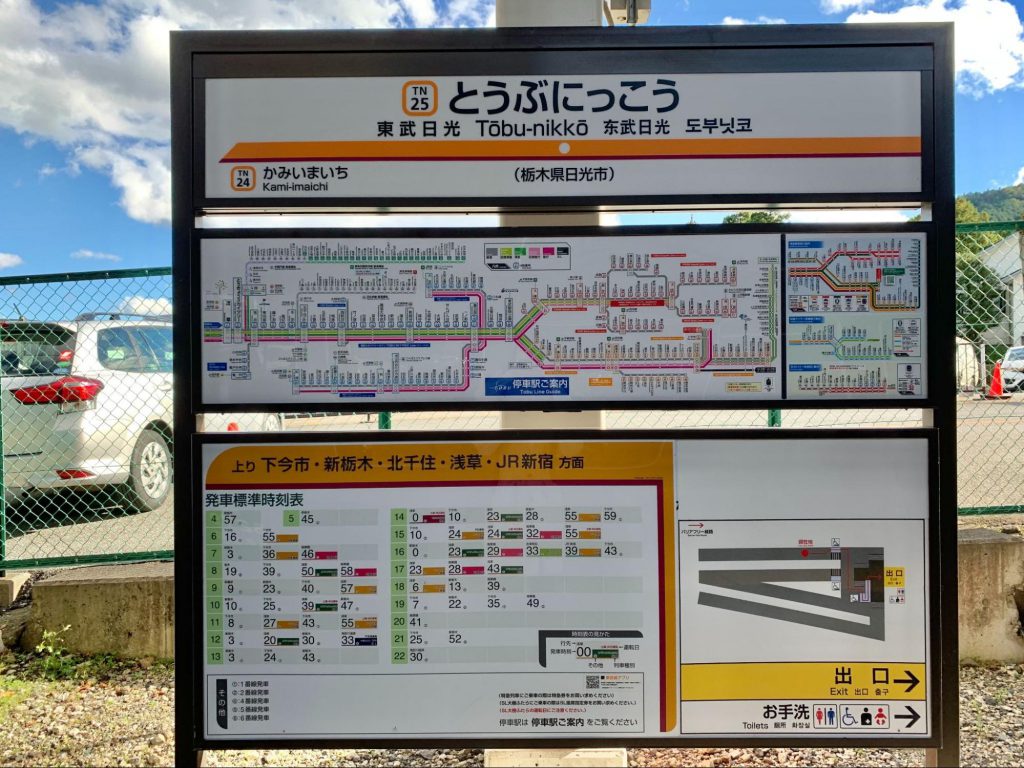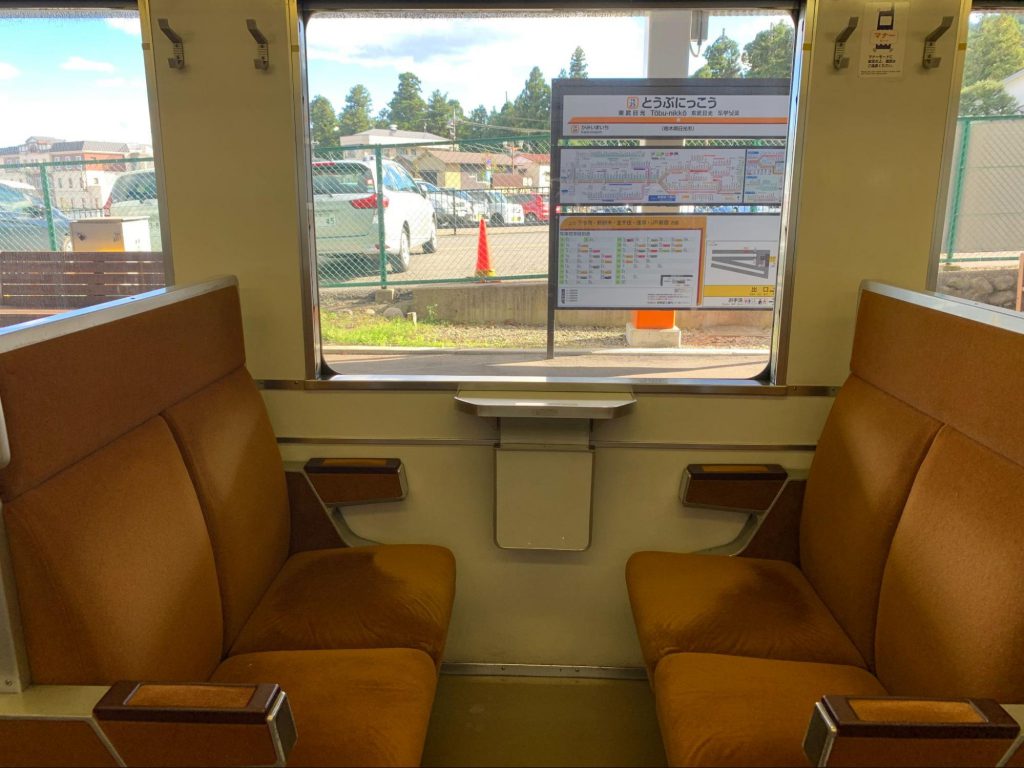 At Shimo-Imaichi Station, we transferred to the Nikko Kinugawa Line, so we first took the Tobu Nikko Line to Shimo-Imaichi Station. The inside of the train looked like the one in the photo, and this was another extraordinary seat that I could not experience in Tokyo, and I enjoyed the travel time.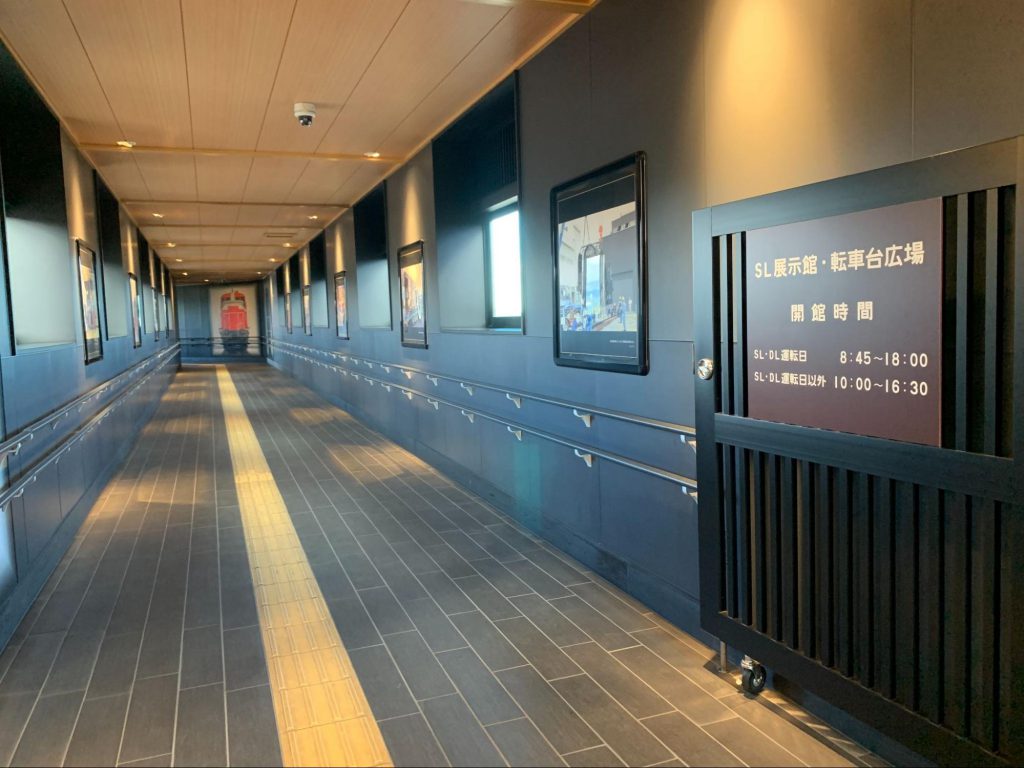 At Shimo-Imaichi Station, I found a sign that said "SL Exhibition Hall and Turntable Plaza". It was located on the platform, and I could enter with my ticket, so I took a look.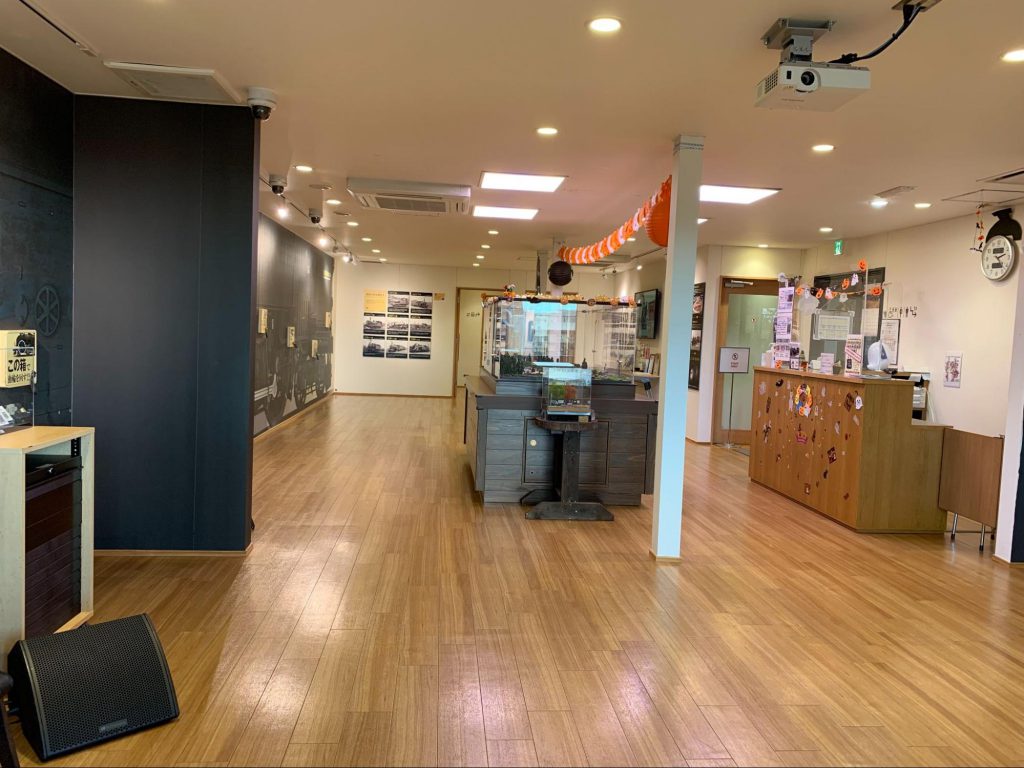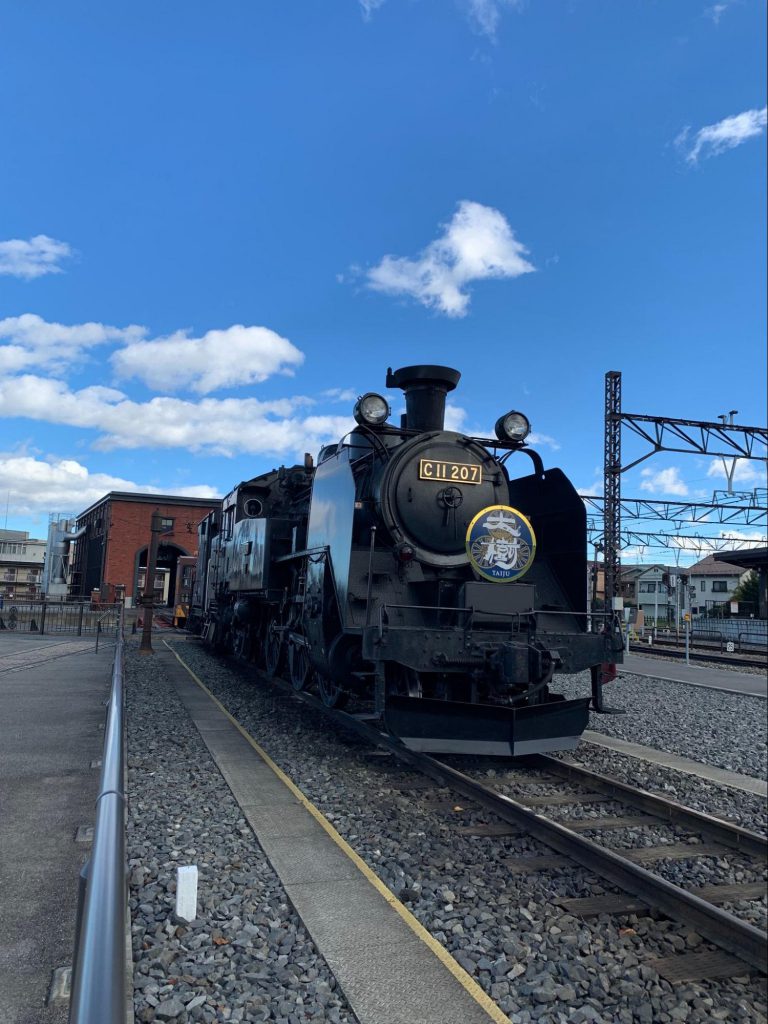 There was a room on the second floor with miniatures and the history of the train, and when we went downstairs we found the SL Taiki. It was jet black and very cool.
Shimo-Imaichi Station SL Exhibition Hall and Turntable

Official Website

https://www.tobu.co.jp/sl/more/tenji-kan/

Address

1110 Imaichi, Nikko-shi, Tochigi

Access

Inside Shimo-Imaichi Station

Contact Number

0288-21-0201

Business Hours

SL Operation Days   8:45-18:00
Outside SL Operation Days 10:00-16:30

Rates

Entry is possible with a train ticket.
14:56 Arrival at Kinugawa Onsen Station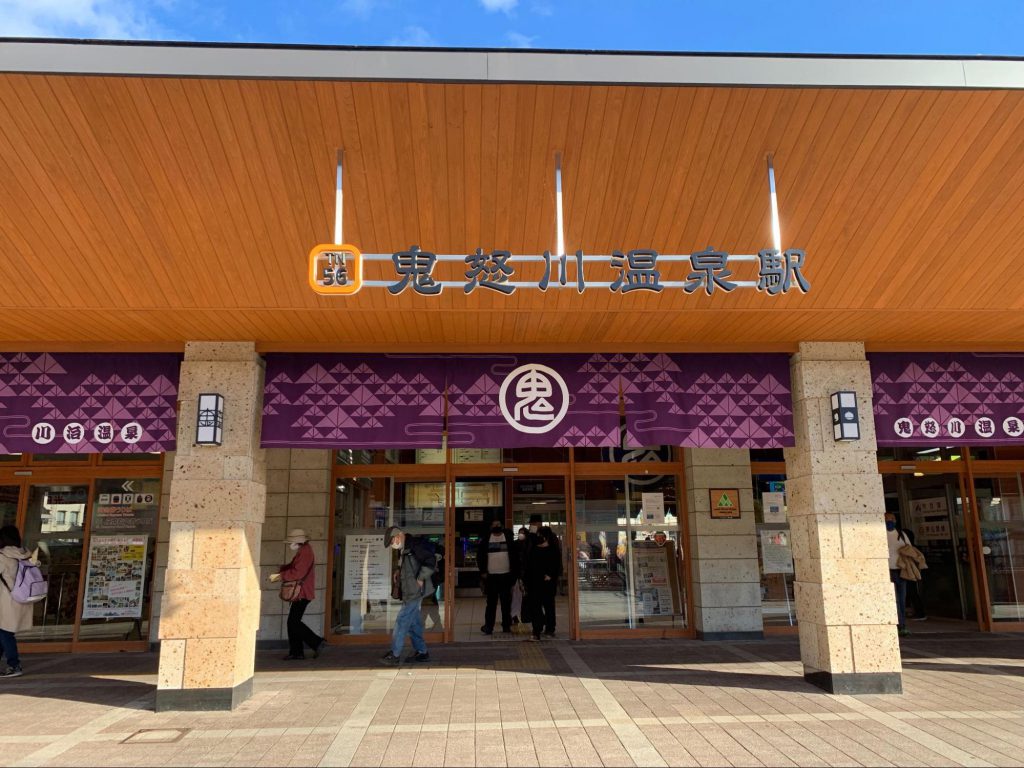 We arrived at Kinugawa Onsen Station and decided to head to the Kinu Tateiwa Suspension Bridge first.
15:10 Ghost Rage Taten Rock Suspension Bridge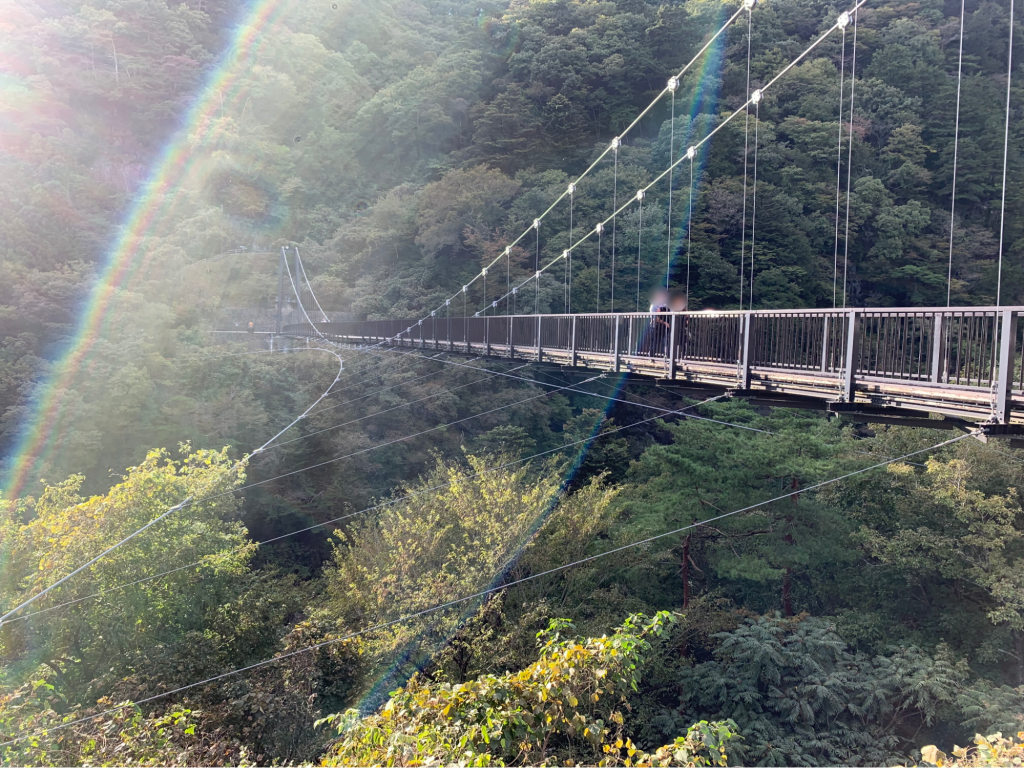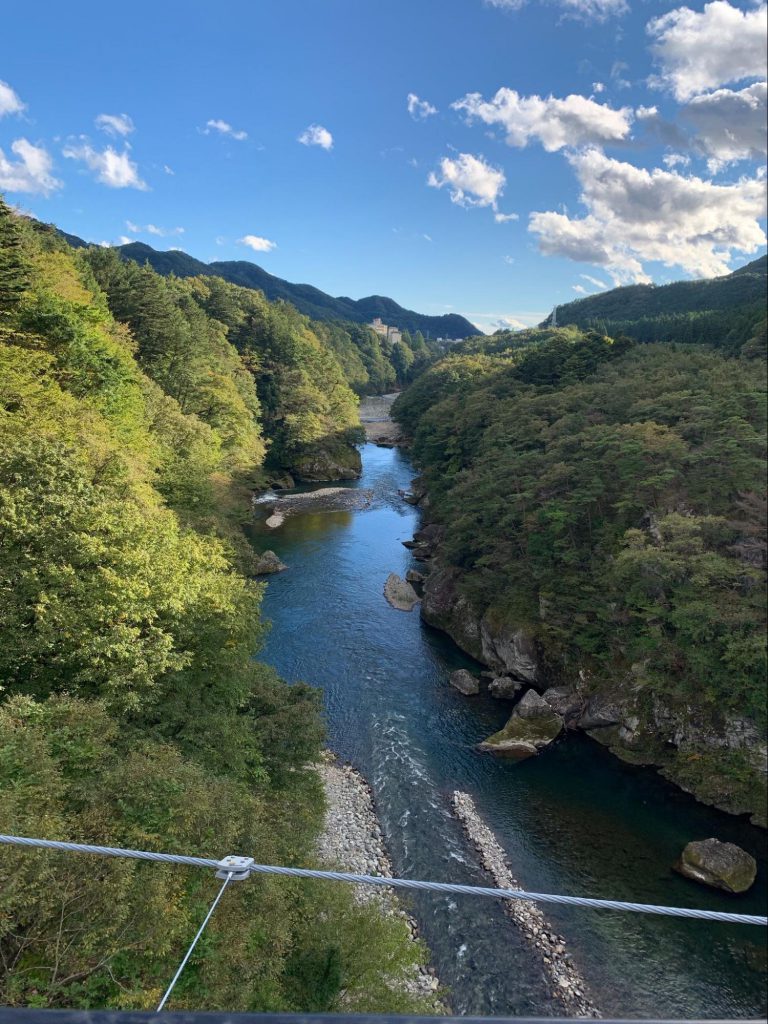 The Kinu Tateiwa Suspension Bridge was much higher than I had imagined, and it shook a little. The scenery was beautiful with the Kinugawa River right below, but it was very scary to look down. I didn't have enough time to visit the bridge, but there seems to be an observatory, a matchmaking bell, and other tourist spots just beyond the bridge, so if you have time, definitely go there!
| | |
| --- | --- |
| | Ghost Rage Taten Rock Suspension Bridge |
| Address | 1436 Ohara, Kinugawa Onsen, Nikko-shi, Tochigi |
| Access | 13 minutes walk from Kinugawa-onsen Station |
| Rates | Free |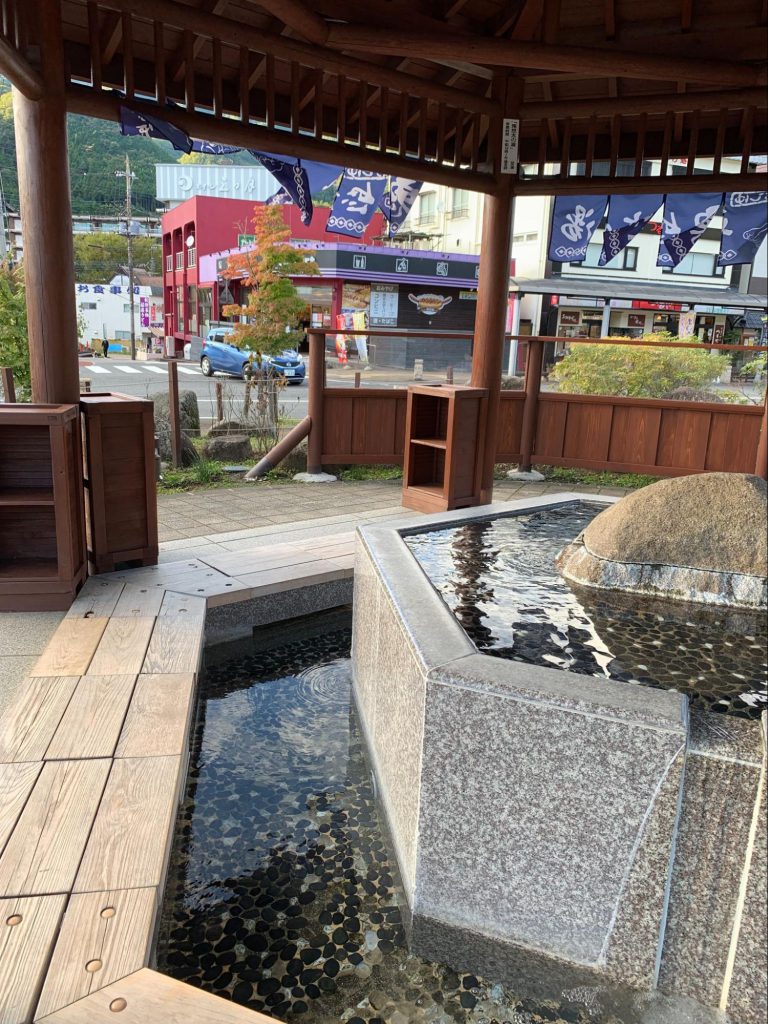 After returning to Kinugawa Onsen Station, I had a little time to spare, so I took a dip in a footbath called Kinuta-no-yu, which is located near the station. It was warm, and even in the short time I was there, I was able to recover from today's fatigue. All that was left to do was to get on the bus and go home, so I headed for the bus stop with a heavy heart, sad to say goodbye.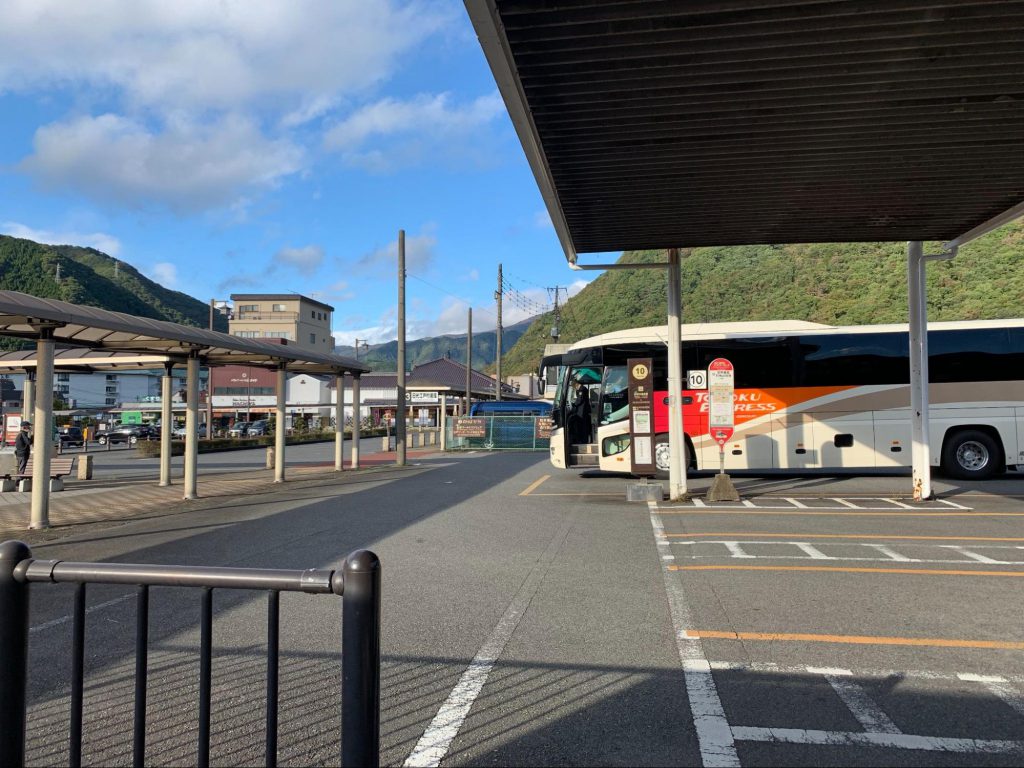 The bus stop was located on the right side of Kinugawa Onsen Station in front of the station, we took the bus from platform 10.
15:30 Departure from Kinugawa Onsen Station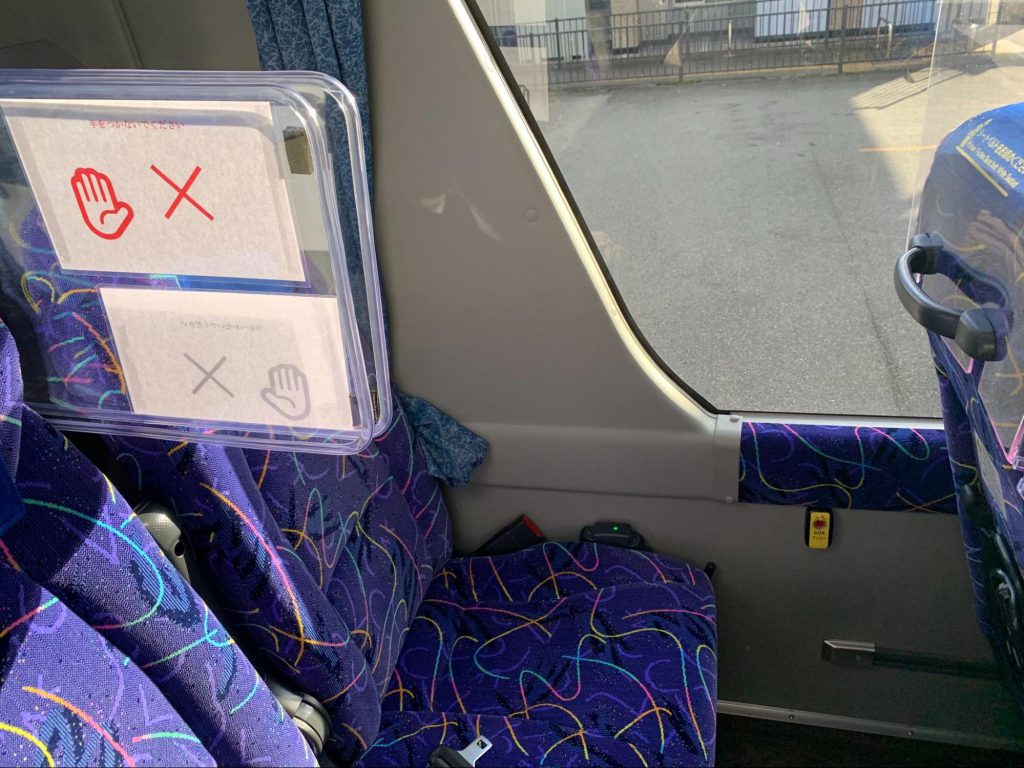 The return trip was the same type of seat as the one on the way there. I sat at the very back of the bus, but I could fold down the seat just like the other seats, and there was a window so I could enjoy the scenery.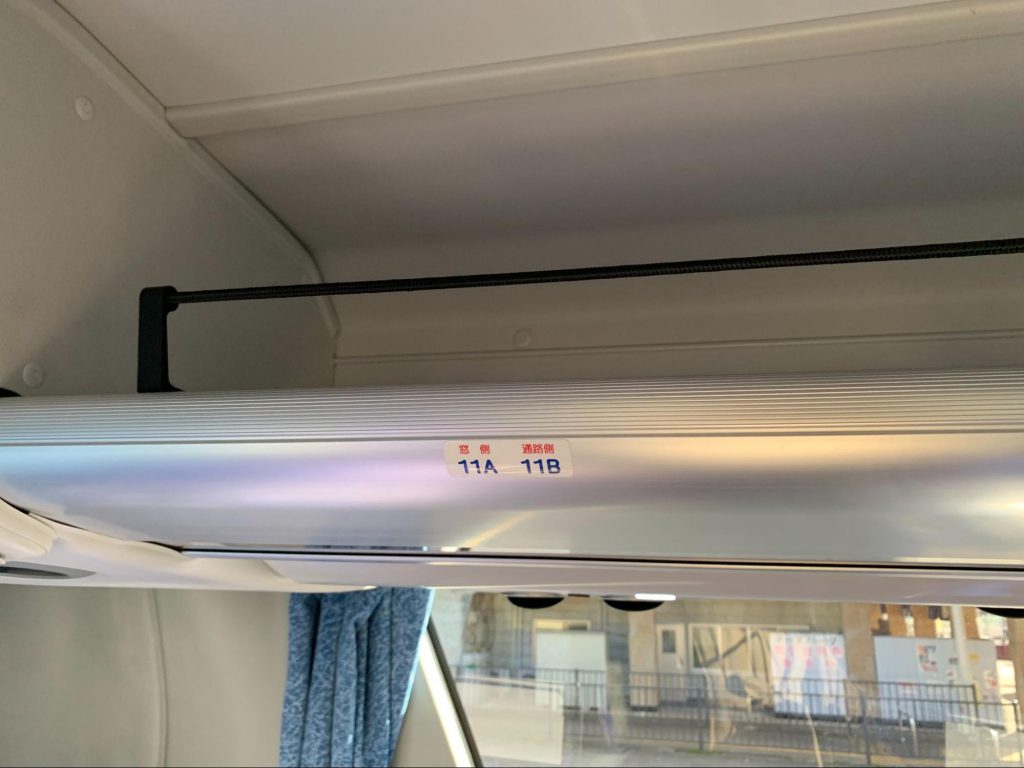 There's a luggage rack on the seat, so you don't have to worry if you've got a lot of luggage with souvenirs! There's also very little shaking, so you don't have to worry about your stuff falling from the rack!
We had a break at Hanyu service area around 5:00 p.m., just as we did on the way there.
18:50 Arrival at Tokyo Station Nihonbashi Exit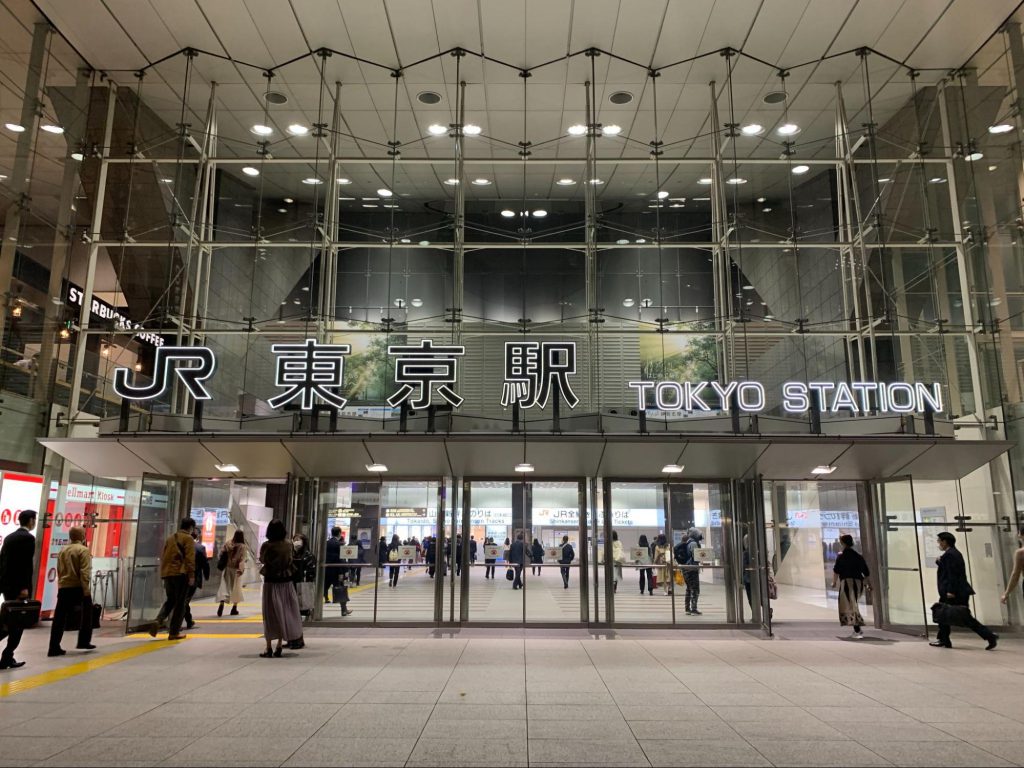 It took about three and a half hours to arrive at Tokyo Station. Note that the bus stops at the Nihonbashi exit of Tokyo Station, a different stop from the way there! It's been a long trip, but it's over!
To End
That was my report on my solo trip to Nikko and Kinugawa Onsen area. How was it? The best thing about traveling alone is that you can go anywhere you want at your own pace without worrying about other people! Even if you've never traveled alone before, Nikko is a great sightseeing spot for a day trip, so please take a look! For reservations and more information about the Nikko Kinugawa Onsen-go that I took this time, you can check out the link below!
https://japanbusonline.com/en