A Day Trip to Ikaho Onsen Stone Terrace Street! (Introduction of Food, Fun, and Souvenirs)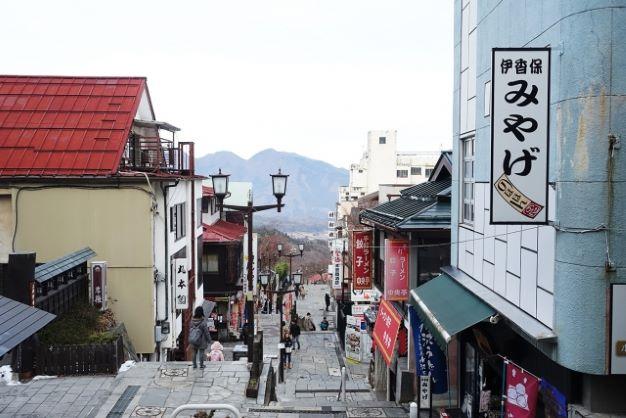 If you are thinking, "Can I enjoy Ikaho Onsen Ishidan-gai on a day trip?" The answer is yes you can enjoy it 120% even on a day trip. In this article, I will introduce how I actually went there and experienced as a day trip. You can act in the same way or refer to only a part of it. Of course, you can also stay overnight. Please select articles as you like and make use of them for your own trip.
What is Ikaho Onsen Ishidan-gai?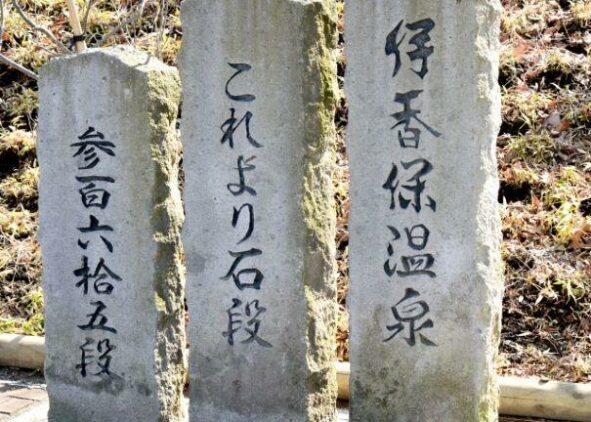 Ikaho Onsen Ishidan-gai is a stone staircase that was built about 400 years ago when the Ikaho Hot Spring was first opened. A total of 365 stone steps were built with the hope that the hot spring resort would be bustling all year round. Both sides of the stone steps are lined with spots for eating and drinking, amusement areas for shooting and ring-tossing, footbaths, and hot spring inns, making this a place where you can make many happy memories.
Ikaho Onsen Ishidan-gai (Stone Steps Street) Day Trip Report
This time, I actually visited Ikaho Onsen Ishidan-gai and took a day trip there. I will introduce some of the gourmet food, fun, and souvenirs I found there, so please take a look. Also, at the beginning and end of this article, you will find information on the Gunma-Yokohama New Star Bus (highway bus) that we used on our way to and from Yokohama. Please refer to it as well.
9:00 Departed from Roppongi Hills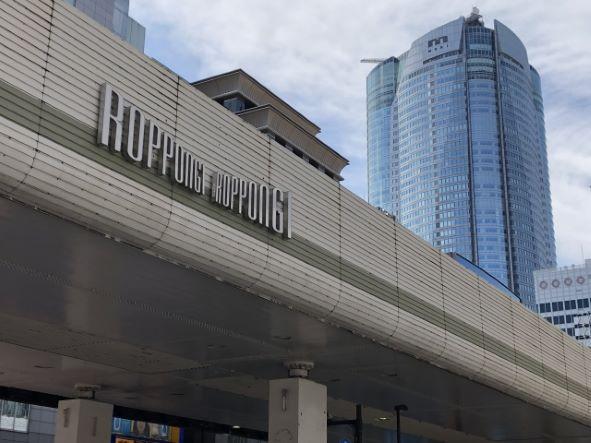 8:30 arrived at Roppongi Station! After using the restroom at Roppongi Hills, we headed for the bus stop.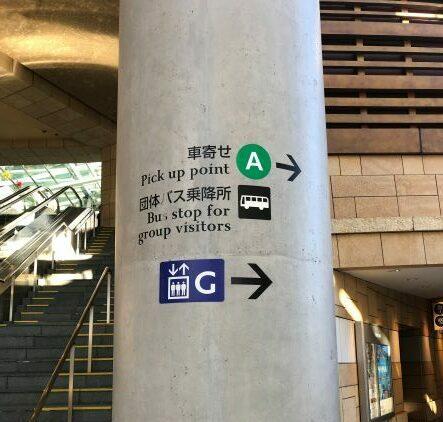 The road to the bus stop is a bit confusing, so please be careful. Just follow the arrow on the pillar that says "Group Bus Stop" and you will get there.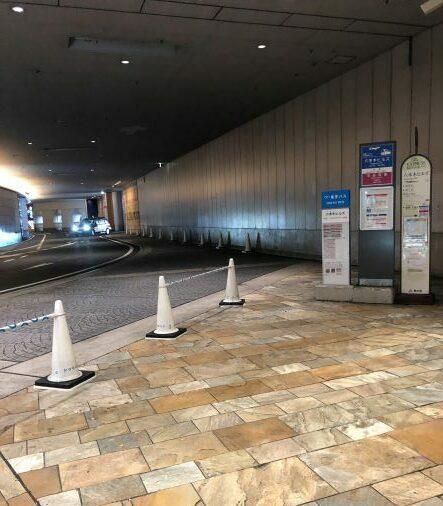 When we arrived at the boarding area, there were already about eight people lined up. There was a cold snap that day, but I didn't feel too cold because I was underground.
Details of the boarding station;
・Vending machines are available
・No convenience store
・No toilets
・No smoking area
・No coin lockers
There are no convenience stores nearby, so it is recommended that you buy everything you need in advance.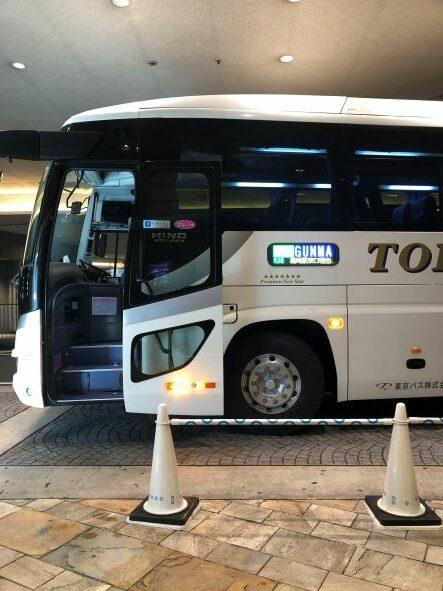 At around 8:50, the Gunma-Yokohama New Star arrived! Our journey to Gunma had finally begun.
Details of the bus
・Trunk room available (one per person, up to 1m in total length and width, up to 10kg)
・Disinfectant and antibacterial treatment were available.
・Babies are welcome (child fare is required to use a seat, foldable strollers are allowed, but not electric ones).
・USB charging is available.
・No restroom
There will be a 15-minute break at the Miyoshi Service Area and Kamisato Service Area.
12:30 arrived at Ikaho Onsen Ishidan-gai Exit.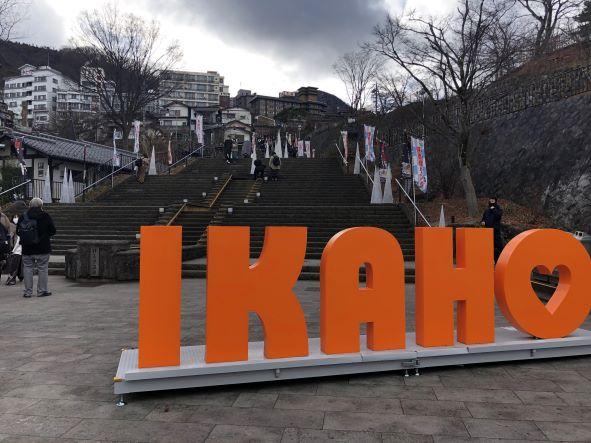 After a three-and-a-half-hour bus ride, we arrived at the Ikaho Onsen stone terrace entrance. Perhaps it was because we had taken two breaks at the service areas, but we were hardly tired. We went to the stone staircase in high spirits!
First, we prayed for a good marriage at Ikaho Shrine.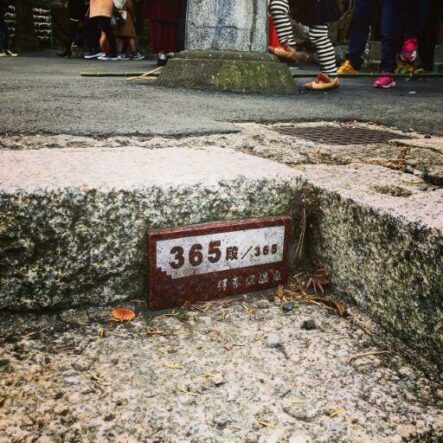 To spend half the day there comfortably, we decided to start off with Ikaho Shrine first. The Ikaho Shrine is located at the top of 365 stone steps. You might be thinking, "365 steps? You might think, "365 steps out of nowhere?" but it is recommended to climb them first so you can get a general idea of where everything is.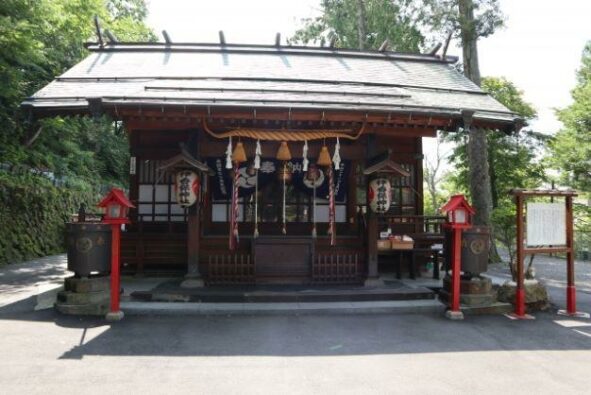 After climbing up the stone steps for about ten minutes, we arrived at the top. This is not a big shrine, but it has a gentle and warm atmosphere, as if it is watching over the people from the top of the mountain.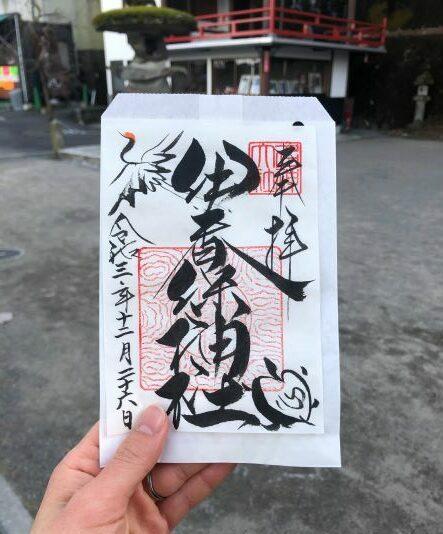 After my visit, I also received a red seal at the shrine office. When you look at Gunma Prefecture from above, it's shaped like a crane, so there's a crane on the top left and a sincere turtle on the other side. It's a powerful good luck charm that has a red seal with a crane and a turtle.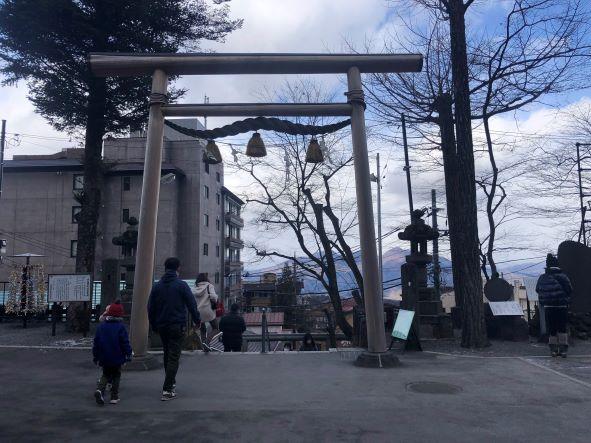 After carefully tucking them into your bag, you will head down the stone stairs to lunch.
Basic information about Ikaho Shrine
Business Hours

Open 24 hours a day and shuin (red seal) reception 9:00-17:00 and (365th stone staircase)

Address

1 Ikaho, Ikaho-cho, Shibukawa-shi, Gunma

Phone Number

0279-72-2351

Fee

500 yen (red seal)

Official Site

For the prevention of the coronavirus infection;
To prevent coronavirus infection, only red seals that have been left on the wall are available. (As of 2021.12.26)


Click here for details of Ikaho Shrine
Have a stylish lunch at SARA S Terrace Arraiya
Gunma is famous for its udon noodles! Mizusawa udon noodles are one of the three most famous kinds of udon noodles in Japan, along with Sanuki udon noodles in Kagawa Prefecture and Inaniwa udon noodles in Akita Prefecture. There are several stores specializing in Mizusawa udon noodles in the Ishidan-gai area, so it's worth standing in line to try them! But please note that on holidays, they are especially crowded, so it is recommended to save time and explore other restaurants.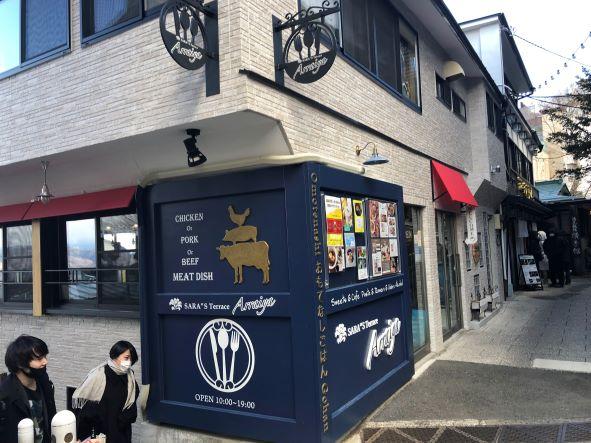 SARA S Terrace Arraiya – It has a really stylish atmosphere, doesn't it!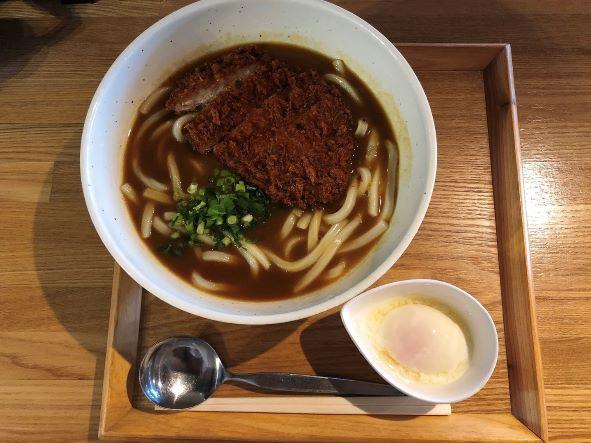 The menu has a variety of stamina-building dishes using meat, such as Joshu beef rice bowls and ginger-yaki set meals. I ordered the curry udon with a pork cutlet, which is only available in winter.
It looks so appetizing, no matter how cold it is! The flavorful curry soup and the hot and crispy pork cutlet soaked into my frozen body and I felt great. The udon noodles were firm and just the right amount of crunchy and the onsen tamago (hot spring egg) that was added halfway through the meal was also wonderful.
Basic information about SARA "S terrace Arraiya
| | |
| --- | --- |
| Business Hours | 09:30 – 18:30, but is sometimes closed irregularly (please check the website for details) |
| Address | 20 Ikaho, Ikaho-cho, Shibukawa-shi, Gunma (255th stone staircase) |
| Phone Number | 0279-72-2183 |
| Budget | Reservations are not accepted, but it generally costs about 1,000-2,000 yen/person |
| Detailed Site | For more information about SARA S Terrace Arraiya, click here. |
Enjoy old-fashioned games at Osakaya.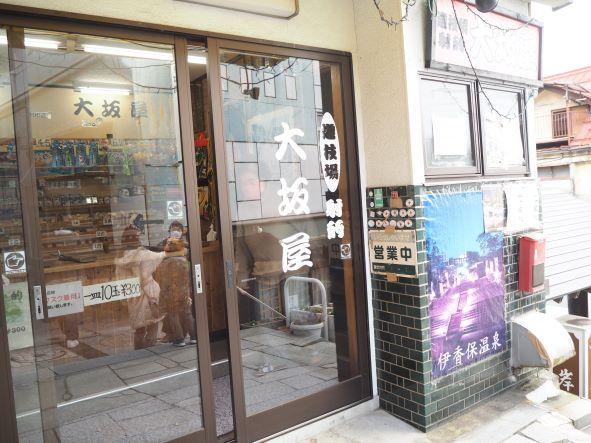 After filling our stomachs, it was time for some fun at Osakaya. At Osakaya, you can try your hand at target shooting under the guidance of an old lady who is very good at teaching you how to do it.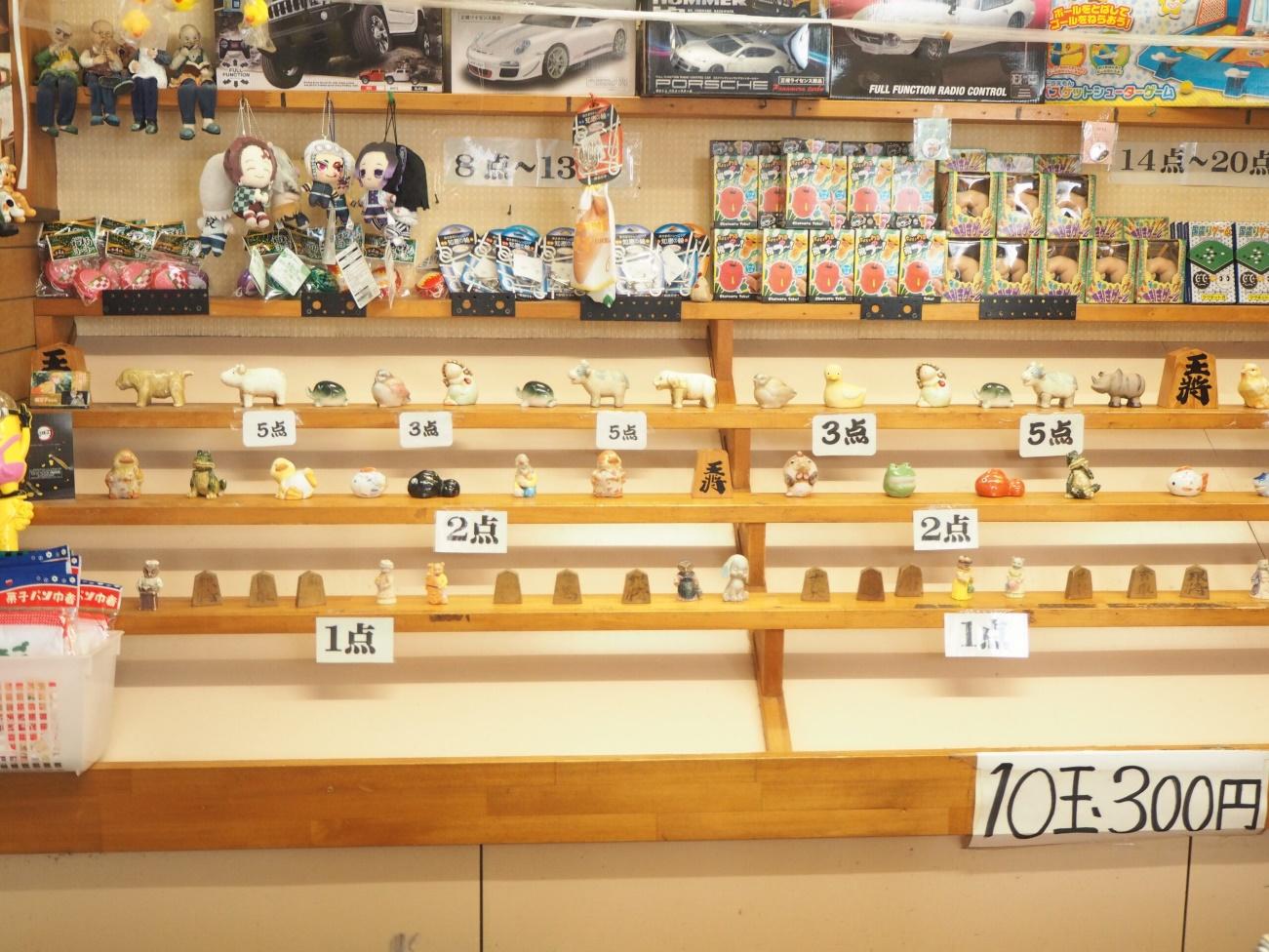 It was my first time playing the target shooting game, but thanks to the staff'ss instructions, I hit the target on the first shot. I was able to hit three out of ten targets, even the big ones that were difficult to hit! The indescribable feeling I got when I hit the target made me want to try 10 more shots.
Basic information about Osakaya
| | |
| --- | --- |
| Business Hours | 9:00 – 17:00, but closed on Thursdays |
| Address | 48 Ikaho, Ikaho-cho, Shibukawa-shi, Gunma (219th stone staircase) |
| Phone Number | 0279-72-4096 |
| Fee | 300 yen (10 shots) |
| Official Site | – |
Introduction of Ikaho's famous Yunohana Manju.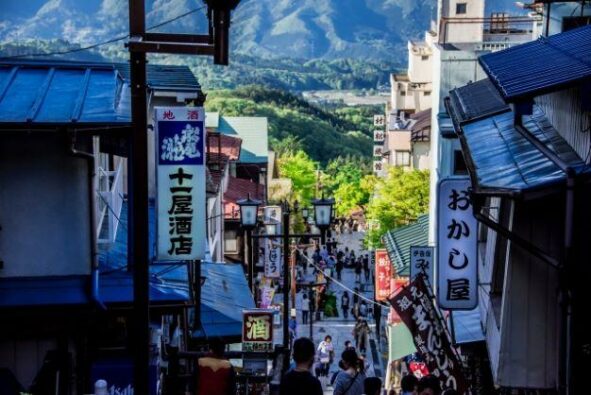 Ikaho Onsen is said to be the birthplace of the onsen manju. Therefore, you can see the word manju everywhere, even on the stone steps. However, the taste of manju can also change depending on the shop.
So on this day, I decided to compare the manju of two stores. I ate the manju from Shingetsu-do (left) and the original Tanaka-ya (right).
I was amazed at the difference in taste and texture, as well as the difference in appearance! The Shingetsu-do was fluffy and fluffy, while the Tanaka-ya was moist and chewy. How do you feel about this?
Basic information about Shingetsu-do
| | |
| --- | --- |
| Business Hours | 9:00 – 18:00, but closed on New Year's Day (and other holidays as specified) |
| Address | 591-7 Ikaho, Ikaho-cho, Shibukawa-shi, Gunma (300th stone staircase) |
| Phone Number | 0279-72-2121 |
| Fee | 120\ and up |
| Official Site | For more information about Shingetsu-do, click here. |
Basic information about Former Tanaka-ya
Forget about the cold and fatigue with a footbath.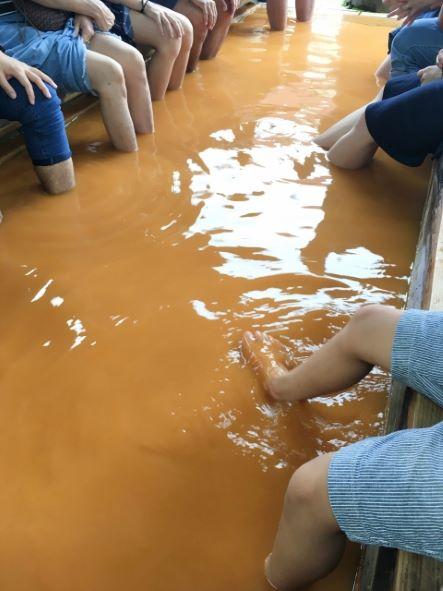 Even if it is merely a day trip, it would be a shame not to take a dip in a hot spring in a place famous for its hot springs. This is where footbaths come in.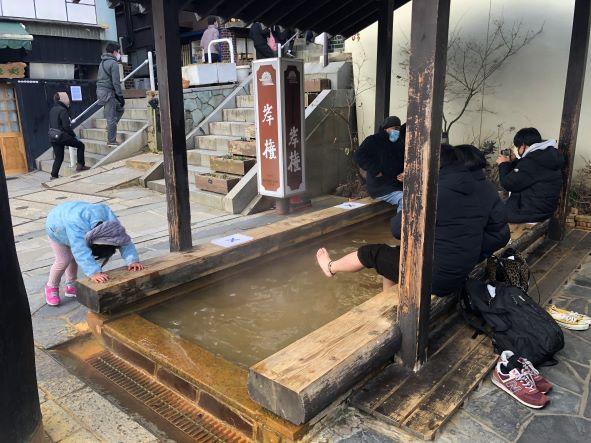 At the 212th step of the stone staircase, there is a footbath called Tatsu no Yu at Kishigon Ryokan, which is open to everyone free of charge. You can soak up to your calves in this footbath, which quickly warmed me up and relieved my fatigue.
By the way…the reason why the water looks brown is because the hot water flowers (an ingredient found in natural hot springs) have hardened. It seems to have an extra healing effect, doesn't it?
Basic information about Kishigon Ryokan Tatsu no Yu
 Bring your own towel!

 Women are recommended to wear pants.
Looking for souvenirs is one of the best parts of traveling.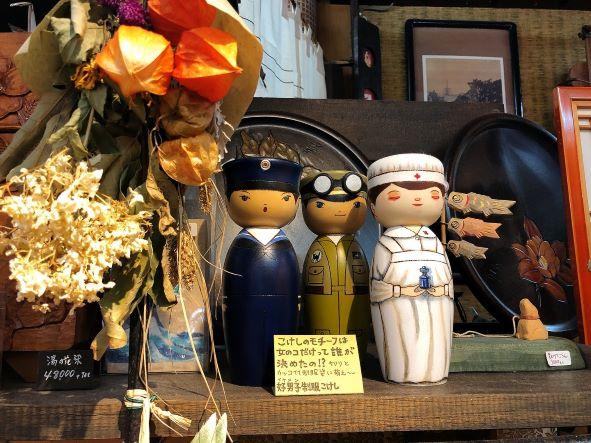 It was almost time for us to leave. At the end of the day, it was time to hit the souvenir shops and find your favorite one. The following three stores are highly recommended in Ishidan-gai.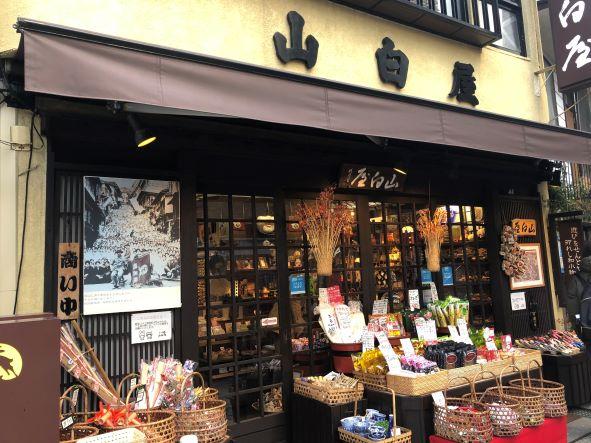 If you want to buy handicrafts I recommend Yamashiraya. The shop sells many original goods that are fun to look at, such as ornaments featuring Gunma's famous Daruma Doll, and rabbit and cat goods. All of the goods are really cute and I spent way too much time deciding which to buy.
Yamashiroya Details
Business Hours

10:00 – 18:00 sometimes closed irregularly

Address

12 Ikaho, Ikaho-cho, Shibukawa City (271st stone staircase)

Phone Number

0279-72-2239

Official Site

Click here for details of Yamashiro

ya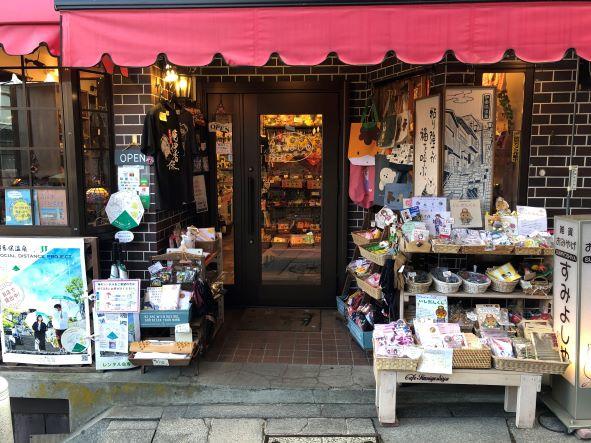 Next, if you want to buy limited edition Gunma goods, go to Sumiyoshiya. Here, you will find a variety of goods centering on "Gunma-chan" goods, a Gunma must-have souvenir, and "Ishidan-kun" goods, a yuru-chara character from Ishidanmachi, both of which are so cute you can't help but buy them.
Basic information about Sumiyoshiya
| | |
| --- | --- |
| Business Hours | 09:00-18:00 closed Thursdays |
| Address | 18-4 Ikaho, Ikaho Town, Shibukawa-shi, Gunma (Stone Staircase 227th stone step) |
| Phone Number | 0279-72-2307 |
| Official Site | Click here for details of Suimiyoshiya |

Finally, if you want to buy local food, the Isagoya Goods Store is a good place to start. You will find Ikaho specialties such as onsen manju (hot spring buns), Himokawa udon noodles, local sake, and confectionary. If you are not sure what to buy, the store staff will be happy to give you friendly advice, so there's no need to rush, even if you are in a hurry.
◎Isagoya Goods Store Details
15:21 Depart from "Ikaho Onsen Ishidan-gachi Exit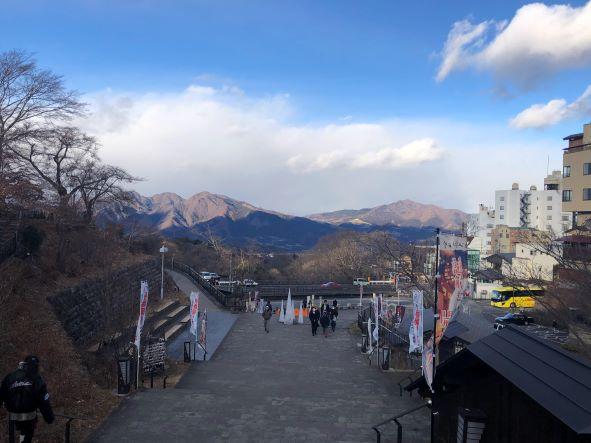 Having done everything I wanted to do in three hours and having gone up and down the stone steps, I boarded the bus for the return trip feeling refreshed both physically and mentally. The bus was exactly the same as the one we took on the way there and the crew was the same, so we felt safe.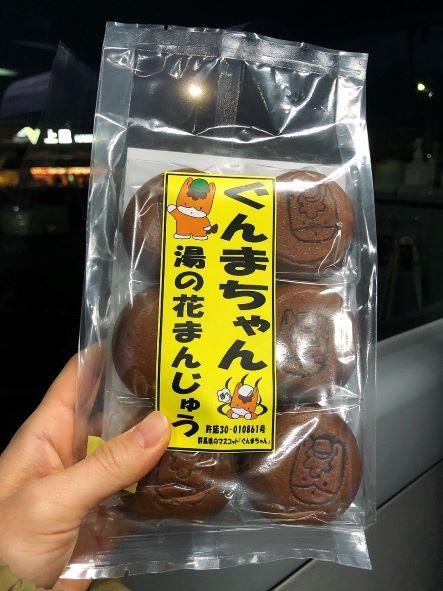 Thankfully, we had two service area breaks on the way back, so we were able to move around a bit and hardly felt tired. Moreover, since we stopped at a large service area, I was able to get some souvenirs for my family.
19:00 Arriving at Roppongi Hills
We arrived at Roppongi Hills on time, without any major traffic jams. It was cold outside, but I went home with my heart full of memories of the fun I had had.
Ikaho Onsen Ishidan-gai is a place packed with fun!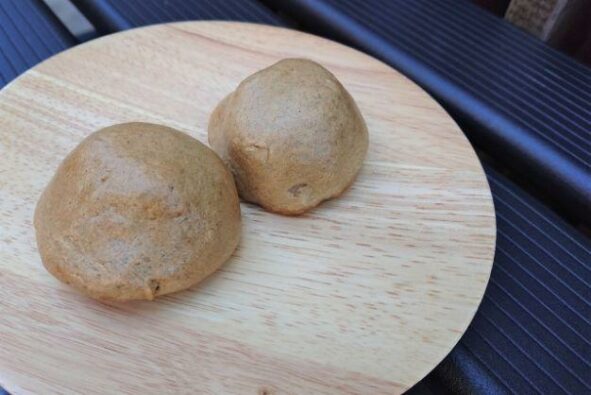 After taking a day trip, I found out that Ikaho Onsen Ishidan-gai is a place where you can enjoy fun, gourmet food, healing, and shopping. You don't need to stay at an inn to feel like you are on a trip, and if you take the express bus, you can spend the whole day for less than 10,000 yen, making it the perfect place for those who are short on money but want to go on a trip.
Why don't you visit this place with your friends or loved ones and make happy memories as you walk up and down the stone steps?
For more information about the Gunma-Yokohama New Star, click here.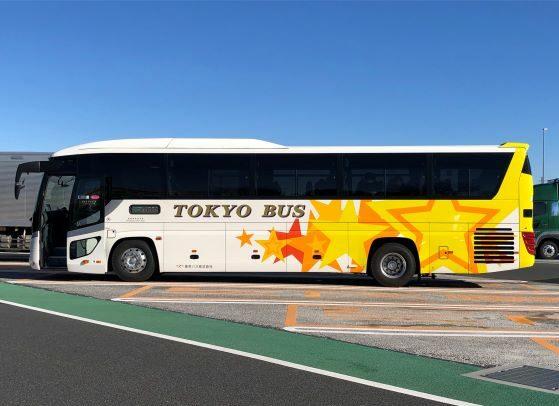 The route we used this time was the Gunma-Yokohama Newstar highway bus from Tokyo Bus Station. As the name New Star suggests, the bus has a star painted on it, so you won't lose sight of the bus even at service areas.
In the morning, the bus departs from Yokohama YCAT to Roppongi Hills, so if you live in the Tokyo Metropolitan area, please consider using this bus.
⇒Reservations for Gunma-Yokohama New Star can be made here.
If you want to make a reservation for an expressway bus,

「Please go to "Japan Bus Online".」
The information in this article is current at the time of writing.
It may differ from the latest information.