Niigata; Want to check it out in the autumn? Autumn leaves and Japanese sake around Niigata Station.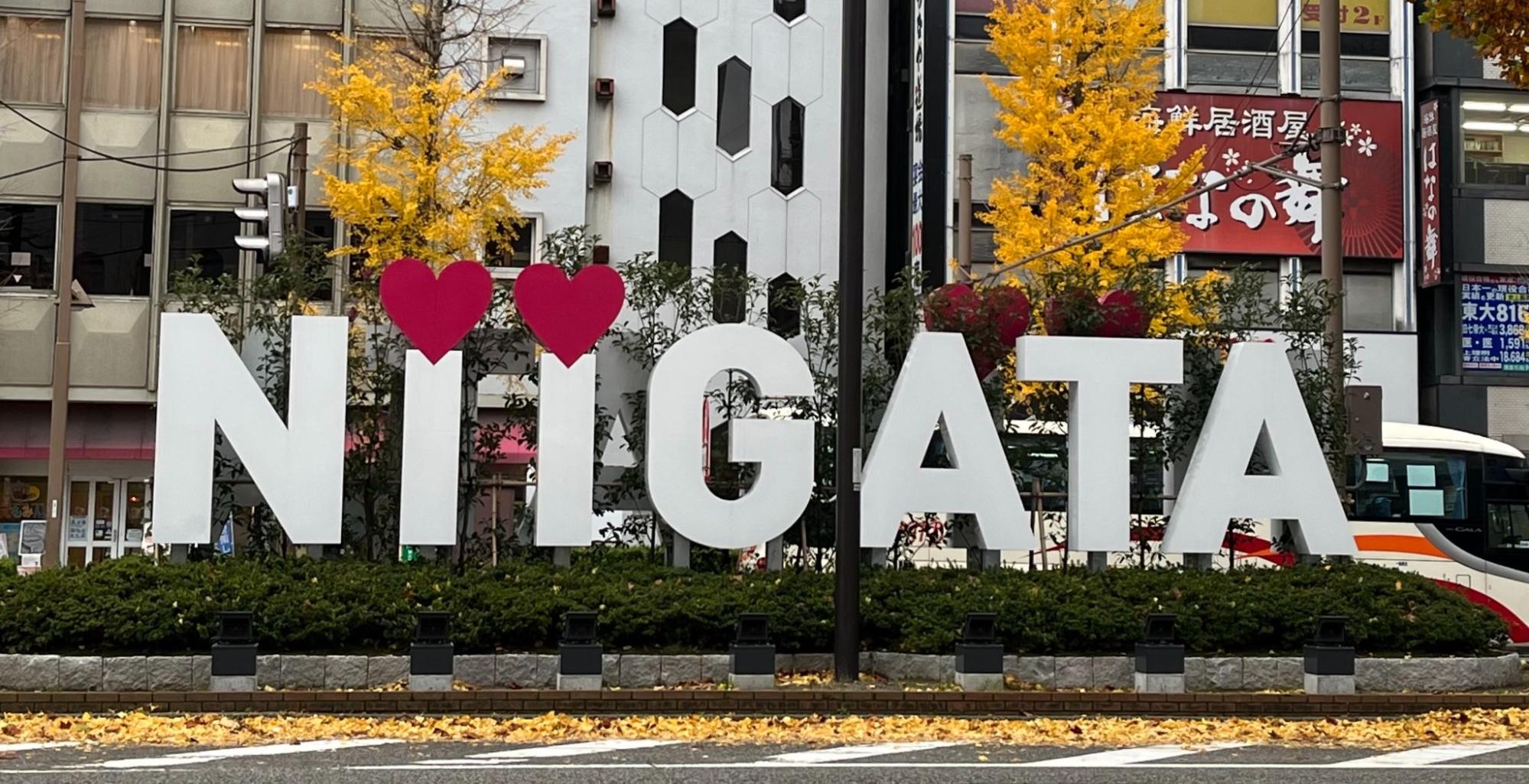 When you think of Niigata Prefecture, you probably have the impression of winter with lots of snow, right? But in fact, autumn is also very interesting and highly recommended as well! I'd like to introduce you to the area around Niigata Station, the center of Niigata Prefecture, where you can travel alone in autumn.
What is so special about Niigata in autumn?
Niigata Prefecture is rich in nature, so there are many parks and gardens in the city where you can enjoy its spectacular autumn leaves – so going there in the fall is a must! At the same time, Niigata is also famous for its sake, made from delicious rice and pure spring water. In the fall, you can enjoy some unique sake called hiyaoroshi or akiagari. Why not take a trip to Niigata Prefecture, which can be easily accessed for a day trip from the Tokyo metropolitan area, and enjoy the autumn to the fullest?
Access from Tokyo to Niigata Station
There are four ways to get from Tokyo to Niigata Station: airplane, bullet train, conventional train, and highway bus. Please compare these four means of transportation and choose the one that is most suitable for you. This time around, I'm going to walk you through my actual trip by express bus, so please refer to that as an example.
Comparison of various means of transportation
The table below shows a comparison of the four modes of transportation mentioned above. (Updated as of November 2021)
| | | | | | |
| --- | --- | --- | --- | --- | --- |
| Transportation (one way) | Transfers | Time required | Fee | Wi-Fi | Features |
| By Airplane | Tokyo → Narita → Niigata Airport → Niigata Station | About 3 hours | From ¥6950 | Partially available | It takes time for transfers. The flight time is about 1.5 hours. |
| By Bullet Train (standard car) | Tokyo → Niigata Station | About 2 hours | 6,850~10,760¥ | Yes | It's popular because it cuts down on travel time and is relatively inexpensive if purchased early. |
| By Conventional Train | Tokyo → Ueno → Takasaki → Mizukami → Nagaoka → Niigata Station | About 7 hours | 3100~5200¥ | No | Takes a long time. |
| By Highway Bus (Seibu bus) | Tokyo→Ikebukuro→Niigata Station | About 5 hours | 3100~5200¥ | No | Fewer flights. Many transfers. |
There is one flight from Narita by ANA, but please note that it may be cancelled.
An introduction to expressway bus travel
First of all, I'd like to introduce you to the highway bus I actually used. On the way to Niigata Station, I took the bus that departed at 7:00 a.m. from Ikebukuro Station East Exit and arrived at Niigata Station at 12:12 p.m. On the way back, I took the bus that departed at 17:05 p.m. from Niigata Station and arrived at Ikebukuro East Exit at 22:17 p.m. There are six other buses a day. From here, I'll go into details about the bus stop, the bus interior, and the stops that it makes along the way.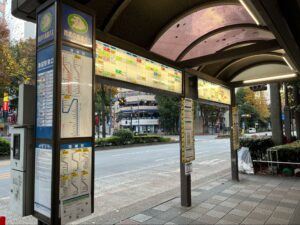 This is the express bus terminal at the east exit of Ikebukuro Station. To get to the bus stop, take exit 43 at the east (central) exit of Ikebukuro Station, and with your back to the station, walk straight ahead with the Ikebukuro Station east exit police box on your left. There is a Family Mart and McDonald's around the bus stop, so you may want to grab a bite to eat or run errands before you leave.
About 30 meters away from the bus stop is the Seibu Highway Bus Ikebukuro Ticket Center, which has a waiting room, restrooms, and vending machines. There are also benches at the bus stop, so you can sit and wait for the bus.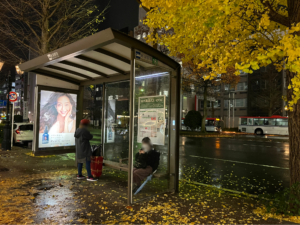 This is the highway bus stop in front of Niigata Station, which I used on my way home. With our backs to Niigata Station, we walked straight down Todai-dori for about 100 meters. There is a Seven-Eleven and a Doutor Coffee Shop nearby. There is no indoor waiting room here either, but there are benches.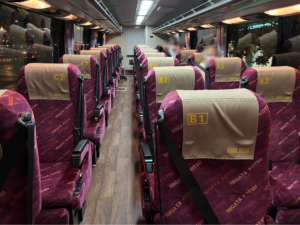 (Inside the bus)
Next, I would like to show you the interior of the bus. The appearance of the bus was a little different because of the slight difference in operating companies, but the construction was almost the same. There are three rows of seats horizontally and ten seats vertically, with an aisle on either side of row B.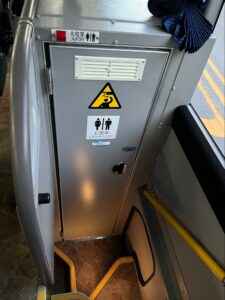 There is a restroom in the middle of the car, which can be used while it is in motion. Other facilities include infection control measures, such as the installation of plasma clusters, thorough disinfection, and air conditioning for ventilation.
The seats are as shown in the picture above, with two types of curtains to separate the window from the seat next to it, a table, and footrests and leg rests to keep you comfortable during long rides. You can also recline enough so that you can sleep in a reclined position for your long journey. In addition, there are both USB and charging outlets and free Wi-fi in the car, so you can use your electronic devices.
(Rest stops)
There were two rest stops about every two hours, one at Kamisato in Saitama Prefecture and the other at Echigo-Kawaguchi in Niigata Prefecture, where we had 15 minutes to get out of the bus and get some fresh air or buy some food at a souvenir shop. There were also spacious restrooms and smoking areas at both rest stops.
A Hands-on Model Course for Enjoying the Autumn Leaves and Sake
I will now introduce a model course based on my actual day trip to Niigata! The theme of the trip was autumn leaves and sake, and I included some sightseeing spots where you can enjoy these two things! Most of them are close to Niigata station, so you can go around enough on a day trip. If you use highway bus, you will arrive at Niigata station after noon, so it would be good to buy local gourmet to eat lightly when resting at SA in Niigata to finish lunch.
The Former Saito Family Residence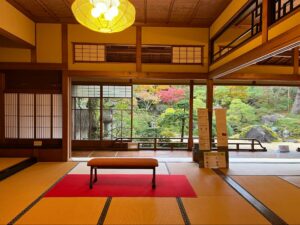 The former Saito family villa is a vast villa built by the wealthy merchant Kijuro Saito. In autumn, you can see a magnificent view of the brilliantly colored trees in the garden. In the fall, the garden is only open until 5:00 p.m., so it's best to get there before dark to see the leaves change!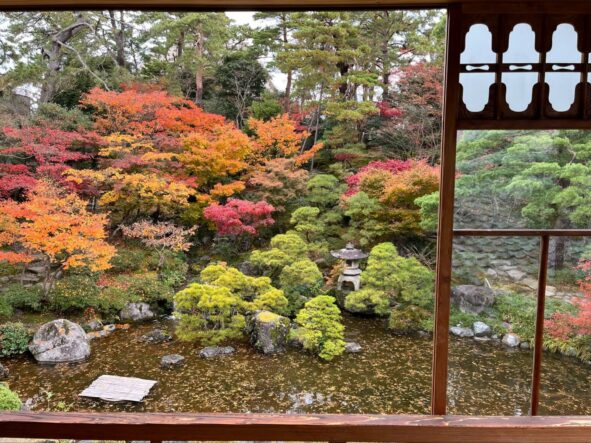 The view from the first floor is beautiful, but the second floor is also a spectacular spot! You can see the colorful trees from higher up there.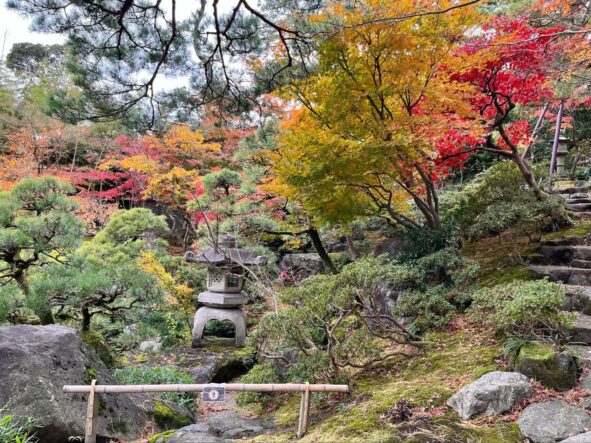 In addition, you can take a stroll in the garden, which is a recommended spot to enjoy the traditional Japanese garden. It is only a 10-minute bus ride from Niigata Station, so it is a good place to stop by in your spare time. The Niigata Branch of the Museum of Northern Culture, which is also famous for its autumn foliage, is located nearby, and it is recommended that you buy a general public admission ticket for the former Saito Family Residence.
Basic Information on the Former Saito Family Residence
Former Saito Family Residence

Official Site

https://saitouke.jp

Business Hours

April – September: 9:30 – 18:00

Address

October – March: 9:30 – 17:00

Contact Us

(Closed: Mondays, the day after a holiday, year-end and New Year holidays)

Admission Fee

Nishi-daidai, Chuo-ku, Niigata-shi, Niigata 951-8104
Ponshukan Niigata-yoshi Branch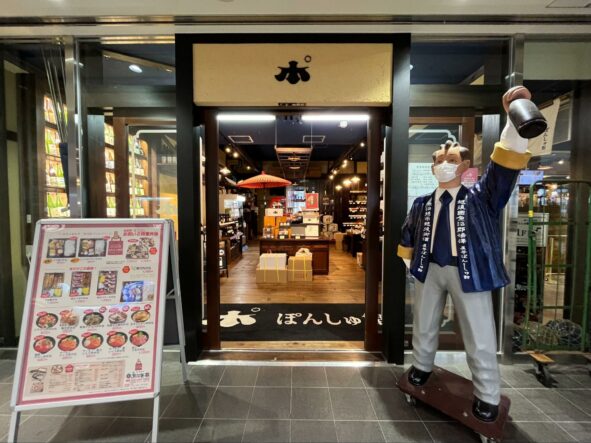 The Ponshukan is a facility that sells not only sake, but also many of Niigata's specialties under the theme of Echigo Sake Museum. It has the atmosphere of a souvenir shop at a service area. It's perfect for buying souvenirs of Niigata and snacks for your drinks! There is an onigiri (rice ball) store in the store, where you can enjoy Uonuma Koshihikari rice, and you can also eat at the restaurants on the first floor. The store is directly connected to Niigata Station via a passageway at the west exit ticket gate, making it easy to get to from Niigata Station.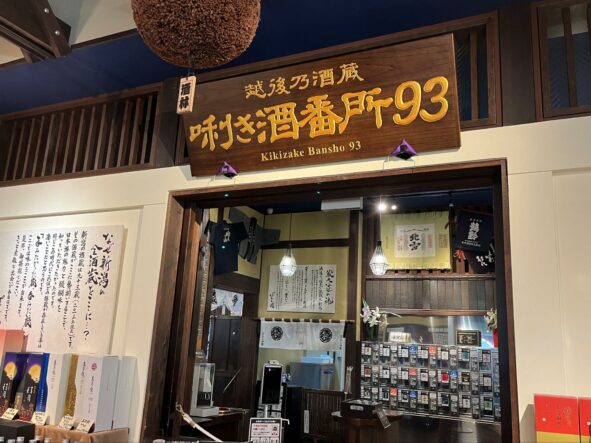 One of the most famous places here is the sake tasting room. There are over 100 kinds of sake to choose from, including representative brands from all the breweries in Niigata Prefecture. At the entrance, you exchange a 500 yen for five coins, which you insert into a vending machine-style machine to pour sake into your cup. You can try five different kinds of sake for just one coin, making this a great place for sake lovers.
Basic information about Ponshukan Niigata Station
Ponshukan Niigata-yoshi Branch

Official Site

https://www.ponshukan.com/niigata/

Business Hours

Address

10:00~20:00

Contact Us

Sake tasting bar is open until 19:30 (last order at 19:15)

Rates

1-96 Hanazono, Chuo-ku, Niigata-shi, Niigata 950-0086
Imadaiji Sake Brewery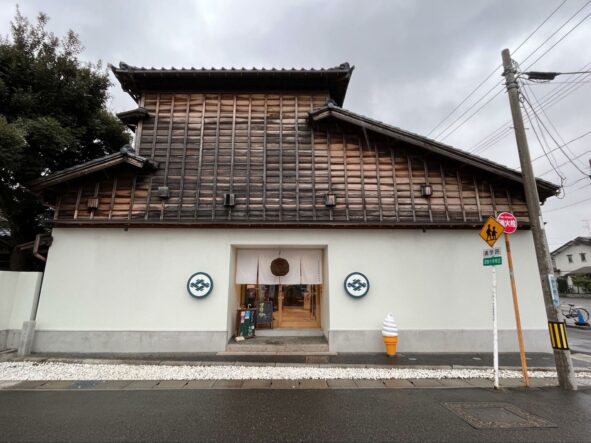 Imayotsuka Shuzo is the closest sake brewery to Niigata Station. It takes about 15 minutes to get there on foot. It is not only a sake brewery, but also one which offers free tours every day, where you can take a peek inside the sake brewing facilities and taste sake and sweet sake after the tour. The tour lasts about 30 minutes and reservations are required, but can be made on the day of the tour. English-language tours are also offered once a day, and there were many visitors from overseas.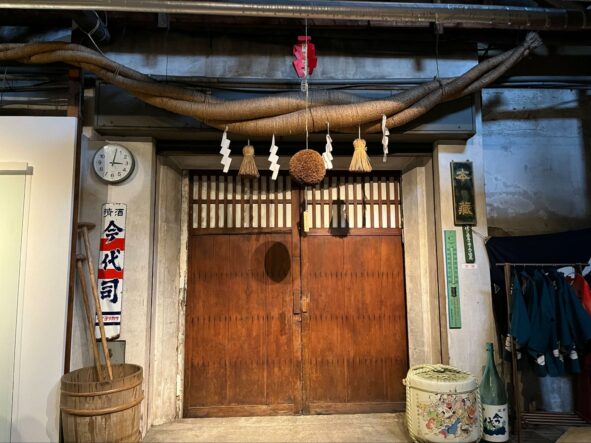 During the tour, you are allowed to go inside the sake brewery located at the back of the directly-managed store, and I can't help but want to drink the sake because it smells so good. That's why being able to do a tasting is such a great service! The guide showed us around and made a bit of small talk, so we were never bored at all during the 30 minute tour.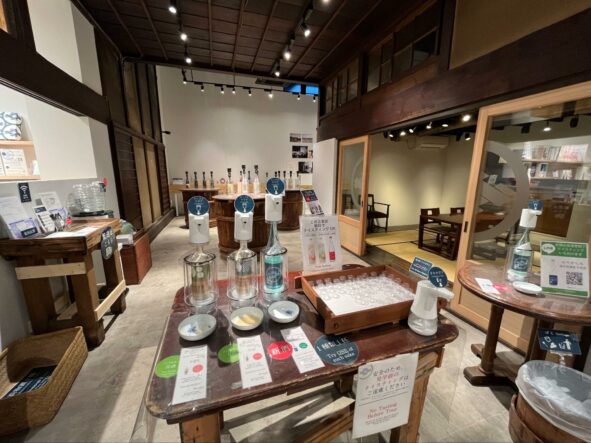 After the tour, you can enjoy a free tasting of three different drinks, but there is also a tasting for 1,000 yen, where you can drink more than 15 different kinds of specially prepared sake and amazake.
In addition to the tours and tastings, you can also purchase Imadaiji Sake Brewery's sake and sweet sake at the store, and eat sweets made with sake and sake kasu, so even those who don't like sake can enjoy themselves. The store also sells hiyaoroshi, which is unique and only seasonally available in the autumn, and there are many other types of sake available, so you can choose the sake that suits you best as a souvenir based on your tasting.
Basic information about Imadaiji Sake Brewery
Imadaiji Sake Brewery

Official Site

http://imayotsukasa.co.jp

Business Hours

Weekdays: 13:00~17:00

(Open all year round except for year-end and New Year holidays)

Address

Niigata 950-0074 Japan

1-1 Kagamigaoka, Chuo-ku, Niigata City, Niigata Prefecture

Phone Number

025-245-3231

Fee

Free Sake Brewery Tour
Pleas enjoy autumn in Niigata around the station!
In this article, we have introduced a trip to enjoy autumn around Niigata Station. Niigata is also famous for many other things, such as Toki (crested ibis) and Koshihikari (rice crackers), so if you have time, visiting those places is also recommended. This plan can be applied not only to day trips, but also to overnight trips. If you live in the Tokyo metropolitan area and want to save on transportation costs, please consider using the highway bus used in this plan!
⇒To make a reservation for an express bus from Tokyo to Niigata, click here.
If you want to make a reservation for an expressway bus,

「Please go to "Japan Bus Online".」
The information in this article is current at the time of writing.
It may differ from the latest information.