(Part 1) Isn't here a paradise?! Travel to Kamikochi by bus in early summer, with info on how to go and what to prepare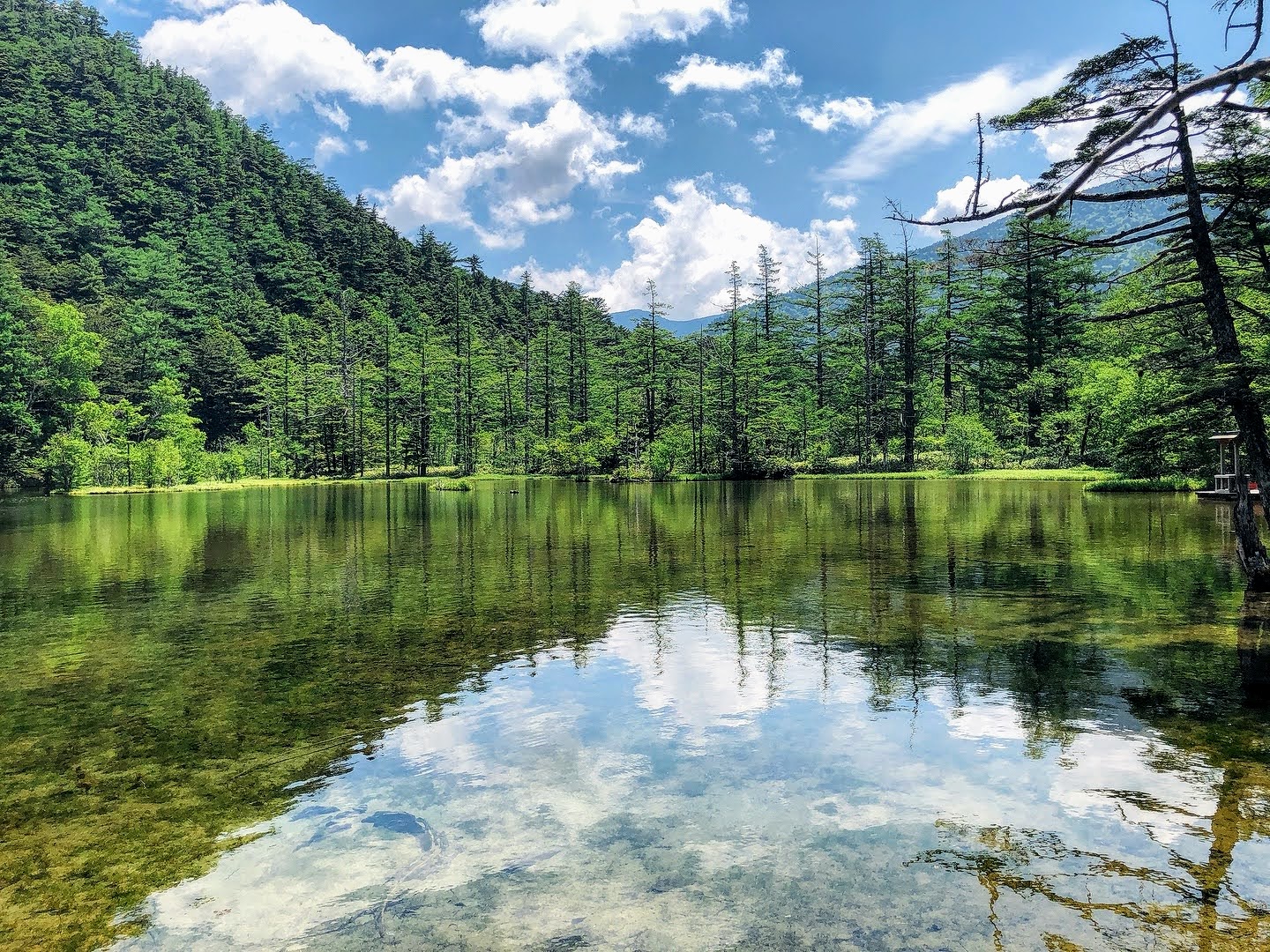 Kamikochi is a mountainous scenic spot located in the city of Matsumoto in Nagano, with an elevation of about 1500m. The magnificent natural beauty has brought its national recognition as a cultural heritage site of Japan (Natural Monument & Special Natural Cultural Property).
I went to Kamikochi by bus and enjoyed a day of hiking there. In the first part of this article, I am going to introduce how to get to Kamikochi, what to wear and prepare for hiking in summer. If you are visiting Kamikochi for the first time, please check it out.
How to get to Kamikochi?
Perhaps you might think travelling to Kamikochi is difficult because it is a protected area where private cars are restricted to enter.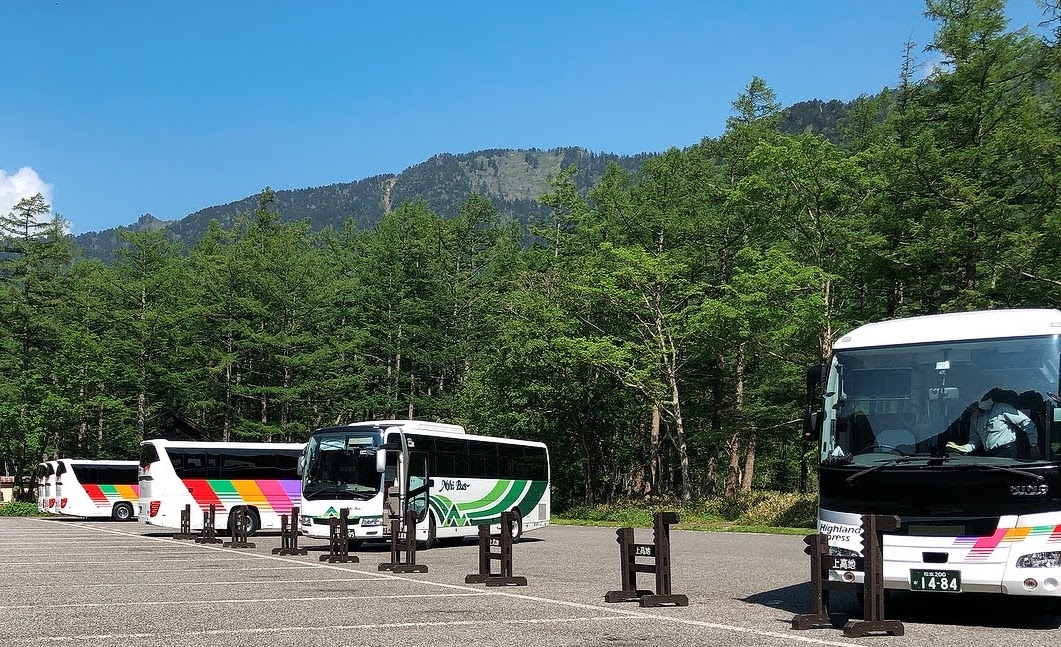 However, it is not true. Accessibility to Kamikochi is easier than you thought. When the park is open (usually around 27 April – 15 November every year), bus runs regularly to Kamikochi.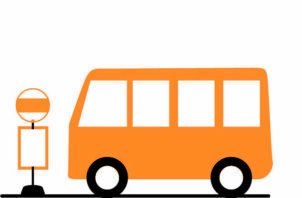 There are several routes available, whether you are coming inside or outside the prefecture, you will definitely find a bus line convenient to you.
・If you are coming from Nagano Prefecture, you might park your cars at Sawando and Hirayu Akandana parking lots and take a shuttle bus towards Kamikochi.
・If you are coming from other prefectures, you might take an express bus which runs from Matsumoto Station, Tokyo, Osaka and Nagano.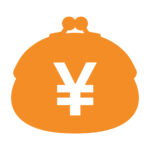 As you can see from the chart below, the travelling time to Kamikochi and bus fare are also appealing!
Time required
Fare (One-way)
Sawando Parking~Kamikochi
Approx. 30mins
Adult 1,300yen
Child 650yen
Hirayu Akandana Parking~Kamikochi
Approx. 35mins
Adult 1,180yen
Child 590yen
Matsumoto Bus Terminal~Kamikochi
Approx. 1hr 30mins
Adult 2,570yen
Child 1,290yen


※National Park Liner (Reservation required)
※Fare is based on arrival at Kamikochi ※As of 29 Jun, 2022
Now have you changed your mind and thought that travelling to Kamikochi by bus is easy?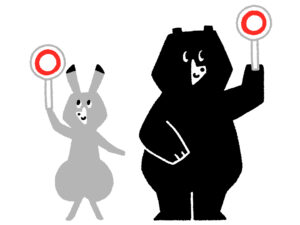 Actually there are many other advantages of taking a bus to Kamikochi.
・ You can help preserve the nature by travelling together.
・Since you are not driving, you can enjoy the beautiful natural scenery at Kappa Bridge with a cup of tasty beer.
・ You can relax after a long walk.
・You can take a nap on the bus as long as you like.
・ You can enjoy the scenery from bus window.
・ Free from worry about driving on mountainous roads.
・ Have your luggage stored in the bus trunk.
I hope you can refer to my article and make the most of bus for travelling to Kamikochi.
>>Check out the link here for details regarding accessibility to Kamikochi
>>Click here for details regarding taxi fare
What to wear and bring to Kamikochi?
Before going to Kamikochi, let's have a review on the appropriate clothing and other essentials for hiking in Kamikochi.
Clothing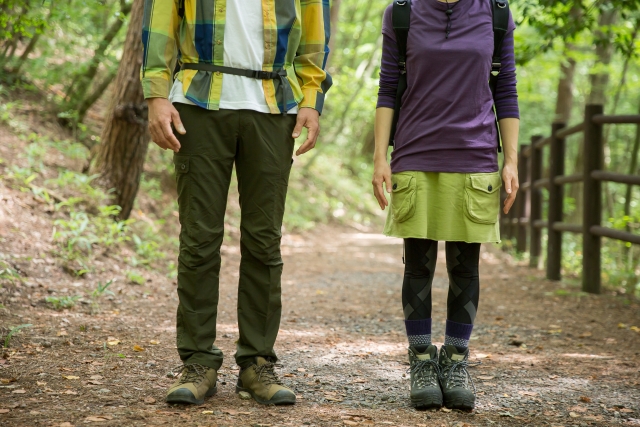 【Wear】
The temperature between day and night varies a lot at Kamikochi. Even in summer, you may feel cold depending where you are or how the weather is. It is recommended that you wear sweat absorbent, quick drying innerwear, long-sleeved shirts, warm clothes and elastic pants that allow you to move easily and regulate body temperature.
【Hats】
The amount of ultraviolet rays is large in Kamikochi as it is located at a high elevation. Please make sure you wear a hat in order to prevent a sun burn, a heatstroke and from getting hurt. Particularly in summer, a wide brim hat is recommended to protect yourself against direct sun exposure.
【Shoes】
Instead of uneven surfaces, the hiking paths at Kamikochi are mainly paved so wearing easy walking shoes such as sneakers is absolutely fine. If you are worried about rainy days, puddles or wet mud, wearing waterproof shoes such as hiking or trekking shoes helps keep your feet dry.
【Backpacks】
It is recommended to use backpacks that allow your hands to be empty. A good backpack should be small in size and comfortable to carry.
>>Click here for the recommended clothing according to each season.
Other essentials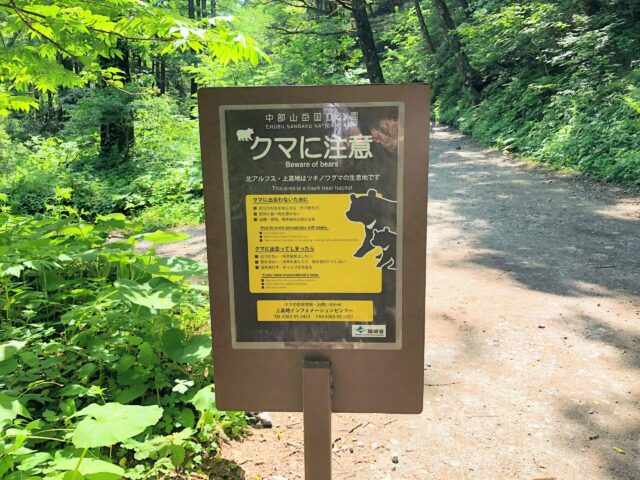 【Drinks】
There are limited facilities at Kamikochi where drinks are sold. If you are hiking long distances, it is better to bring along at least 1 liter of water with you.
【Rain gear】
Mountain weather changes very often, with occasionally sudden heavy rains. Taking a compact umbrella with you will make your trip easier, but rainwear is necessary for longer walks. A waterproof outerwear keeps you warm and dry even when the weather is disagreeable.
【Bear warning bell】
Kamikochi is a habitat for Asiatic black bears (Ursus thibetanus). It is not surprising to find bear tracks everywhere at Kamikochi. For longer walks, it is recommended to bring a bell to scare off a bear. I also bought one on the spot.
【Sunscreen】
As mentioned before, sunshine is particularly strong in summer. Even Kamikochi is a summer resort, please bear in mind to apply sunscreen to protect your skin from damaging rays.
【Insect spray】
It is not uncommon to find insects in an unspoiled environment, particularly in summer, when insects become more active. If you are afraid of insects, let's carry out precautions to keep bugs away.
【Mobile battery】
While you are at Kamikochi, your mobile phone might run out of battery very fast as you cannot stop taking photos of the breathtaking scenery. As you never know what will happen in next moment, for safety sake, bring a mobile battery with you in order to stay always in contact.
(Part 1)Isn't here a paradise?! Bus to Kamikochi in early summer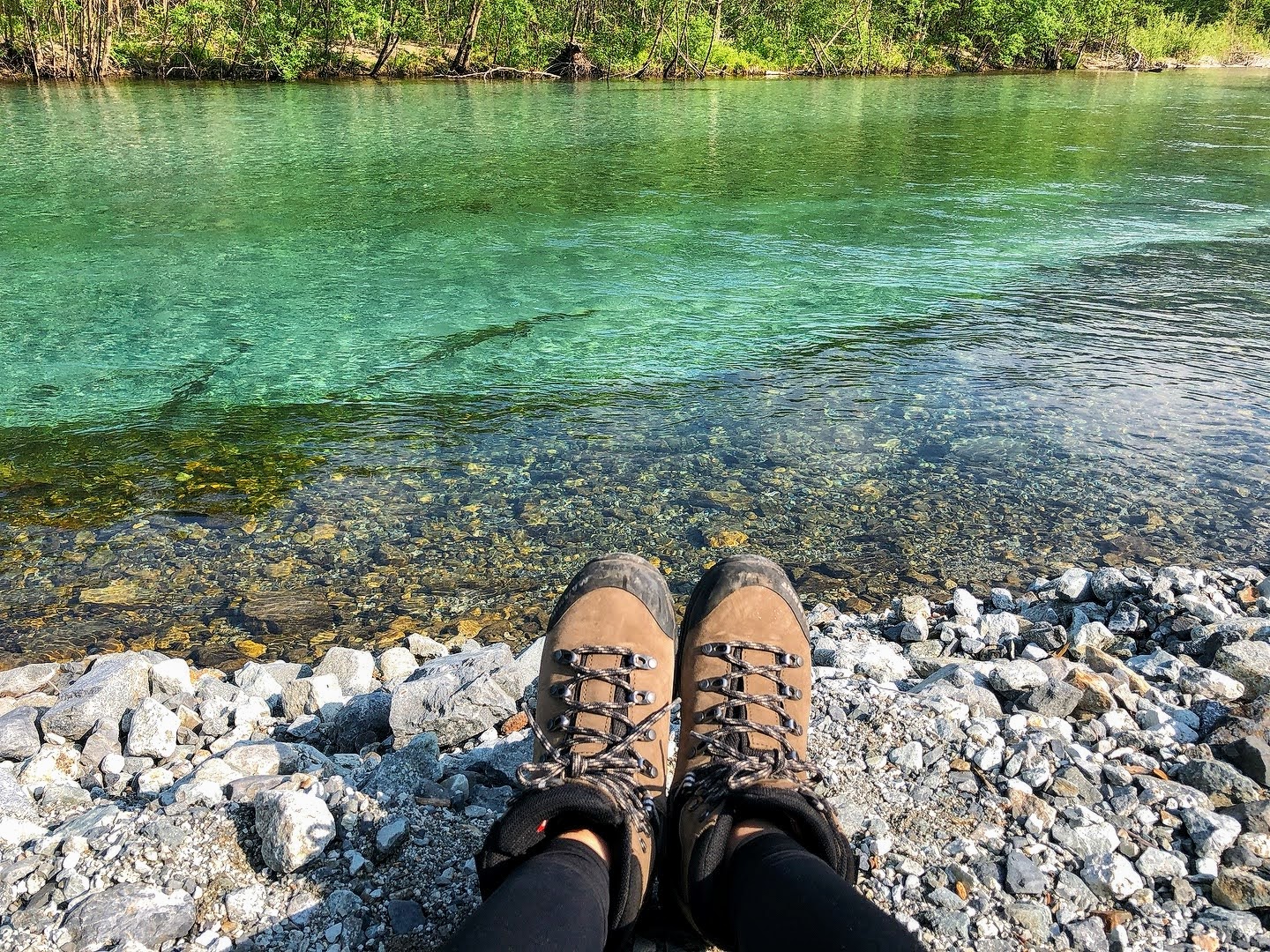 Sorry to have kept you waiting. We are about to depart for Kamikochi.
In the first part of the article, we are going to take a bus from Matsumoto Bus Terminal and arrive at Taisho Pond, while in the second part, some recommended hiking trails and hotels will be introduced.
5:30 Departed from Matsumoto Bus Terminal
At 5:30 in the morning, I left the hotel and went to the Matsumoto Bus Terminal which was just next to the Matsumoto Station (Castle Gate). I was going to take the bus "National Park Liner" to Kamikochi which advanced reservation was required. I showed the bus ticket and boarded the bus. Seats were not pre-assigned, so I could take a seat anywhere I like.
The bus seated 4 people in a row and a folding desk was equipped at each seat. The leg room seemed to be more spacious than other buses. I had plenty of room to stretch my legs and didn't feel uneasy to change to trekking shoes. Since the bus ride was short, there was no on board toilet in the bus.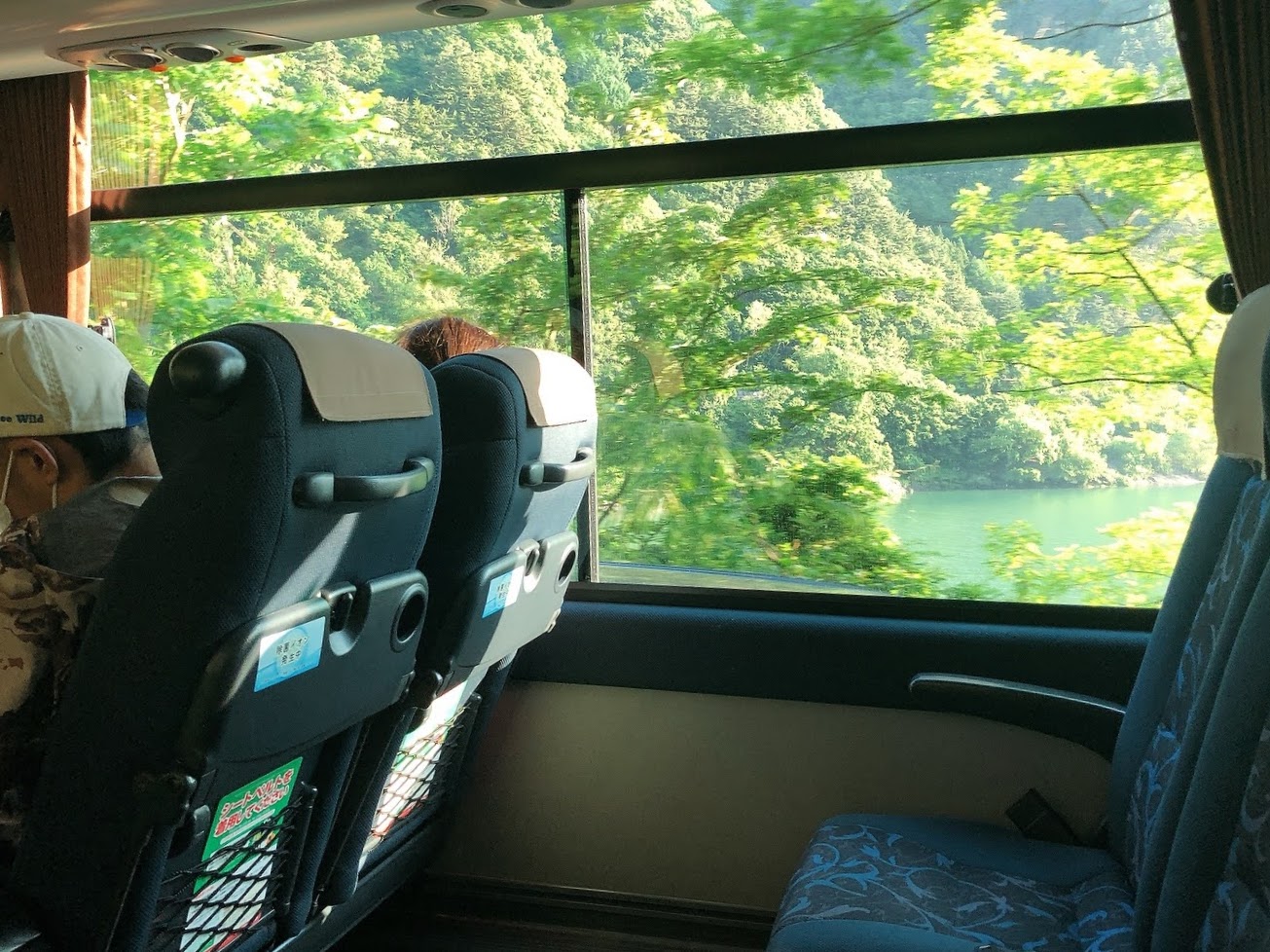 After riding for about 1 hour, the bus passed through residentials areas and fields, and what came into my sight was only the mountain scenery. Sometimes, I could see a large dam and a beautiful pond, I felt excited as I was getting closer to Kamikochi.
6:56 Arrived at Taisho Pond
At 6:56 the bus arrived at Taisho Pond. After Taisho Pond, the bus also stopped at Imperial Hotel before arriving its destination, Kamikochi.
If you come for hiking, getting off at Taisho Pond is highly recommended. As I will explain in latter part of the article, you can fully enjoy Kamikochi if you start off your hike at Taisho Pond.
To be continued in Part 2
How was it? In the first part, we mainly introduced how to get to Kamikochi, as well as what to take and wear for hiking in summer. In the second part, we are going to walk through Kamikochi. Recommended hiking trails and hotels will also be introduced in the coming article, please stay tuned.
>>Reservation for National Park Liner
・Details of National Park Liner
・Other transportation bounds for Kamikochi
If you want to make a reservation for an expressway bus,


Please go to "Japan Bus Online"

.
The information in this article is current at the time of writing.
It may differ from the latest information.